Good to have shorter work weeks, but productivity boost needed so economy doesn't 'suffer': Tharman
SINGAPORE — Shorter work weeks could help Singaporeans cope with the pressures of life here, but this must come with higher productivity so the economy does not "suffer", said presidential hopeful Tharman Shanmugaratnam on Sunday (Aug 20).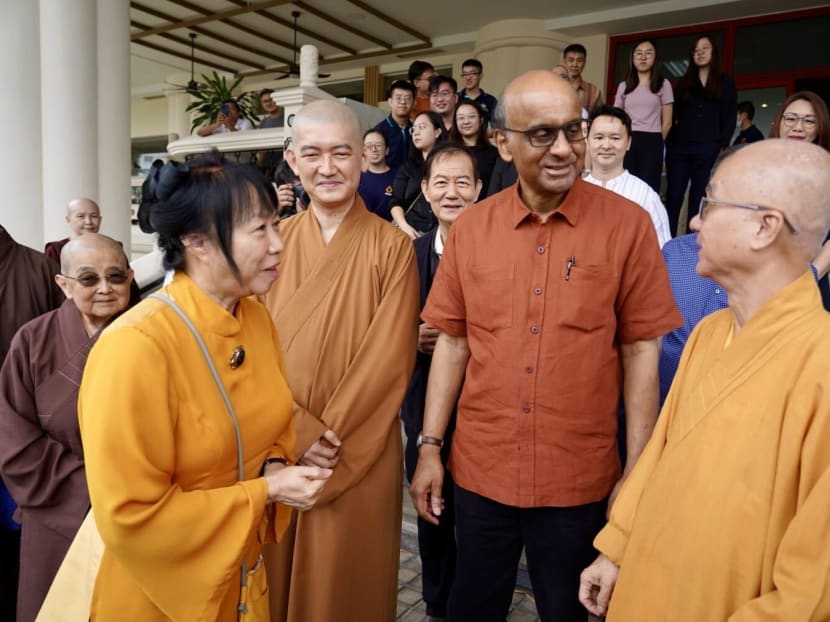 Presidential hopeful Tharman Shanmugaratnam suggested making shorter work weeks and flexible working options the norm to help Singaporeans cope with the pressures of life
But this should be in tandem with higher productivity so the economy does not "suffer", he added
Mr Tharman was addressing concerns about the cost of living and an aging population at a dialogue with youths on Sunday (Aug 20)
The former Senior Minister also said that it is important to keep housing affordable for first-time buyers despite rising property prices
He also highlighted the significance of promoting understanding and common ground between different religions to ward off religious exclusionism
SINGAPORE — Shorter work weeks could help Singaporeans cope with the pressures of life here, but this must come with higher productivity so the economy does not "suffer", said presidential hopeful Tharman Shanmugaratnam on Sunday (Aug 20).
Mr Tharman said this at a dialogue with more than 50 volunteers, devotees and youths from various Buddhist societies and organisations at the Kong Meng San Phor Kark See Monastery in Bishan.
The 66-year-old former Senior Minister was one of three to receive a Certificate of Eligibility from the Presidential Elections Committee on Friday, qualifying him to run in the upcoming Presidential Election on Sept 1.
The other two are former chief investment officer of state sovereign fund GIC Ng Kok Song and former NTUC Income chief executive Tan Kin Lian.
During the 90-minute dialogue on Sunday, Mr Tharman engaged with audience members on a wide-ranging number of issues, covering topics such as rising cost of living and religion.
Responding to a question about the aging population and rising cost of living here, Mr Tharman said that changing the typical working hours and norms here are ways to help people cope.
"We must go for a system where you have high productivity and high skills, but a shorter work week," he said, adding that he was saying this in his capacity as a private citizen. 
Another area where change can happen is through more flexible working arrangements.
"You (working adults) need to go and look after your parents and the children. We must have flexible working arrangements," he added.
However, providing flexible work may not be enough as employees may feel worried that their bosses think they are not performing as well as someone who is at the office, he said.
To overcome this, he said that the solution is to make flexible working arrangements the "new norm".
"I think people need more free time. How to achieve this without the economy suffering is a question but it is achievable because it just means higher productivity, more efficient systems at work," he added.
VITAL TO KEEP HOUSING AFFORDABLE
In response to the same question, Mr Tharman said that even as housing prices increase, they must be kept affordable.
"I am not speaking on behalf of the Government because I am no longer in the Government, but I know that the Government's policy is that the first home is affordable.
"But compared to any other city in Asia, including even Sydney and Melbourne, your first home is cheaper in Singapore," he said, referring to affordability relative to income in these countries.
Still, he added, there is a need to think of long-term solutions that allow Singaporeans to buy their own homes at affordable prices and take care of their parents.
"In the long term, we have to think of some solutions because the older people still have their own flat. The younger people now want to have their own flat. We can understand why… so you must think of a solution where they can live quite close together."
He noted that the Government had a problem keeping property prices in control during Covid-19, but has tried its best to manage prices.
"The Government will try very hard to keep property prices under control. It will not be cheap, but it must be affordable compared to the income of the middle-income and low-income," Mr Tharman said. 
INSULATE FROM RELIGIOUS EXCLUSIONISM
Another participant asked how youths can identify themselves with their own faith without being stigmatised, to which Mr Tharman said that it helps to identify and learn about the common ground between different religions. 
This can be done by learning the historical roots of different faiths and how they evolved over time, he said.
"That itself will make people more open-minded. You have your own religion but you're not so worried about other religions because there's something similar in the other religion."
He added: "Having that historical understanding will help people know that it's not a competition. They (faiths) are actually different branches of spirituality and we gain confidence in our own religion."
However, he noted that internationally, this may be difficult due to two reasons.
"First, religion has become too much a part of political competition, and this has made the competition between the religions much sharper and more offensive. You see it in India, in the United States and Europe today. It's a very serious problem.
"Secondly, each religion also goes through its own intellectual waves, and these waves can last a long time… some of the world's religions now are going through a wave of exclusionism where they look down on other religions, and even within their own religions, it becomes very strict," he said. 
He said that Singapore has to insulate ourselves from the exclusionist waves, which "we are doing quite well".
"If you look at the Muslim community, I think the leadership is insulating itself quite well from these foreign tendencies. They are trying to keep a different model of Islam in Singapore," Mr Tharman said. 
On another participant's question about reaching out to youths, Mr Tharman's wife Jane Yumiko Ittogi, who was present at the event, talked about her experience engaging with prisoners as a judge in a prison-wide poetry competition in 2006.
From her engagement, she said that she learned the importance of listening "very carefully" to people and affirming their emotions to build a relationship with them.
"There is an ethic when people are talking to you, especially about their pain. You have to really be patient.
"And sometimes I find that just that patience allows them to put themselves in a place they want to be in their life, and see it in a positive perspective," she added.