Sick animal at home? Pet owners turn to video consultations with vets, house calls
SINGAPORE — Ten-year-old poodle Coco grapples with anxiety every time it visits a veterinary clinic.
SINGAPORE — Ten-year-old poodle Coco grapples with anxiety every time it visits a veterinary clinic.
It would bark, pace about the clinic and even make a dash for the exit, said its owner, medical doctor Marcus Ong.
So when Coco developed rashes last month, Dr Ong, 34, tried something out of the ordinary: A teleconsultation with a vet.
Instead of taking Coco to a clinic, Dr Ong fixed an appointment online with ZumVet, a digital healthcare provider that launched in October.
Hours later, he was online with Dr Michelle Loh, ZumVet's co-founder and head veterinarian.
Via a video chat, Dr Ong showed the vet Coco's rashes and its movements, as it had been walking "in a funny way".
Coco was suspected to have come down with an allergy. Dr Ong said he was changing the dog's diet in the hope that its condition would improve.
Demand for animal teleconsultations — mirroring telemedicine for humans, which has taken off in recent years — is healthy, with at least two providers, ZumVet and Pets Avenue Veterinary Clinic, offering the digital service in Singapore.
The uptake for veterinary house calls, which have been provided by some veterinary clinics for more than a decade, is also on the rise, operators told TODAY. The market has also seen house-call-only services sprout in recent years.
Startup founder Grey Tan, 29, owns two felines — one is six, the other two years old — and a pair of kittens, which are about three months old.
In October, he first engaged Vetpal, a house-call-only vet service that started business in September, after one of his cats came down with a food allergy.
Dr Chua Hui Li, a Vetpal co-founder, spent more than an hour with his cat, and through her investigations, discovered that it was having a toothache.
This was a breath of fresh air for Mr Tan.
"Usually when you go to a vet (clinic) and tell them that (the animal) has this problem, they would try to just fix that problem and don't try to do a full diagnosis," said Mr Tan.
"Through Dr Chua's knowledge and experience, she managed to find out what was really troubling my cat."
HEALTHY DEMAND FOR TELECONSULTATIONS
ZumVet — which also offers house call services — does three teleconsultations and three house calls a week on average, though numbers fluctuate, Dr Loh said.
The teleconsultation service runs from 7am to 3am daily, and costs S$28. Vets can go online within 10 to 15 minutes of a booking. Typically, though, pet owners request consultations three or four hours in advance, said Dr Loh.
Pets Avenue, which runs a veterinary clinic on Empress Road and is set to open its second clinic on Jalan Jurong Kechil this week, has been offering its electronic consultation service via vets.sg since August.
The service is free, and for the past three months, it has done about 200 e-consultations, said Dr Chong Lip Ren, owner of Pets Avenue.
It is available on weekdays and appointments must be made at least a day in advance.
Both providers acknowledged that teleconsultations have their limitations and are more suitable for non-urgent cases such as:
Mild cases of diarrhoea

Skin rashes

Some types of limping, such as in older, arthritic pets

Behavioural issues

Ear issues
Teleconsultations are, however, unsuitable for animals that have suffered traumatic injury (for example, from road accidents or falls from a height), or those that are vomiting, refusing food or having breathing difficulties, said the vets.
An electronic service obviates the need for pet owners to travel to a clinic, raising convenience and soothing pets' anxieties over travelling and being around other animals.
Dr Ong, Coco's owner, said: "My dog's condition didn't really require injections or anything more invasive, so that does save a lot of time and it's so much more convenient."
Others are, however, more sceptical of teleconsultations.
Mr Tan, the startup founder, said that he would prefer that a vet was present, so that the vet can detect other ailments.
"For example, if the vet weren't around, she wouldn't have discovered that there were mites on my cat. I don't think any video is high-quality enough to be able to show that," he said.
Vetpal's co-founder Kelvin Tan said that his startup explored the possibility of providing teleconsultations earlier this year, but ditched the idea.
"How sure are you that you are telling the pet owner the right things over video?" he said, recounting feedback from the vets in his team. He added that teleconsultations hinge on how well owners describe their pets' problems and their ability to manoeuvre a webcam to show vets the right areas.
Even so, Dr Loh of ZumVet stressed that the service filled a need for some pet owners in certain situations.
"It can help to at least maintain the status of a pet's condition until the owner is able to get a more comprehensive checkup done," she said.
"Sometimes, whether it is intentional or not, some people seek veterinary treatment only when the animal is much sicker.
"At that point, recovery is a lot more challenging."
HOUSE CALLS CATCHING ON
Though less of a novelty than teleconsultations, house call services are also gaining popularity.
Consultation fees across the various providers range between S$97 and S$150, excluding medication and further investigation, such as blood tests. Surcharges may also apply if the pet owner's home is in a secluded area of the island, such as in the far west.
When VetMobile started in 2017, demand for house calls was low.
It made about three visits a week, said Mr Choo Zheng Hao, 31, who co-founded the service with his wife, vet Angeline Yang, 32.
Right now, VetMobile takes 10 cases a week on average. "There's a growing realisation (among the public) that there is a house call service," said Mr Choo, VetMobile's vet manager and nurse.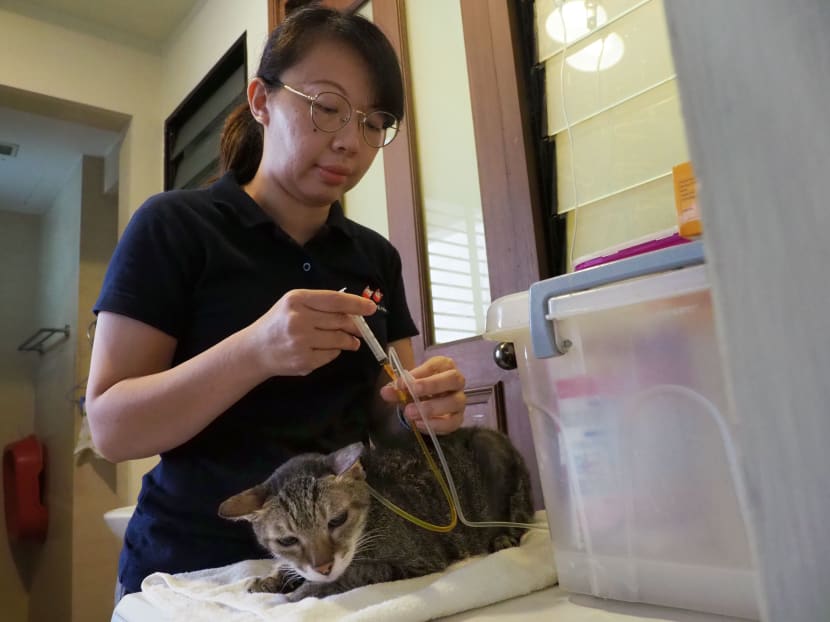 The latest entrant to the market, Vetpal, has treated nearly 400 animals since it launched in September. Most of these are dogs and cats, said Mr Kelvin Tan.
Dr Chong of Pets Avenue said his house call cases had shot up by 80 per cent this year, compared with 2018.
The most common ailments seen at house calls include skin and eye issues, diarrhoea, arthritis and the management of chronic illnesses, the firms said.
Others request house calls to vaccinate their pets, or put sick or older animals to rest in the comfort of their homes, they added.
Like teleconsultations, house calls have their restrictions. Vets cannot take X-rays and ultrasound scans, or perform surgery, for instance.
Mr Kelvin Tan said that he and his co-founders started Vetpal because treating animals in their homes makes it easier to assess the pets, as it removes the transport and clinic anxiety that animals face.
Sometimes, bigger pets also do not fit into vehicles and pet owners face long waits at clinics, he said.
"We want to make house calls a mainstream thing," said Mr Kelvin Tan.
LICENSED VETS ONLY
The Animal and Veterinary Service (AVS), a unit of the National Parks Board that licenses veterinarians, told TODAY that only licensed vets are allowed to make house calls and provide web consultation.
Dr Chang Siow Foong, group director of professional and scientific services at the AVS, said: "In addition, veterinary house-call services need to be part of a veterinary clinic or have a formal agreement with a veterinary clinic, where complex cases can be referred to, and to provide transport services to the clinic in case of emergencies."
Dr Chang added that vets, including those making house calls, must follow the code of ethics for vets — which sets out standards of professional conduct — and other relevant regulations, such as the Animals and Birds Act.
This is to safeguard the health and welfare of animals, and ensure that the high standards of the veterinary profession continue to be upheld, he said.