Singapore's 7-0 SEA Games defeat shows need to meet medium-term goals before lofty World Cup dream: Football fraternity
SINGAPORE — Reacting to Singapore's 7-0 thrashing in the hands of its Malaysian rivals, football pundits and former national players said that Singapore needs to renew its focus on its medium-term goals to prevent a similar loss in the future, rather than hark on longer-term goals such as qualifying for the World Cup.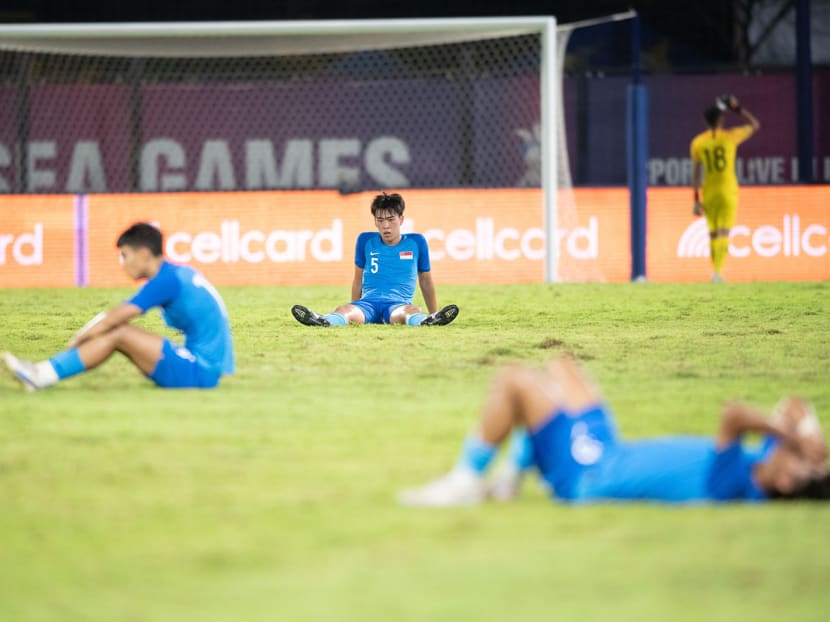 Singapore's under-22 football team was demolished 7-0 by Malaysia at the 2023 SEA Games held in Cambodia
Pundits and fans said that Singapore's biggest ever loss to Malaysia on May 11 was not surprising given its recent run of poor form 
They also said that instead of focusing on lofty goals such as World Cup qualification, more emphasis should be put on medium-term goals 
If not, it would be hard to galvanise the fans and up-and-coming football talent in the future
SINGAPORE — Reacting to Singapore's 7-0 thrashing in the hands of its Malaysian rivals, football pundits and former national players said that Singapore needs to renew its focus on its medium-term goals to prevent a similar loss in the future, rather than hark on longer-term goals such as qualifying for the World Cup. 
Should Singapore fail to achieve any success or even qualify for the final stages in upcoming competitions, they risk losing support from fans, as well as potential footballing talent who may have little to no role models or past performances to look up to, they added. 
Pundits and fans said that while the 7-0 score on Thursday (May 11) may seem shocking, and even embarrassing for some, none of them were surprised at the result, given the national team's calamitous run of form in regional competitions. 
Singapore's demolition by Malaysia at this year's Southeast Asian (SEA) Games — held in Phnom Penh, Cambodia — was its heaviest defeat since the games became an age-group affair, where the tournament is limited to players exclusively under 22 years old (U22).
The mauling is Singapore's largest ever loss to Malaysia, in both U22 and national team competitions. Its previous biggest defeat to Malaysia was a 6-0 loss in 1978 during the Merdeka Tournament.
It is also Singapore's worst defeat at the SEA Games since an 8-1 loss to Burma at the 1971 event in Kuala Lumpur, Malaysia.
THE REALITY OF SINGAPORE FOOTBALL 
Mr Rhysh Roshan Rai, a former S-League midfielder who now works as a freelance sports broadcaster, said that the loss was not a surprising one to him, having observed Singapore's footballing standards over the past few years. 
"If anyone is surprised then they probably haven't been following football in the region closely," the 38-year-old said.
"We are quite far behind the top sides at the moment — Cambodia, Laos, Myanmar are at our level now." 
Singapore had not qualified past the group stage of the SEA games for 10 years, and its current SEA games campaign ended without any wins, with losses to regional powerhouses Vietnam and Thailand, the mauling by Malaysia, and a draw with traditional minnows Laos, ending in Singapore finishing last in the table on goal difference.
This is the poorest showing in its last 10 years competing at the games.
Former national footballer Rafi Ali said that the defeat was one that left a bitter taste in his mouth, knowing the kind of regional talent the young Singapore team was up against this round.
"I feel sorry for the boys. They tried. I can see that they're trying. They're just not equipped, not well-equipped enough for international football," the 50-year-old said. 
Mr Rafi said that from his analysis of Singapore's three defeats in the SEA Games, it is evident that the players are lagging in terms of tactical awareness, physicality and technical skills compared to regional rivals. 
"It's like going to war without your M16 (rifle) or without your tactical training," said Mr Rafi, who was part of the Singapore national team that won the 1998 Tiger Cup, which was what the Asean Football Federation (AFF) Championship was known as in the early days because of the sponsor.
The reasons for this discrepancy in talent has been discussed extensively by the media after past defeats, with the pundits pointing out factors such as a poor talent pipeline resulting from young players prioritising their studies and careers, a perceived lack of prospects in a career in football, as well as the less competitive nature of the Singapore Premier League (SPL) compared to other foreign leagues. 
DON'T LOSE SIGHT OF MEDIUM-TERM GOALS
Mr Rai said that the Football Association Singapore (FAS) has acknowledged this shortfall and is thus looking towards long-term goals such as the Unleash the Roar project, which was kickstarted in 2021, to develop footballing talent among children now.
The project is part of an ambitious plan by FAS, dubbed Goal 2034, for the men's national team to qualify for the 2034 World Cup. 
Mr Rafi, who is part of the Unleash the Roar project as an ambassador, said that the project aims to "cast the net wider, to go scouting islandwide" in a bid to identify more raw footballing talents and to develop them into national team players with the technical abilities to compete internationally.
"We have to go back to the basics, start from zero again. The most important thing is to acknowledge that this is not working."
A couple of football fans said that it is good to have an ambitious long-term goal, but the short- and medium-term failings of the national team may hinder the fulfilment of these longer-term aspirations. 
Football fan and former sports journalist Amanpreet Singh, 27, said that fans are lacking faith in the Singapore team with its recent run of results, and will find it difficult to back FAS' lofty push towards the World Cup. 
"If the fans do not see a plan in place that shows promise of results in the near future, they will not feel confident in or be inspired by the ability of the team to deliver results in the longer-term," he added. 
"You can't say, 'Let's aim for this 10 years down the road' and then keep failing and underperforming in upcoming tournaments." 
He added that these medium-term goals need not necessarily even mean winning a medal at the SEA Games, but in simply going further than the group stages, which has not happened in the past 10 years. 
"(Going beyond the group stages) is a hurdle that we need to get over, before we can even think about being a champion, or getting a medal." 
Football fan Gary Koh, 39, who works in logistics, said that the recent run of poor form will discourage young footballing talents from taking the sport seriously. 
"If people think they can really become the next (Joseph) Schooling, Loh Kean Yew or even Danelle Tan (female footballer), they will put the money where their mouth is.
"People losing faith is understandable because the results don't lie and the perceptions don't help," Mr Koh added. 
WHAT THEY WANT TO SEE GOING FORWARD
Quick fixes to a deep-seated issue may be in short supply, but one suggestion made by fans and pundits is that the national team should have trained together at an earlier stage, rather than be assembled nearing the date of the SEA Games. 
The national team was assembled to train together just about two weeks before the SEA Games opener against Thailand. Before that, most of the players were still competing in SPL matches. 
Mr Singh the former sports journalist said that this was in contrast to the other regional teams who trained together well in advance before the SEA Games. 
"Is it still beneficial to have the Young Lions team in the SPL? I feel that there's a lack of focus and direction here... (The mindset of the players may be), 'I have a major tournament coming up, but I also have SPL games to play'." 
Mr Koh, the other football fan who edited a book on Singapore's football scene titled Roar: Football Legends of Singapore, said that the decline of the men's team sits in contrast to the resurgence of the women's team over the last decade. 
Given that there had been "significant periods" where the women were totally inactive in the game before 2016, the resurgence is down to a handful of schools being "committed to having girls playing football and the population base can grow further", he noted.
Mr Koh also observed a tenacity in the women's game that he does not see in the men's game at the moment. 
"Unlike the men, the women — despite the lack of technique overall — show more tenacity and desire to play for the flag, especially against teams of a similar or slightly higher level," he added. "The qualities the women showed were what the men used to have until this generation of young players." 
Mr Singh said that ultimately, FAS has to answer for the thrashing — and do it soon. 
"The FAS needs to be accountable, and come out and say that this is unacceptable."
TODAY has reached out to FAS and its president Bernard Tan to seek comment on Thursday's defeat and what it plans to do in response to it. 
Thursday's loss will haunt the football fraternity for a while yet. However, Mr Rai believes that it is not the worst that Singapore football has gone through in its history.
After all, the football at the SEA Games is still an age-group tournament, and not senior international football.
"I think we have had worst results at that level, for example, Singapore losing 4-0 to Malaysia during the Jan Poulsen era," he said, referring to when Singapore crashed out during the 2002 AFF Championship under the management of manager Jan Poulsen. 
"We are paying the price for poor development practices previously and we deserve what we are getting right now, but that doesn't mean things can't change down the road for future batches," he added.