Singapore and Malaysia working on agreement to suspend Johor-Singapore rail project for six months
KUALA LUMPUR — Singapore and Malaysia are working on an agreement to suspend the Rapid Transit System (RTS) project linking Johor Baru and the Republic for six months at Malaysia's request, Singapore's Transport Minister Khaw Boon Wan said on Monday (April 8).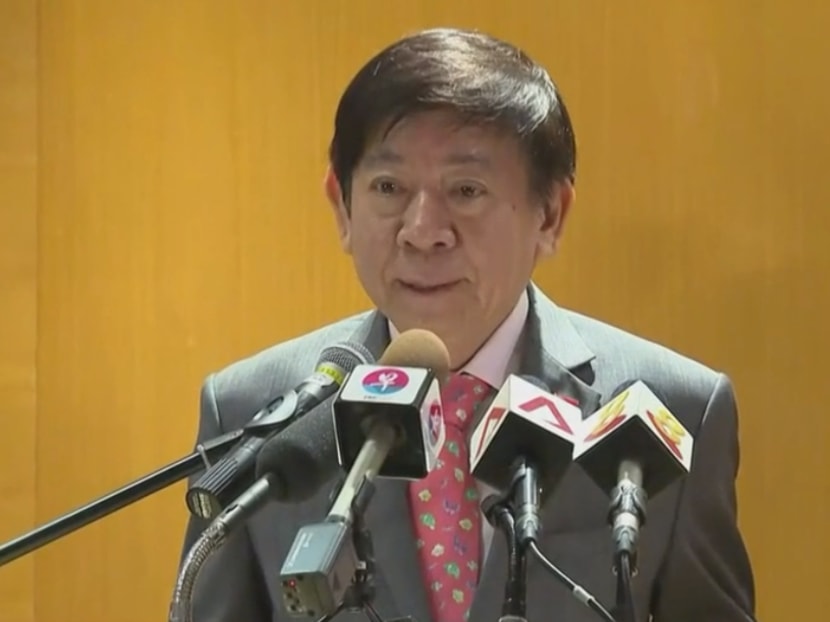 KUALA LUMPUR — Singapore and Malaysia are working on an agreement to suspend the Rapid Transit System (RTS) project linking Johor Baru and the Republic for six months at Malaysia's request, Singapore's Transport Minister Khaw Boon Wan said on Monday (April 8).
"Both our respective attorneys-general and officials are working towards a supplementary agreement to effect such a suspension. We will approach this issue as we did for the suspension of the High-Speed Rail project, with goodwill and reasonable accommodation," Mr Khaw told reporters at a press conference with his Malaysian counterpart Anthony Loke at the Kuala Lumpur International Airport.
Mr Khaw is accompanying Prime Minister Lee Hsien Loong for an annual leaders' retreat hosted by Malaysian PM Mahathir Mohamad.
His comments come a week after Singapore's Ministry of Transport (MOT) said that it was possible for Malaysia to defer deadlines and review parameters on the RTS, but this has to be done within agreed terms and with mutual consent from both sides.
Malaysia had requested a six-month deadline extension in late March to respond to Singapore on issues relating to the RTS link, said the MOT.
Malaysia wanted to review the project's scope, structure and costs that were agreed earlier between the two countries.
Mr Loke had previously said that the aim of the extension was to allow the Malaysian government to study the cost of the project — which was estimated at RM4 billion (S$1.33 billion) — and to reduce it further.
The completion of the project, which is behind schedule as Malaysia has missed several deadlines, will likely be delayed beyond the initial target of Dec 31, 2024.
Mr Loke added on Monday that Singapore and Malaysia also wished to lower the costs of riding the RTS, as passengers could be charged high fares under the present agreement.
"Both sides agreed that we need to work together in terms of lowering the ticket price, in order to encourage more people to use the RTS once it's completed," he added.
When asked if Malaysia would have to pay compensation to Singapore for the suspension, Mr Loke said there would be "some cost involved", but he could not provide details as this would be determined by the review.
NEW GPS-BASED INSTRUMENT APPROACHES FOR SELETAR
Meanwhile, Mr Khaw said that the civil aviation authorities of both countries will continue to work on developing Global Positioning System (GPS)-based instrument approach procedures for Seletar Airport from the north over the Pasir Gudang town in Johor Baru and from the south over Singapore.
As aircraft take off and land into the wind, and with north-east and south-west wind directions taking place at different times of the year, both approaches are needed, Mr Khaw added. The approach procedures are expected to be published soon.
This will improve safety for flights using Seletar Airport, Mr Khaw said.
"Since the ILS (Instrument Landing System) has (run into) some difficulties, we think a GPS-based (system) is a great possibility," the minister added, two days after the two countries announced that Singapore had withdrawn ILS procedures for Seletar Airport and Malaysia would suspend indefinitely its permanent Restricted Area over Pasir Gudang.
The agreement, which took effect last Friday, paves the way for Malaysian airline Firefly to start operations at Seletar Airport. Firefly will begin flights to Seletar on April 21 and another Malaysian airline, Malindo Air, has also applied to fly to the airport, said Mr Loke.
Firefly was slated to move its operations from Changi Airport to Seletar Airport on Dec 1 last year, but it did not get the green light from the Malaysian authorities.
Malaysia had protested that Singapore's plan to roll out the ILS — which guides aircraft to stay on a descent path — at Seletar Airport would encroach into its airspace and hamper development in Pasir Gudang.
Singapore's authorities have refuted these claims, saying that Seletar's ILS procedures were designed in line with international standards and took into account Pasir Gudang's structures.
HIGH-LEVEL COMMITTEE ON AIR TRAFFIC SERVICES
On Malaysia's wish to take over control of the provision of air traffic services over southern peninsular Malaysia — which Singapore currently oversees —Mr Khaw said he explained to Mr Loke earlier this year that the present arrangement was brokered by the International Civil Aviation Organisation (ICAO) at a 1973 regional air-navigation meeting. It was agreed on by states in the region and approved by the ICAO Council, he added.
Nevertheless, a high-level committee has been set up to review the existing airspace arrangement, reiterated Mr Khaw.
It is chaired by Singapore's permanent secretary for transport and Malaysia's secretary-general of transport.
Mr Khaw said he assured Mr Loke that Singapore would approach the review with "an open mind", considering the many stakeholders and the need to ensure safety and efficiency in a busy airspace. "With goodwill and compromise, I am sure that a win-win solution which does not undermine each other's core interests can be found," Mr Khaw said.
There are also signs that Singapore and Malaysia are making progress on ongoing bilateral issues.
Earlier in the day, both countries mutually suspended their overlapping port limits, with Malaysia reverting to its port limits before Oct 25, 2018 and Singapore to its port limits prior to Dec 6, 2018.
The suspension kicked in a minute past midnight on Monday.
The maritime boundary standoff started when Malaysia extended its Johor Baru port limits unilaterally into Singapore's territorial waters off Tuas on Oct 25.
Singapore responded by extending its own port limits off Tuas on Dec 6, after Malaysian vessels intruded into its waters repeatedly for weeks.
The move to suspend the overlapping port limits was among five recommendations from a bilateral working group on maritime issues, agreed on by Singapore's Foreign Affairs Minister Vivian Balakrishnan and his Malaysian counterpart Saifuddin Abdullah on March 14 to ease tensions on the ground.