National marathoner Soh Rui Yong and Singapore Athletics in a tiff over social media blocking
SINGAPORE — Champion marathoner Soh Rui Yong jumped on Singapore Athletics (SA) after the national sports association blocked him from posting on its social media platforms.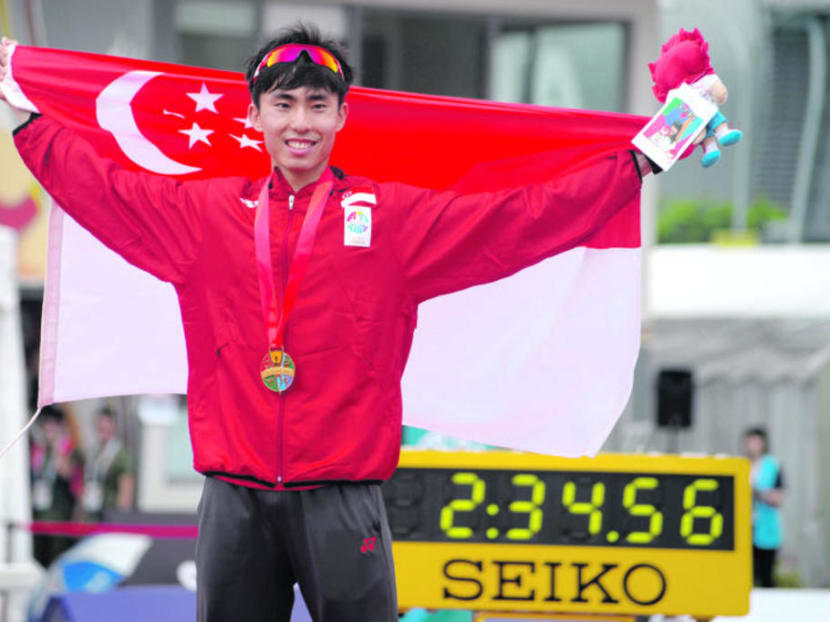 SINGAPORE — Champion marathoner Soh Rui Yong jumped on Singapore Athletics (SA) after the national sports association blocked him from posting on its social media platforms.
The latest spat follows SA's decision last week not to appeal against a decision to exclude Mr Soh from Singapore's contingent to the South-east Asian (SEA) Games in the Philippines later this year. Mr Soh is a two-time SEA Games gold-medal winner.
SA's executive director Syed Abdul Malik Aljunied told TODAY on Monday (Aug 5) that Mr Soh has been blocked "temporarily" from the association's social media platforms — including WhatsApp chat groups, Facebook, Twitter and Instagram — to prevent him from posting on them because he was a negative influence.
"(His) posts were very negative and we are concerned about the effect of his posts on the fraternity as a whole," Mr Malik said. "What we would really like to do is to encourage positive postings regarding athletics. We should be celebrating the fact that 20 athletes were selected for the SEA Games." 
In a post on his Facebook page on Monday, Mr Soh said that Mr Malik and the SA management had blocked him on social media platforms instead of reaching out to him.
"When an athlete disagrees with you, block them on WhatsApp and all social media platforms with no reason given rather than sending him an email/ text/ calling him, communicating and working it out together," Mr Soh wrote in the post.
Mr Malik said that Mr Soh would be blocked until the association had an opportunity to engage him in conversation and "agree on certain principles".
"SA is ever ready to engage with him in a mutually respectful dialogue to put a closure to this issue and to move on," he said.
Mr Malik added that the association is making arrangements to meet Mr Soh as soon as possible. He added that Mr Soh had turned down a request by SA to meet on June 20 — the last time the association had reached out to Mr Soh.
In his Facebook post, Mr Soh included screenshots of two WhatsApp chats.
The first apparently shows a conversation between Mr Soh and an unidentified person, with the latter saying that he had been instructed to remove and block Mr Soh from all of SA's social media accounts.
A second screenshot appears to indicate that Mr Soh had been removed from a WhatsApp Group called "SAA – Closed".
Addressing Mr Soh's comment on Facebook that he had instructed a "junior staff" to block Mr Soh from SA's social media accounts rather than do it himself, Mr Malik said that he had asked SA's chief information officer — who is not a junior employee — to do so, because he had to attend to other roles and responsibilities.
He said: "I'm really busy trying to assist 20 athletes to prepare for the SEA Games. I'm covering several roles at SA, including the duties of technical director, high performance manager and executive director. Serving the athletes who have qualified for the SEA Games and supporting their coaches is my immediate priority."
Mr Soh is a two-time SEA Games marathon winner, having clinched gold in 2015 and 2017. He had met the qualifying mark for this year's Games for the men's marathon event.
However, he was left out of the 585-strong Singapore contingent to the Philippines — the largest away contingent ever — for the SEA Games by the Singapore National Olympic Council (SNOC) last week on grounds that his conduct had fallen "short of the standards of attitude and behaviour that the SNOC expects of and holds its athletes to".
The SNOC did not specify instances of improper conduct but Mr Soh was caught up in a dispute with the council earlier this year over an act of sportsmanship by another marathoner, Mr Ashley Liew, at the SEA Games men's marathon final in 2015 in Singapore.
In response to his omission from the team, Mr Soh accused the SNOC and its president, Mr Tan Chuan-Jin, of engaging in "primary school playground politics".