Temperatures in Singapore could hit 40°C as early as 2045: Scientists
SINGAPORE — By 2045, Singaporeans could face some days of the year when temperatures soar as high as a scorching 40°C, based on projections by a climate research centre here.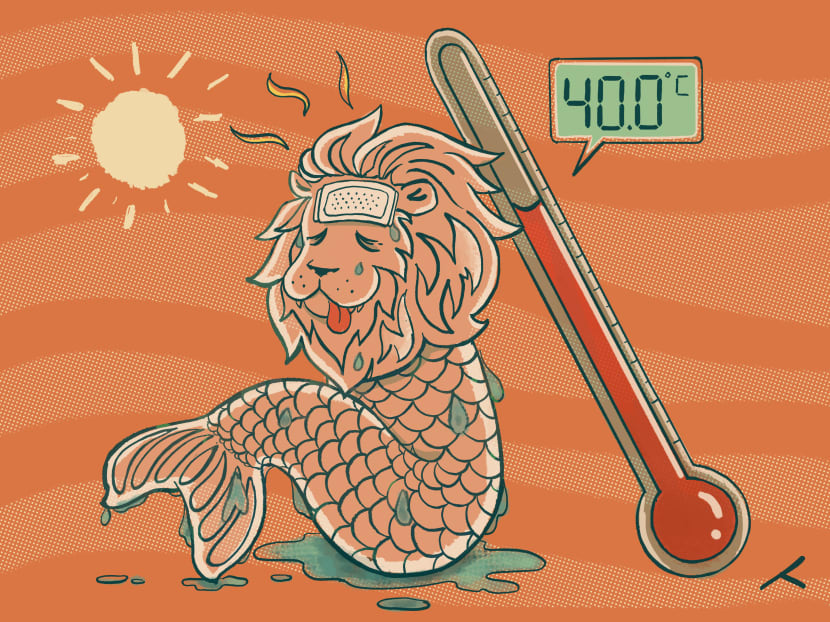 SINGAPORE — By 2045, Singaporeans could face some days of the year when temperatures soar as high as a scorching 40°C.
At best, this sweltering scenario could be delayed to as late as 2065 onwards, based on simulations conducted by a team of scientists at the Centre for Climate Research Singapore, which is part of the Meteorological Service Singapore.
Dr Muhammad Eeqmal Hassim, a senior research scientist at the centre, told TODAY on Thursday (July 4) that this is the worst case scenario if the world continues to emit greenhouse gases at a rate that is "business as usual".
"It (days of 40°C) won't be a one-off event. There'll be some days starting from as early as 2045. And that's what we saw in the results. Some models are later. And so that's why we tend to give a range (that is) as early as 2045, possibly, or as late as 2065 onwards,'' he said.
The scientist's dire warnings come on the back of a recent four-day heatwave across western Europe that killed at least seven people.
Reuters reported that the French region of Gard was the worst-hit, suffering a maximum of 45.9°C on June 28 — France's hottest day on record.
Scores of fires burned some 550 hectares (5.5km²) in the country's southern region and destroyed several houses and vehicles.
Closer to home, Malaysia was gripped by its own heatwave in the middle of March. "Level 1" alerts were issued by the Malaysian Meteorological Department to as many as 10 areas when the mercury hit maximum temperatures of between 35 and 37°C for three consecutive days. Only Level 2 and Level 3 alerts are more serious, with Level 3 applying when temperatures top 40°C for three straight days.
The dry spell also saw water levels at several dams hovering at critically low levels.
IT'S 'WARMING EVERYWHERE'
Singapore may have escaped heatwaves of this magnitude in recent times, but Dr Eeqmal stressed that the island is just getting warmer.
He said that in the last 10 years, January has been "as warm, or warmer" than what May was in the 1970s. "Our coolest month now is as warm as what our hottest month was then."
He added: "If you talk to elderly people, they would have a recollection of how much cooler Singapore was (when they were younger)."
Underscoring Dr Eeqmal's point, a British climate professor has created a project titled Show Your Stripes. The colourful graphic by Reading University's Professor Ed Hawkins shows to the layperson how much their country has warmed over the last century.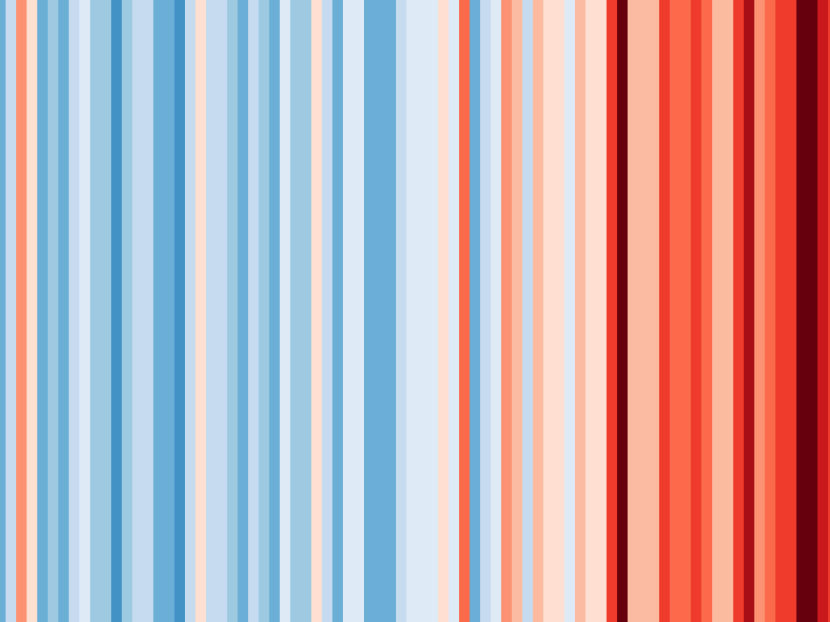 In his chart for Singapore, which starts from 1901 and ends in 2018, about two-thirds of it comprises various hues of blue – an indicator of cooler years.
It is only in the last one-third that more red bars start appearing, with the darkest shade of red towards the far right of the chart, which is roughly now.
Dr Hawkins told TODAY in an email interview that he created the graphic to show that "our planet is warming everywhere".
"Everyone can look at these visualisations and instantly understand how temperatures in their own location have changed," he said.
To put it in numbers, Dr Eeqmal said that Singapore's temperature has increased by 0.29°C, on average, over the past four decades.
'NEW TEMPERATURE REGIME'
The numbers may seem minuscule, but the effects on the environment manifest in a huge way through changing weather patterns and more extreme weather.
For instance, Dr Eeqmal said Singapore is experiencing "heavy rain events that are not only more intense, but more frequent".
Minimum temperatures are also on the rise. "One of the signs of global warming is that night time temperatures are increasing as well. So people are getting less relief."
The last decade has also been the hottest decade on record, he said. "We are getting into a new temperature regime."
Aside from the weather, Nanyang Technological University's (NTU) Associate Professor Adam Switzer weighed in on how else an increase in the thermometer will affect Singapore.
As it is, climate change is causing faraway glaciers to melt and the ramifications are being seen here.
Dr Switzer, who is a principal investigator at NTU's Asian School of the Environment, said the Republic's tide gauge network has shown a "general trend" that sea levels are rising.
Warmer oceans also cause coral reefs to bleach and die, which in turn affects the food supply.
TODAY previously reported that warming temperatures can lead to more dengue mosquitoes being bred as well.
Dr Switzer said some people continue to deny that climate change exists.
"Unfortunately, even with overwhelming evidence of climate change, there are certainly people who, for a variety of reasons, will continue to ignore the facts placed in front of them," he said.
Still, he acknowledged that there are those who want to face the challenge and address climate issues. The challenge, he said, was to provide them with clear science-based guidelines.
WE NEED TO ACT NOW
Yet, even in a hypothetical situation where leaders of the world collectively put a stop to carbon emissions today, Dr Switzer said it would "take decades" to see the changes in the atmosphere.
"Some impacts like sea-level rise would take centuries to equilibrate, but that is not a reason to not act now. The longer we wait, the more urgent the problem will become."
While the future might look bleak, there is a growing awareness among Singaporeans about the need to tackle climate change, according to a non-profit organisation made up of lay people with an interest in the environment.
Earth Society's vice president Low Chip Khoon also found that in their various outreach programmes to educate the public on the effects of climate change, they realised that young people seem to care more about climate change than others.
"Perhaps, they know that if we don't do anything about climate change, they would not have a liveable planet to live in."
CREATING A SNOWBALL EFFECT
Climate change might seem like an abstract idea that is beyond most people's means to tackle, but there are practical everyday solutions that can be adopted that can eventually lead to a snowball effect, said Dr Eeqmal.
For example, he said something as simple as converting to LED lights is not only more cost effective, but energy efficient.
"Turning your air-conditioner's thermostat up to 25°C or 26°C, instead of 22°C, reduces the amount of electricity required for cooling as well."
While it might be hard for Singaporeans who love to travel, the fact is that aircraft generate a lot of greenhouse gases. Scientists agree that people should reduce their flying as much as possible in order to reduce emissions.
If that is not possible, an adjustment in people's diet would also help, said Mr Low.
"One major action we can do is to reduce meat consumption by half to reduce greenhouse gas emissions," he said.
A 2018 report by The Guardian stated that food production causes great damage to the environment, via greenhouse gases from livestock, deforestation and water shortages from farming, and "vast ocean dead zones from agricultural pollution".
If people do their part to mitigate the effects of climate change, Dr Eeqmal said the projections for Singapore would be a lot less extreme.
"Under this mitigation scenario, our daily average temperature would only reach up to 29 or 30°C by the end of the century, which is what we are currently experiencing, and something we can tolerate."