Singapore developing blueprint for sustainable air hub, as it revives air travel
SINGAPORE — The Ministry of Transport and the Civil Aviation Authority of Singapore (CAAS) have started to put in place "building blocks" for a sustainable air hub, as Singapore revives air travel in the coming years, said CAAS on Tuesday (Feb 15).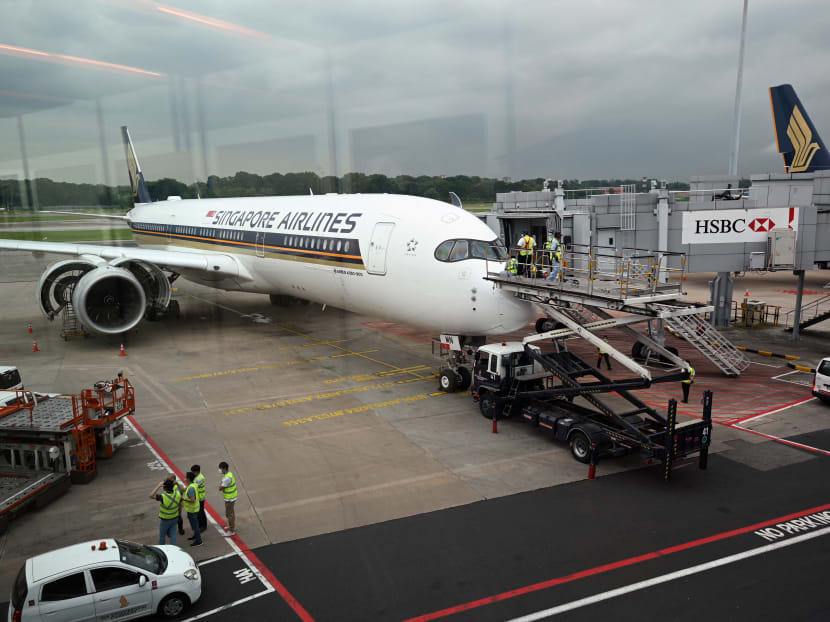 SINGAPORE — The Ministry of Transport and the Civil Aviation Authority of Singapore (CAAS) have started to put in place "building blocks" for a sustainable air hub, as Singapore revives air travel in the coming years, said CAAS on Tuesday (Feb 15).
With sustainability "a key priority for Singapore's aviation sector", the CAAS will engage industry stakeholders to "canvass ideas and develop practical pathways to make greener air travel viable and accessible for all".
It has also set up a 20-member International Advisory Panel, CAAS added in a press release.
"Pre-Covid, global aviation contributed about two per cent of global emissions. And once aviation resumes in the trajectory it was before the pandemic, then you must expect the emissions will continue to rise unless we do something about it," said Minister for Transport and Minister-in-charge of Trade Relations, S Iswaran.
"For Singapore, we are a major international aviation hub. On one hand, sustainability of our air hub is a high priority. At the same time, we're very committed to doing our part towards sustainability of the global international aviation system." 
BLUEPRINT FOR AIR HUB, ECONOMIC VIABILITY A PRIORITY
Mr Iswaran added that there is a need to bring all this together in an "over-arching framework for the long term", in the form of a sustainable air hub blueprint that will chart the pathways for achieving targets.
The blueprint for the air hub is expected to be ready in early 2023, "given the urgency and the need to act decisively", he said.
"(The blueprint) will set medium-term (2030) and longer-term (2050) sustainability goals and identify practical, tangible pathways to achieve them. It will focus on the three key areas of airport, airline, and air traffic management, bringing together the various stakeholders," added CAAS in its press release.
It will also lay the foundation for four "critical enablers" that are needed to support and drive sector-wide decarbonisation efforts: Policy and regulation, industry development, infrastructure planning and provision, and jobs and skills.
In the end, sustainability must entail trade-offs, said Mr Iswaran.
"There would be economic costs, and there are costs at the individual level, the enterprise level, and ultimately at the system level.
"And that is exactly why we start with these kinds of panels and initiatives. Because we want to bring in the public sector-private sector partnership, and importantly, the commercial perspective. Because we need that commercial angle to ensure the viability of many of the ideas, especially those that we're looking at in the near-term."
At the national level, we also need to have "a strong commitment", noted Mr Iswaran.
"The Singapore Green Plan is a clear statement and articulation of what Singapore stands for in this regard and how we want to move forward," he added.
"We do need to bring these together to the best of our ability, (and) ensure we're able to move forward in a sustainable way, but also in a manner that ensures economic viability taking into account the perspectives of all the stakeholders."
EXISTING "BUILDING BLOCKS" FOR SUSTAINABLE AVIATION
There are already existing "building blocks" in place for a sustainable air hub, said CAAS.
For instance, Singapore is one of the 107 states voluntarily participating in the pilot phase of the Carbon Offsetting and Reduction Scheme for International Aviation (Corsia) to meet a global aspirational target of carbon-neutral growth from 2020.
Besides fulfilling its own commitment, Singapore is also providing capacity building support to other countries to help them in their implementation of Corsia.
Singapore has also worked with other participating countries to develop a policy toolkit for sustainable aviation fuel, added CAAS.
This toolkit aims to help policymakers around the world grow a sustainable aviation fuel supply, stimulate demand for such fuel and enable a healthy sustainable aviation fuel eco-system.
The CAAS is also working with key industry players on various initiatives to decarbonise the sector, including the installation of solar panels, electrification of ground fleet, implementation of energy-efficient systems and the use of more renewable energy at Changi Airport.
Last week, CAAS and Singapore Airlines (SIA) announced that for a one-year period starting from the third quarter of this year, all SIA and Scoot flights out of Changi Airport will use "a blend of refined jet fuel and neat sustainable aviation fuel".
"This is expected to reduce about 2,500 tonnes of carbon dioxide emissions over the one-year period," said CAAS.
Additionally, CAAS is tapping "new technologies and international collaboration" to enhance air traffic management efficiency. This will reduce airborne time and fuel use.
"While the immediate focus of the Singapore air hub is to revive air travel, we cannot lose sight of the longer-term challenge of climate change. Sustainability is a national priority for Singapore," said Mr Iswaran, who was at the International Advisory Panel's inaugural meeting.
"And the (air hub's blueprint) will articulate how Singapore can contribute to the decarbonisation of international aviation as well as our national sustainability efforts. This is a challenging endeavour especially at a time when aviation companies are still dealing with the effects of the pandemic.
"It will require strong public-private partnership and cross-sectoral collaboration to innovate and reinvent the aviation eco-system." CNA