Singapore hopes China will restore pre-pandemic visa-free arrangement, flight connectivity: Lawrence Wong
SINGAPORE — Singapore has told China that it hopes the country will restore a pre-pandemic visa-free arrangement and levels of flight connectivity.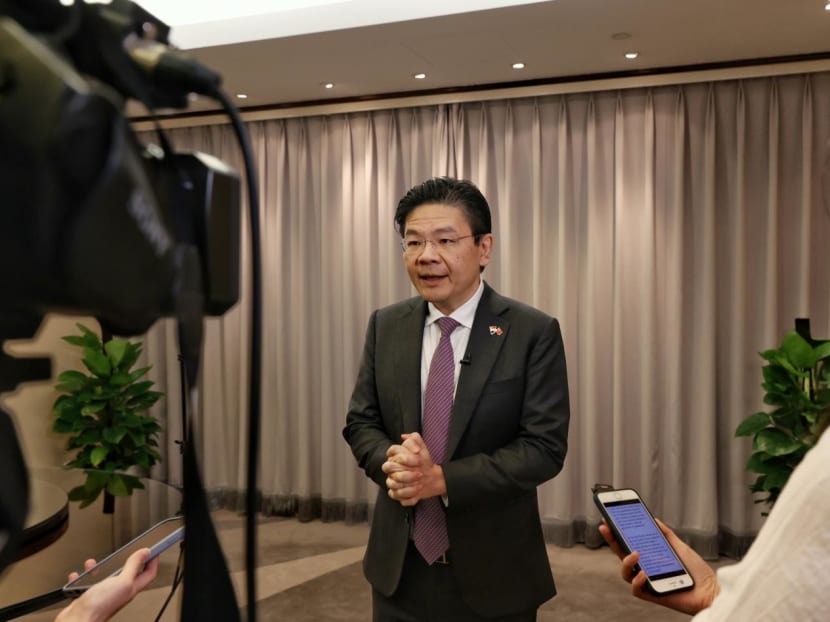 SINGAPORE — Singapore has told China that it hopes the country will restore a pre-pandemic visa-free arrangement and levels of flight connectivity.
Deputy Prime Minister Lawrence Wong made these remarks to reporters at Singapore's embassy in Beijing on Wednesday (May 17) as he wrapped up an official visit to China, his first since he was appointed deputy prime minister.
His five-day trip to Shanghai and Beijing included meetings with China's Premier Li Qiang and Vice Premier Ding Xuexiang, among other senior officials.
Mr Wong said visa arrangements were discussed in his meetings with Chinese leaders as both sides recognise the importance of people-to-people exchanges.
"We have expressed our hopes that China would firstly restore flight connectivity back to pre-Covid levels, meaning to allow air services on both sides to reach their full potential, like what was the case prior to the pandemic."
Singapore also hopes that China will restore a pre-pandemic arrangement for Singapore citizens to visit without a visa for up to 15 days, he said.
The Chinese Embassy in Singapore resumed issuing visas for foreigners to enter China in March, but the visa-free facility remains suspended.
China's similar visa exemptions for Brunei and Japan are also currently suspended, according to a notice on the website of China's embassy in Singapore.
Mr Wong added that there have been suggestions for "further mutual visa arrangements" between China and Singapore.
"We are happy to receive any proposals from China. We will study them and we will have our officials discuss further what we can do on this track," he said.
Mr Wong also responded to a question on how Singapore's fourth generation (4G) leadership will deepen ties with China.
He said the relationship between the two countries has been built on mutual trust developed over generations, through years of friendship and working together on multiple projects.
These projects include the China-Singapore Suzhou Industrial Park project — launched in 1994 to develop a township within Jiangsu province — and the Sino-Singapore Tianjin Eco-city, which aims to build a 30 sq km ecologically friendly district.
Mr Wong added that a "virtuous cycle" of trust at the leadership level has allowed them to develop projects that are relevant to both sides.
"And I think if we can continue to maintain this high level of trust, then we will be able to take our relationship forward and realise our goals of an upgraded partnership, one that's high quality and future-oriented."
Responding to a question about Singapore's role in facilitating mutual understanding between the United States and China, Mr Wong said Singapore has to be realistic about what it can or cannot do.
"We cannot prescribe policy for US and China, we cannot tell either country what to do. But what we aim to do is to stay friends with both as far as possible," said Mr Wong.
"And if either party wants to seek our views, we will be very happy to share with them our perspectives candidly and objectively."
Commenting on the superpower relationship, he said it would be "very hard" to bring US-China relations back to what they used to be.
"But we hope that there can be a way ... to develop a new basis for this relationship, one where there will likely be very intense competition across many fronts, but at least some guardrails to avoid escalation, to prevent misunderstanding, and to manage the areas of differences." CNA