PM Lee says S'pore's submarines add to the Navy's 'crucial mission' of ensuring country's survival, launches 2 new ones in Germany
KIEL (Germany) — Submarines provide the Republic of Singapore Navy (RSN) an added capability in its mission to keep Singapore's sea lines of communication open.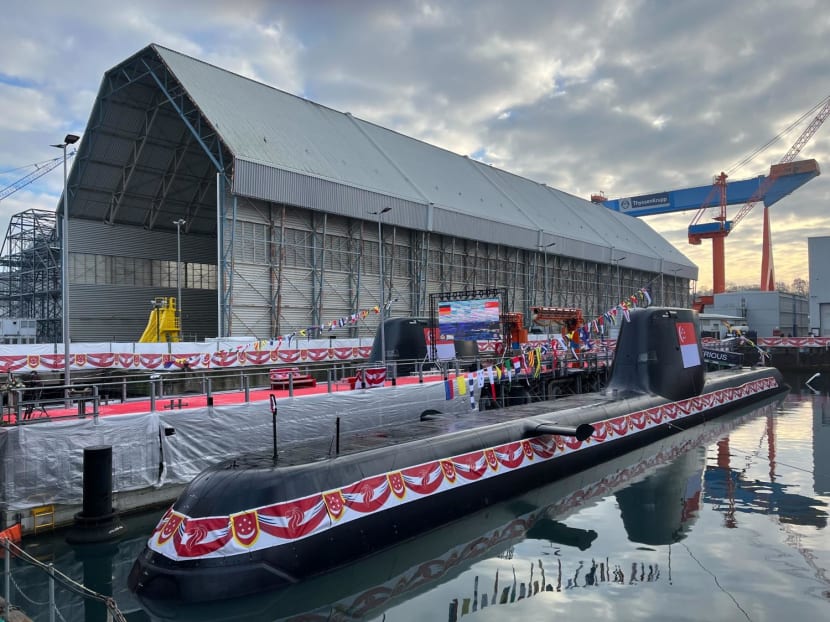 Prime Minister Lee Hsien Loong on Tuesday (Dec 13) officiated the launch of two Republic of Singapore Navy (RSN) submarines in Kiel, Germany
The submarines, Impeccable and Illustrious, are part of the new Invincible-class submarines
The submarines were developed with the local operating context and environment in mind
For instance, some buttons and valves on the submarines are at a more accessible height so that it can be easily reached by the average Singaporean
KIEL (Germany) — Given Singapore's status as a maritime nation, its navy has a crucial mission of ensuring its survival and keeping open its sea lines of communication, Prime Minister Lee Hsien Loong said on Tuesday (Dec 13).
And submarines provide an added capability to the Republic of Singapore Navy (RSN) to fulfil this role, he said.
"Singapore is a maritime nation that is highly reliant on the free and unimpeded movement of goods and materials across the sea for our prosperity and indeed, survival," Mr Lee said.
He was speaking in Kiel, Germany at the launch of two RSN submarines, which are now ready after facing delays in construction due to the pandemic.
RSN launched its first submarine in 1997 and has since come a long way in building up its submarine force, he noted.
It was previously reported that the RSN was operating four refurbished submarines acquired from Sweden.
These were two Challenger-class and two Archer-class vessels, which were built in the 1960s and 1980s respectively.
Four Invincible-class submarines — including the two launched on Tuesday — were meant to replace the older ones.
The two new submarines, Impeccable and Illustrious, were launched in freezing conditions at about 12pm German time (7pm Singapore time) at the Thyssenkrupp Marine Systems shipyard in Kiel by Mr Lee's wife, Madam Ho Ching, who activated a mechanism that broke two champagne bottles onto the hulls of both submarines simultaneously. 
It is a naval tradition for new ships and vessels to be sponsored by a civilian, typically a woman. 
Also present was German Federal Chancellor Olaf Scholz, Minister for Defence Ng Eng Hen and Mr Vivian Balakrishnan, Minister for Foreign Affairs, among other senior defence officials from both countries.
Mr Lee noted in his speech that it is quite unusual that the two submarines were launched in the water, as naval vessels are traditionally launched out of water at an earlier phase of construction. 
"While we put on hold the full ceremonials due to Covid-19 restrictions, we did not let the pandemic delay work on the submarines." 
In a separate statement on Tuesday, the Ministry of Foreign Affairs (MFA) said that Mr Lee and Mr Scholz reaffirmed both countries' "longstanding and excellent bilateral ties, in particular, in defence and economic cooperation".
Both leaders also expressed their desire to make progress in areas of common interest such as in innovation, climate change, renewable energy and the green economy.
They discussed how Singapore and Germany could work together as strategic partners to address global challenges, including supporting free trade, enhancing supply chain resilience, and strengthening economic linkages between our two regions.
"In this regard, the two leaders stressed that Asean-EU relations and cooperation were of strategic importance," said MFA.
Dr Ng also met his German counterpart Christine Lambrecht in Berlin on Wednesday, after the launch ceremony, said Mindef in a statement.
Both ministers reaffirmed the "warm and growing defence relations between Singapore and Germany, as well as the commitment to strengthen bilateral defence cooperation as agreed upon under the enhanced Defence Cooperation Agreement signed in 2018".
Dr Ng also conveyed Singapore's appreciation for Germany's support for the Singapore Armed Forces' training in Germany since 2009. They both exchanged views on geopolitical and security developments, and how both countries could work together to uphold a rules-based international order, added Mindef.
ABOUT THE SUBMARINES
The Ministry of Defence (Mindef) said that the submarines were "technically ready for launch" as early as last year, but the launch ceremony is only being held now due to pandemic-related delays such as travel restrictions and supply-chain disruptions
Despite the delays, there will be no impact to operational readiness, Mindef said
The two boats launched are part of the Invincible-class submarines, which are custom-designed in collaboration with Germany's Thyssenkrupp Marine Systems, for operations in Singapore waters
The first submarine in this class, named the Invincible, was launched in 2019, while the fourth submarine Inimitable, remains under construction
The Invincible-class submarines are the first of the RSN's fleet that it had a hand in designing
The previous two classes of submarines that the RSN has, the Challenger and Archer classes, were acquired from the Swedish Navy
The submarines will undergo a series of sea trials before being delivered to Singapore from Kiel next year, and will be commissioned for operations at a later date
HOW THESE INVINCIBLE-CLASS SUBS ARE DIFFERENT
The Invincible-class submarines were developed with the RSN's experience with the previous two submarine classes bought from the Swedish Navy
Lieutenant Colonel (LTC) Phang Chun Chieh, the commanding officer-designate of the Impeccable, said: "Everything is designed with the local operating context and environment in mind."  
For example, some buttons and valves on the submarines are at a more accessible height so that it can be easily reached by the average Singaporean, whereas the Swedish-made submarines bought in the past were designed for taller operators
It is also custom-designed for operations in Singapore's shallow and busy tropical waters, and is also able to stay underwater for a longer period of time
These new submarines also come with advanced algorithms in their operating systems to help to speed up decision-making during operations
"We have designed it to dominate our local underwater arena for many decades to come," LTC Phang said
HOW SUBMARINES PLAY A ROLE IN SINGAPORE'S DEFENCE
LTC Phang said that submarines are crucial because they act as "force multipliers" with their ability to attack with stealth
In football terms: "How many defenders do you need to mark and defend against an invisible Lionel Messi or Cristiano Ronaldo?" 
Having a credible submarine force also builds "professional stature" that deters any potential attacks against Singapore, LTC Phang added
"In our case, many navies like to exercise with our submarines because we provide high training value. And because we do well in these exercises, word does get around," he said
This means that potential aggressors need to bear in mind Singapore's capability before considering a move against the country, he added