Each S'pore resident to have own family doctor from 2023 under MOH initiative to improve population's health
SINGAPORE — Every household could soon have their own family doctor who will be the first port of call for all their health needs.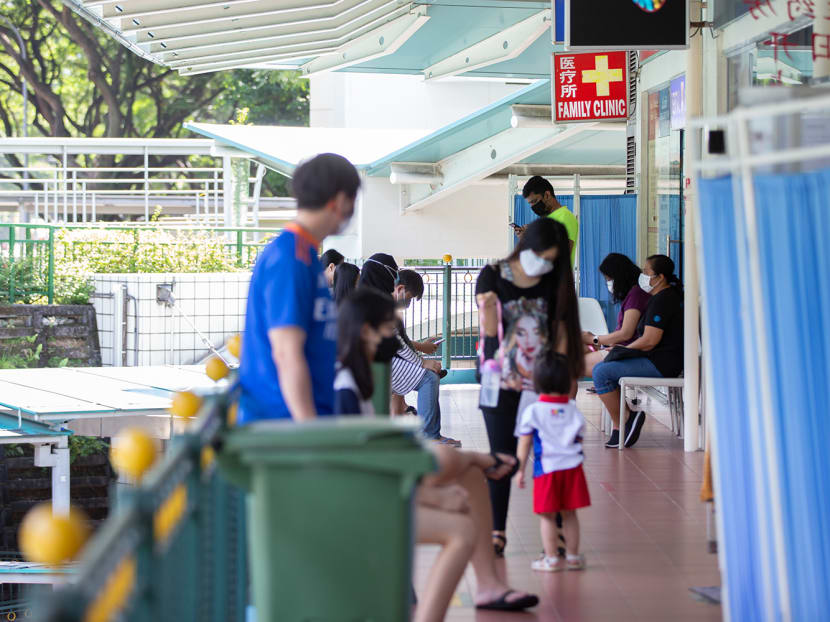 MOH will launch a programme for every household to register with a family doctor of their choice
This is central to the national strategy that MOH unveiled called "Healthier SG"
To support this strategy, the ministry will reorganise care delivery and make healthcare reforms
Changes include the division of healthcare institutions across Singapore into three clusters and a new financing model
SINGAPORE — Every household could soon have their own family doctor who will be the first port of call for all their health needs.
The Ministry of Health (MOH) will kickstart this with a national enrolment programme, inviting Singapore residents to register with a family doctor of their choice from 2023.
"International and local studies have shown that those who have a regular family physician are generally healthier, and have fewer hospitalisation and emergency department visits," MOH said on Wednesday (March 9).
"However, only three in five Singaporeans currently have a regular doctor."
The ministry described the enrolment programme as central to the national strategy it unveiled during a debate on its budget called "Healthier SG", which sets out to address the challenges of an ageing population and improve population health outcomes.
To support this strategy, it will reorganise care delivery and make healthcare reforms.  
"This requires the integration of primary care providers, especially general practitioners, into the public healthcare ecosystem," the ministry said.
Health Minister Ong Ye Kung said during the debate on Wednesday that the enrolment programme will probably start with residents in their 40s and above, which is when chronic illnesses may begin to manifest.
However, this enrolment will not be made mandatory. 
"You can choose whether to enrol or not. You can choose who to enrol with, even if the doctor is far away from your home, and there's a variety of reasons why some Singaporeans may decide to do that... because the clinic may be nearer to your workplace or near your parents' place or (the doctor) is a friend that you have known for many years," Mr Ong said. 
MOH said that it will be consulting members of the public, healthcare workers and community partners in the coming months to develop a primary care package that is "optimised to encourage participation and adherence". Details will be spelt out in a White Paper to be tabled in Parliament. 
Some proposals include making recommended health screenings more affordable by providing better coverage through the Community Health Assist Scheme and Central Provident Fund's MediSave subsidies, as well as offering insurance premium discounts to those who diligently follow care plans. 
NEW CLUSTERS, NEW FUNDING MODEL
To support the national enrolment programme, healthcare institutions across Singapore will be divided into three clusters, which will be managed by different healthcare groups.
Residents living in the western region will be supported by the National University Health System, those in the northern and central regions will be under the National Healthcare Group and those living in the east will be looked after by SingHealth.
MOH said that each cluster will support up to 1.5 million residents and family physicians in the region. 
The ministry will also shift the financing model for the three clusters from April 2022 — from a workload-based model, where institutions are paid based on the volume of services they provide, to a "capitation" model, where the clusters are paid a predetermined fee for every resident they are looking after who live in the region.
This will give them greater latitude to determine how they will support the residents and incentivise them to move the patients into a care setting that is more cost-effective.
To support this shift towards primary and community care over the next few years, MOH will look into how family doctors can be given access to patients' medical records and tools such as clinical dashboards to better track their patients' conditions and health trends over time.
It has been developing the National Electronic Health Record system in a bid to synchronise information and enable access to patient summary records.
Dr Janil Puthucheary, Senior Minister of State for Health, said during last year's debate on the ministry's budget that most of the security enhancements to the system are expected to be completed within the year.
This will be followed by the onboarding of more healthcare institutions. 
MOH said: "With more accessing shared data and handling individual records, there is a need to ensure and facilitate secured data sharing, and for users to take greater responsibility for data access."
That is why new laws will be put in place to govern this, with a Bill expected to be introduced in Parliament.