Singapore start-up invents device to make motorcycle helmets 'smart'
SINGAPORE — With more than half of the traffic accidents reported last year involving motorcycles, and one in three road fatalities being motorcyclists, five Singaporeans in their 20s have created a device which they hope will make riding on roads safer.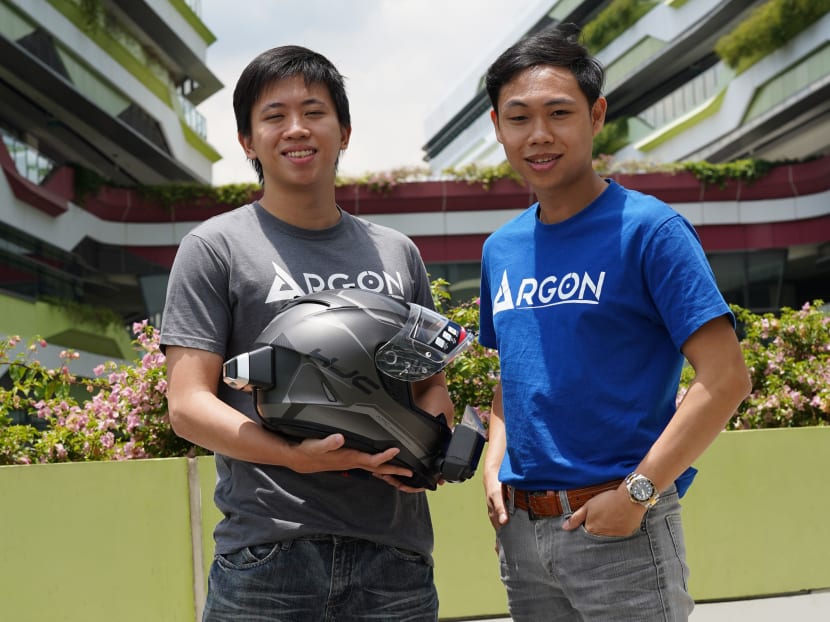 SINGAPORE — With more than half of the traffic accidents reported last year involving motorcycles, and one in three road fatalities being motorcyclists, five Singaporeans in their 20s have created a device which they hope will make riding on roads safer.
Invented by motorcycle enthusiasts, Argon is an augmented reality device that promises to turn an ordinary helmet into a "smart" one.
The two-piece device, which is attached externally on the front and back of the helmet, weighs only 400g and comes with a rechargeable lithium battery, which can power usage for around five hours.
A five-megapixel wide-angle camera attached on the rear unit projects a live 170-degree rear-view vision of the road onto a thumb-sized eyepiece, to help the rider to keep track of his blind spots.
That eyepiece — attached on the front of the helmet around the user's peripheral vision — can also display a plethora of information, including GPS-enabled maps. This negates the need for a rider to look at his mobile phone mounted on the front of the bike for navigation purposes, hence allowing him to focus his attention on the road.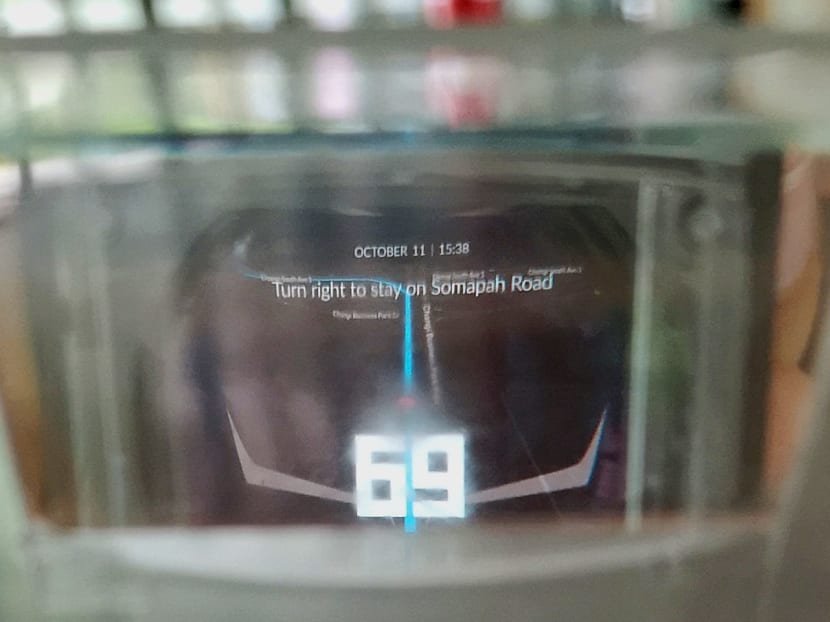 Other features include an integrated audio system which allows the rider to either listen to music or answer phone calls on-the-go, and the device can be easily controlled by a switch affixed to the handlebar.
Speaking to TODAY on Thursday (Oct 11), two members of five-strong Whyre team, the Singapore-based start-up behind Argon, said as riders themselves, they are keenly aware of the high number of motorcyclists being involved in accidents and dying on the road.
As a former Singapore Civil Defence Force paramedic, Whyre's chief business development officer Glen Ong said he had responded to his fair share of motorcycle accidents, and also knew of friends who had gotten into one.
"Riding should not be taken lightly," said the 26-year-old.
The idea for the product, however, first came to chief technological officer Dylan Tan, 25, last year, when he was a final-year electrical and product development undergraduate at the Singapore University of Technology and Design (SUTD).
He first started work on it as his final-year project, with three other engineering students of varying disciplines, and two Information Systems Technology and Design students.
Even though they managed to get decent grades for the project, close to their graduation in September last year, the team of six wanted to press on and turn it into a real-world product.
The start-up Whyre was born as a result; it became one of SUTD's 30 student start-ups since 2012.
The team started the company with an initial capital of more than S$70,000, raised through a combination of their savings and joint-funding from SUTD. Later rounds of fundraising saw investors such as local optics manufacturer Moveon buying a stake in the company, though they declined to reveal how much was raised.
But two of the original six members dropped out due to various reasons, and with a need to find someone to look into the business aspects of the project, Mr Tan roped in his cousin Mr Ong.
"I've always wanted to work with my cousin," said the Singapore Management University alumnus, who holds a master's degree in business management and is now learning how to ride a motorcycle himself.
The first edition of Argon began as a complete redesign of a motorcycle helmet, which integrated the device within.
However, after taking in feedback from motorcyclists, many of whom were unwilling to part with the expensive helmets that they already owned or had requests for helmet modifications, the team decided to create a current standalone version of the device, which riders can mount on any helmet of their choice.
In August, the first product design prototype was revealed to the biking community at this year's Singapore Bike Show, and garnered great interest from both local and overseas riders.
Even though the working prototype is still being tested and upgraded by team members and a handful of volunteers, and the finalised product is not set to hit the market till August next year, Whyre has already received 500 international pre-orders, with some buyers willing to place a cash deposit.
Mr Tan said he has even seen interest from an Australian motorcycle rental company, which told him they see the potential in using the device to help with insurance claims in times of accidents, and even lowering the rates of accidents since users would not need to look down onto their phone-mounts while checking their maps.
"That to them has been the number one cause of accident for their bike rental company," he said.
However, Mr Ong and Mr Tan said they needed to raise more money to get to the next mass production stage.
To that end, they plan to raise US$300,000 (about S$414,400) throughout next year via multiple channels.
In the first phase, they hope to raise US$100,00 through a month-long crowdfunding campaign on Indiegogo in early 2019; plans for that are still being finalised.
The team is also still working on how to raise the remaining US$200,000, with initial plans seeking to tap on the overseas market.
"Considering Singapore is quite a small country, we plan to focus more on marketing and awareness efforts overseas to reach the international audience," said Mr Tan.
Some of the overseas markets the team is eyeing include Australia, New Zealand, Europe, the United States and possibly Malaysia.
Argon is expected to retail at around US$679.