Singapore students emerge tops in collaborative problem solving
SINGAPORE — Not only are they tops in the world in literacy and numeracy, Singapore's students are best able to work with one another to solve problems, the triennial Programme for International Student Assessment (Pisa) has found.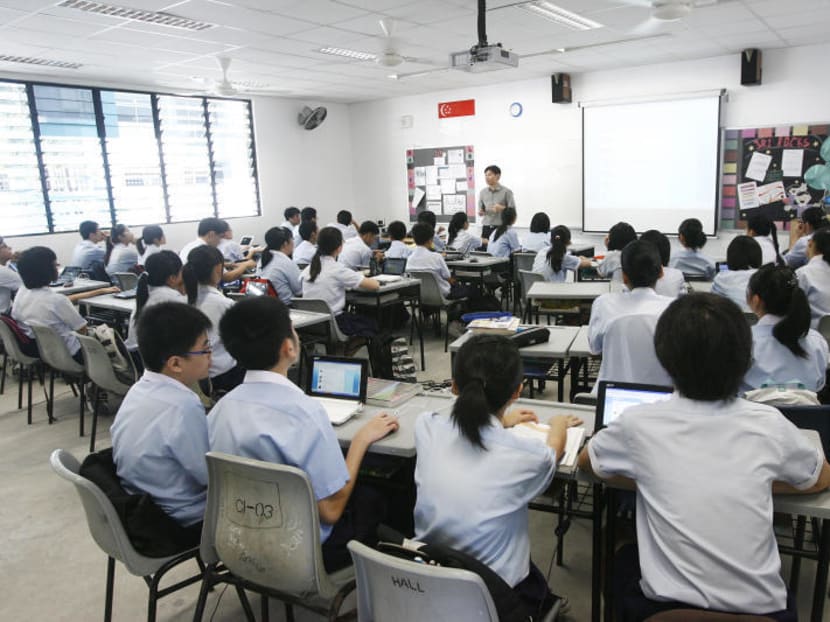 SINGAPORE — Not only are they tops in the world in literacy and numeracy, Singapore's students are best able to work with one another to solve problems, the triennial Programme for International Student Assessment (Pisa) has found.
Singapore emerged with the highest mean score of 561 in the Pisa 2015 study on collaborative problem solving. Japan was next with 552 points, followed by Hong Kong with 541 points, according to results released on Tuesday (Nov 21).
Pisa, run by the Organisation for Economic Co-operation and Development (OECD), has been dubbed the most influential scorecard for education systems around the world. It traditionally tests in three categories: Reading, mathematics and science. Last year, for the first time since Singapore started participating in Pisa in 2009, students here topped all three categories.
The new domain of collaborative problem solving was introduced in Pisa 2015, and aimed to reflect if students have the collaborative skills essential for the 21st century.
Besides having the highest mean score, Singapore had the highest proportion of top performers. One in five (21 per cent) of more than 6,000 students from Singapore fell within the top performer bracket, more than double that of the overall average among the 52 education systems that took part.
It produced one of the smallest proportions of low performers – the ones who tended to focus more on their individual role within the group.
Mr Sng Chern Wei, deputy director-general of education (curriculum) from the Ministry of Education, said the results reflect Singapore's emphasis in and outside of the classroom on collaboration, such as through co-curricular activities, project work and applied learning programmes.
"In our schools, we have been working with different stakeholders to create learning experiences in teamwork and working with each other," he said. "We need to ensure that such experiences are common for every student and they are able to benefit fully from them."
The top-performing students had to solve problems in the face of multiple constraints, ensure that team members followed through with their responsibilities, monitor the team's progress, and take the initiative to overcome obstacles and resolve conflicts. On average, only 8 per cent of students from the other participating countries could perform at this level.
Students were asked to interact with computer-based agents, which simulated team members, to carry out the tasks.
One of these tasks, for example, involved students correctly answering questions about the geography, people and economy of a fictional country for a competition, as part of a three-person team. Students had to select the best way to handle problems such as two members fighting over which subject area to handle.
Students were also asked about their attitudes towards collaboration, such as whether they enjoyed considering different perspectives when working in teams. More than nine in 10 students said they were good listeners and enjoyed seeing their classmates being successful, while more than eight in 10 believed teams make better decisions than individuals.
In total, 5,825 students from 168 public secondary schools and 290 students from nine private schools — mainly from Secondary Four — were randomly selected to take part.
While the study had some limitations, given that it was not conducted in an "authentic setting" with human collaborators, Mr Sng said it was the "best effort" by OECD to measure collaboration skills.
Delving into the findings, OECD director for education and skills Andreas Schleicher noted girls outperformed boys by a large margin — 29 points higher, on average, across the participating countries. This contrasted with the Pisa 2012 findings for individual problem solving, where boys generally performed better than girls.
"Girls seem to value relationships more, (are) more of a listener, respect diversity of opinions – that's very important in order to do well in collaborative problem solving. That's something boys can clearly do better," Mr Schleicher said.
Also scoring higher were students who talk to their parents daily after school. They scored an average of 21 points more than those who do not.
"When students are more exposed to interactions and working together with people, their ability to contribute constructively and collaboratively will grow. This happens in the home as well, when parents communicate regularly with their children, showing interest in their lives and growth," said Mr Sng. "Children over time will also grow more mindful of other people's perspectives and contribute in a group setting."
Singapore's results show "strong academic performance does not have to come at the expense of weaker social skills", said Mr Schleicher.
Physical education and science lessons, for instance, can help in strengthening collaborative and social skills, he added. Students work with others in the lab during science lessons, while students who engage in physical activities have more positive attitudes towards building strong relationships – perhaps because sports is a team activity.