Singapore tanneries: Africa's largest market for reptile skins in Asia
SINGAPORE — In a sign of Singapore's powerhouse status in the tanning of reptile skins, the little red dot emerged as Asia's largest importer of reptile skins from Africa in a recent report by wildlife trade monitoring network Traffic.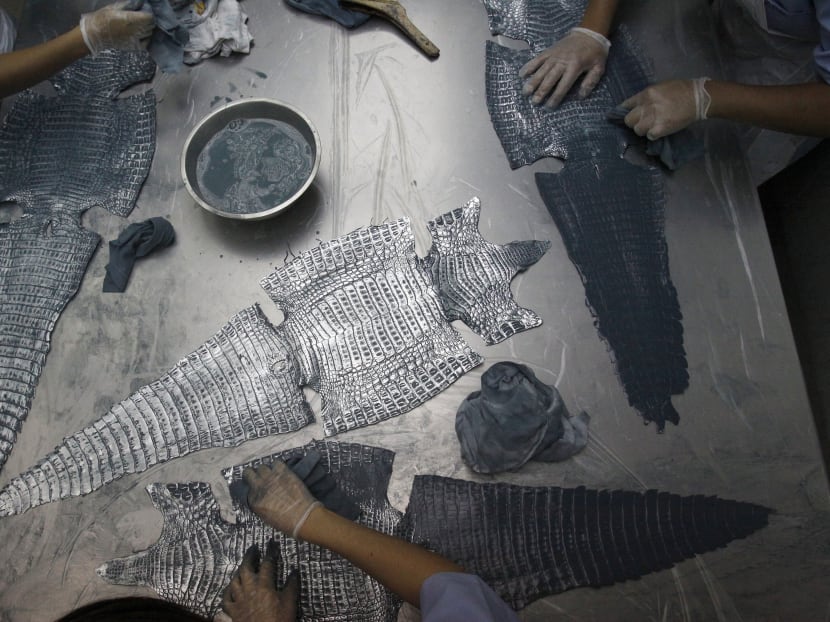 SINGAPORE — In a sign of Singapore's powerhouse status in the tanning of reptile skins, the little red dot emerged as Asia's largest importer of reptile skins from Africa in a recent report by wildlife trade monitoring network Traffic.
Surpassing demand from larger economies such as South Korea and China, Singapore snapped up 60 per cent — or 933,583 — of about 1.6 million reptile skins that Africa exported to Asia from 2006 to 2015.
The skins, mainly from the Nile Crocodile, were legally imported from countries such as Zimbabwe, Zambia and Tanzania.
The bulk of the skins came from Nile Crocodiles that were captive-bred or ranched, meaning they were taken as eggs or juveniles from the wild – where they had low chance of survival to adulthood – to be reared in a controlled environment.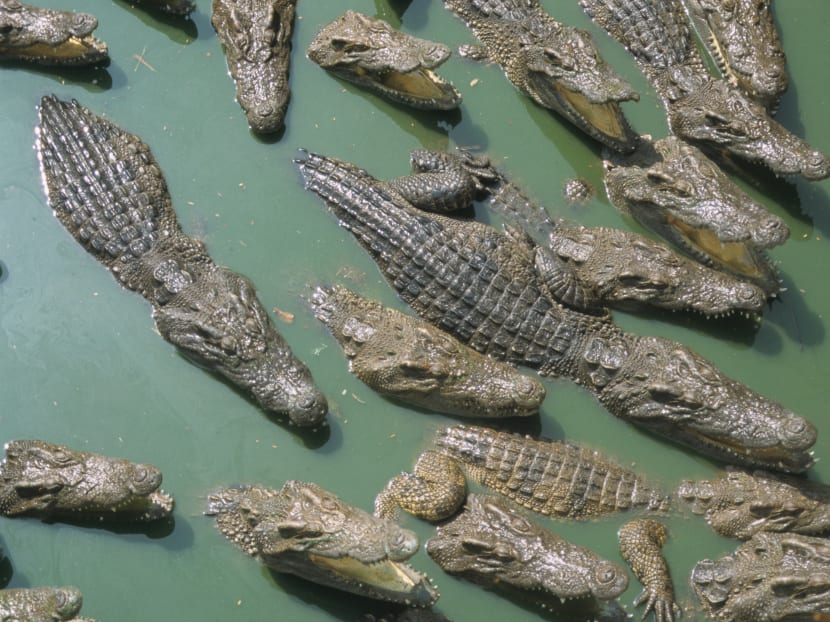 "Singapore dominated Asian imports of skins, which were likely imported there for the purpose of tanning and re-exporting for the international leather trade," stated the authors of the report released this month, titled Eastward Bound: Analysis of Cites-listed flora and fauna exports from Africa to East and South-east Asia.
Cites stands for the Convention on International Trade in Endangered Species of Wild Fauna and Flora, which aims to ensure the international trade in wild animals and plants does not threaten their survival. Singapore is a party to the agreement.
The Republic's status as a major crocodile skin importer comes as no surprise to industry players here.
Singapore has the biggest tanneries in the region, said Mr Chan Weiwen, 37, director of Chan Yew Leathers, which buys its leather from local tanneries to make small leather goods and handbags.
"We have better quality, technology and skilled labour to process these raw materials into high quality crocodile leather to be used by top manufacturers/fashion houses in the world," he said.
About 90 per cent of the skins Chan Yew Leathers purchases are from farmed Nile Crocodiles in Africa and farmed alligators in South America. It prefers the Nile Crocodile as the skin from its belly area is smoother and the size is better-suited for the smaller products the company produces, said Mr Chan.
Singapore's most famous tannery is Heng Long Leather, which was supplying to the world's fashion houses even before French luxury goods giant LVMH Moët Hennessy – Louis Vuitton acquired a 51-per-cent stake in Oct 2011.
"Few Singaporeans realise that if they own a crocodile-skin bag it was most likely dyed in their very own backyard," Heng Long's executive director Koh Choon Heong told The Straits Times in 2014.
Mr Yeo Chek Hong, the director of another tannery called Chek Hong Leather, told TODAY about 30 per cent of his imports used to be Nile Crocodile skins. But after setting up its own crocodile farms in Malaysia and Thailand about five years ago, the figure has fallen to about 5 to 8 per cent.
His farms breed Estuarine Crocodiles and Siamese Crocodiles, which Mr Yeo said are considered "higher-end" because of the patterns and scales on the skins.
The tannery drastically cut imports of Nile Crocodile skins due to the lack of "quality skins" from Africa, which could bear scars due to the lack of space in farms, said Mr Yeo, 50.
But there is still demand for Nile Crocodile skins as countries such as the United States would only accept imports derived from crocodiles listed on Appendix II of Cites (where trade must be controlled but the species is not necessarily threatened with extinction), he said. Nile Crocodile skins from certain African countries such as Zambia and Zimbabwe belong on this list.
Besides Africa, Singapore also imported skins of other crocodile, caiman and alligator species from countries like Indonesia, Papua New Guinea and Colombia, according to United Nations' data.
Trade in plants and animals between Africa and Asia is incredibly diverse, the Traffic report noted. Some of those traded in the largest quantities were species that received relatively little attention, such as the Leopard Tortoise, Ball Python and European Eel.
Besides skins, Africa exported nearly 1.4 million live individuals (dominated by the Leopard Tortoise and Ball Python) and 2 million kg of meat (three-quarters of which was Nile Crocodile meat) to Asia. Hong Kong was the biggest importer of reptile meat while South Korea imported the most European Eel meat.
Singapore imported the most birds (98,788) from 2006 to 2015 from Africa. The Grey Parrot was the continent's most commonly exported bird to Asia.
The Democratic Republic of Congo was the largest exporter of wild Grey Parrots (34,553), most of which were destined for Singapore.
In late-2016, the African Grey Parrot – which is now recognised as two species, the Grey Parrot and the Timneh Parrot – was deemed to be threatened with extinction and accorded the highest level of protection, effectively banning international trade.
These parrots are among the most popular pet birds but this has made them a prime target for poachers and illegal trafficking, and Traffic has previously raised questions about Singapore's wild bird trade.