Singapore well-positioned to lead the pack with rise of AI, observers say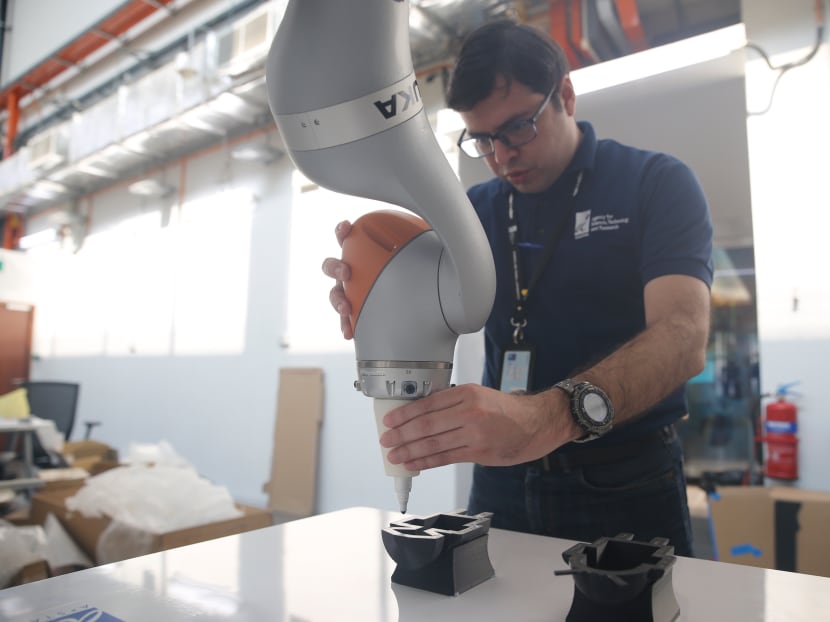 SINGAPORE — Artificial intelligence (AI) promises to be a game-changer for Singapore, as research shows that it is well-placed to integrate innovation and technologies into the wider economy ahead of other larger economies, complementing its vision to be a smart nation.
Global consultancy company Accenture reported that by 2035, AI is projected to help double the country's economic growth rates and increase productivity by 41 per cent, adding up to US$215 billion (S$180 billion) in gross value-add.
Compared with other countries that are competitive in AI, including the United States, Germany and Japan, the report said that Singapore's economy stands to gain the most from the rise of AI.
As it is, several multinational firms at the forefront of the field have based their regional operations here, while investors and start-ups are seeing significant activities happen in the AI space.
Mr Foo Tiang Lim, operating partner of SeedPlus, a Singapore-based seed-stage venture capital (VC) firm, observed that generally, most AI investments here are within the business-to-business category.
He also noted that the AI start-up scene here is showing signs that it is picking up.
This is because there is a general availability of and access to machine-learning techniques and infrastructure, more experimentation by businesses and corporations to adopt AI solutions, and capital availability to fund these start-ups and projects.
"We expect that, within the next three to five years, Singapore will have a strong and active AI start-up landscape," he said.
"The Government is also playing a crucial role in catalysing the ecosystem as well. In particular, the efforts by (government-owned firm) SGInnovate in promoting and investing in deep tech start-ups and AI activities, and companies are particularly encouraging," he added.
"By helping to increase knowledge of the space and to groom local talent in our AI push, this would help Singapore remain competitive in this digital economy and continue attracting talent and companies to our country."
SeedPlus is an active investor in Singapore and South-east Asia, and has an investment interest in AI, the Internet of Things, financial technology (fintech), and others.
Its AI portfolio includes Evie.ai, a start-up here that helps clients such as e-marketplace Carousell and the National Gallery solve problems in scheduling meetings via natural language processing (NLP) and automation.
For Evie.ai, its focus is on "solving" more immediate problems. Its founder and chief executive Lee Jin Hian said that the creation of Evie — an AI assistant — in 2014 was to help users manage their schedules, organise meetings and book meeting rooms.
"We are excited to see initiatives and investments made in establishing the foundation for the AI ecosystem to develop in Singapore," Mr Lee said.
ANCHOR FOR REGIONAL OPERATIONS
In recent years, global AI firms have made Singapore a base for their regional operations.
Multinational corporation Darktrace from the United Kingdom, which created AI cyber-security technology to detect threats, has established its regional headquarters here since 2015.
Its Asia-Pacific managing director Sanjay Aurora said that the company has more than 50 employees in Singapore and has increased its headcount over the years in its Asia-Pacific and Japan operations, "in response to the massive demand for transformative cyber AI".
AI start-up Appier from Taiwan also recently set up shop here for its regional operations. The outfit, which helps enterprises solve business problems with customisable AI solutions, got another round of funding (Series C funding) worth US$33 million last year, netting investors such as EDBI, the venture capital arm of Singapore's Economic Development Board.
On the domestic front, Scry, a Singapore-based AI tech start-up, was set up last year. Calling itself Asia's first crowdsourced forecasting platform, it has big goals to forecast future events and trends for businesses, and provide tech solutions for governments and institutions.
In February this year, it raised a seed funding of US$120,000 from AI-focused investor Zeroth-AI. The money will be used to build the platform and grow its user base.
Another Singapore AI tech start-up, Sense Infosys, has been expanding since it was founded in 2013, working to organise and automate processes as well as provide risks analysis for its clients, which include government agencies, insurance companies, auditing firms, port authorities, and oil and gas companies.
Its AI system takes care of previously laborious work to mine data manually, and also helps to identify fraud risk anomalies.
The firm now has a team of 50, comprising engineers, analysts and data scientists.
Other companies making a go to ride the AI wave include Tabsquare, which has a food-ordering "butler" name Aiden. The AI-interface platform has a face-recognition function and remembers users' favourite food. It also constantly learns about users' "taste journeys" as they frequent their favourite dining places, for instance, giving them promotions tailored to their dining preferences.
ACADEMIA AS COLLABORATORS
Professor Louis Phee, roboticist and dean of the College of Engineering at Nanyang Technological University (NTU), "strongly believes" that Singapore can lead the world in the field of AI. He pointed out that at the national level, there is already AI.SG, which brings together AI experts across Singapore to perform cutting-edge research "for the good of our nation".
Commenting on Singapore's AI ecosystem, leading AI scientist Ong Yew Soon, chair of NTU's School of Computer Science and Engineering, said that even though the US and China dominate the AI landscape, where the level of AI investments are "relatively higher", the advantage seen in Singapore is the coordinated support for the industry to co-create AI solutions with academia.
Professor Ong said that the support is largely in place, through the Government's smart nation initiative, and research incentives for public and private sectors to co-innovate and deploy AI-based solutions.
"These incentives are significant enablers that can support AI research and promote greater private sector participation in Singapore."
As part of the Government's push for AI, the National Research Foundation said last year that it will invest up to S$150 million over five years in the national programme AI Singapore (AI.SG).
The programme will bring together all Singapore-based research institutions and the community of AI start-ups and companies developing AI products — to grow the knowledge, create the tools and develop the talent.
Schools such as NTU and Ngee Ann Polytechnic are also offering courses related to AI. 

The polytechnic, in partnership with the London-based Centre for Finance, Technology and Entrepreneurship, will launch a new "AI in finance" course to help finance professionals who are unsure of the impact AI will have on its industry.


This year, NTU will launch an undergraduate degree programme in data science and AI, taking in 20 to 30 students for the pioneer batch.
NTU, has also recently partnered China's e-commerce giant Alibaba to set up a joint AI research institute in Singapore. The five-year partnership will see millions in funding per year and the setting up of Alibaba's first joint research facility outside of China, as well as the university's largest partnership with the private sector on AI.
Dr David Hardoon, chief data officer at the Monetary Authority of Singapore, sees Singapore as providing an environment for AI to thrive. "Our value propositions include a good pool of AI talent, being technology-enabled, and having strong government support and active public-private partnerships," he said.
"Singapore also provides the conditions that allows companies to rapidly develop and deploy AI solutions outside of a laboratory," Dr Hardoon added.
"Whether AI initiatives succeed depend on a supportive ecosystem, in particular whether government and regulatory bodies are supportive of commercial efforts and allow regulations and innovation to go hand in hand."
What AI systems may not be able to solve for now is the shortage of data scientists, and there is a great demand for them.
Even then, Mr David Wirt, vice-president for ASEAN and Greater China at AI company Pure Storage, lauded the Singapore Government's efforts in being "proactive" in providing training to help re-skill and train people in this area, as well as provide funds and initiatives towards developing data science.
He added: "Training and specialisation in deep learning and AI is starting to gain momentum, but it will be a while before the industry sees a healthy stream of data scientists."