Singapore will stand firm on its foreign policy, says Vivian
SINGAPORE — The Republic aims to be a friend to all nations, but it must advance its own interests and stand its ground firmly when others make unreasonable demands, said Minister for Foreign Affairs Vivian Balakrishnan yesterday.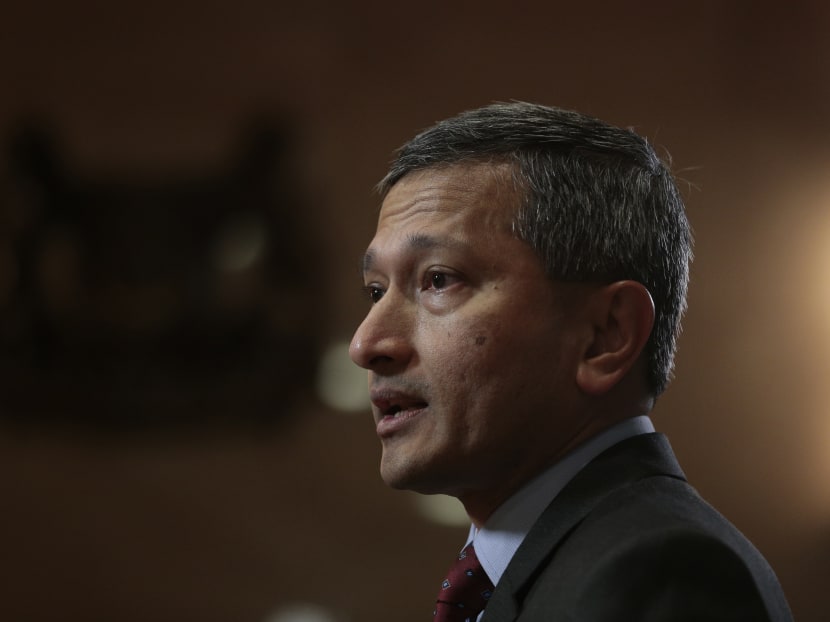 SINGAPORE — The Republic aims to be a friend to all nations, but it must advance its own interests and stand its ground firmly when others make unreasonable demands, said Minister for Foreign Affairs Vivian Balakrishnan yesterday.
"Diplomacy is not just about having friendly relations, at all costs. It is about promoting friendly relations as a way to protect and advance our own important interests," he said at a town hall meeting in the foreign ministry.
"We don't compromise our national interests in order to have good relations. The order matters."
Dr Balakrishnan told the audience, comprising some 200 civil servants, most of whom are in the foreign service, that relations with other countries must be based on mutual respect for each other's sovereignty, regardless of their size.
"When others make unreasonable demands that hurt or compromise our national interests, we need to state our position and stand our ground, in a firm and principled manner."
The Republic's foreign policy has come under the spotlight after Lee Kuan Yew School of Public Policy dean Kishore Mahbubani wrote a commentary on how small states should behave like small states, drawing criticism from a minister and senior diplomats.
Publicly commenting on the issue for the first time yesterday, Dr Balakrishnan noted that questions have been asked over whether the Republic has overreached in terms of foreign policy and whether leadership changes meant it should adjust its foreign policy posture.
"These are valid questions, but I think we need to go back to first principles," he said.
"The ultimate objectives of our foreign policy are first to protect our independence and sovereignty, and second, to expand opportunities for all Singaporeans to overcome our geographic limits. The existential challenge is how we achieve this."
While Singapore has no illusions about its place in the world, it cannot lie low and "suffer what we must" as some have suggested, he said.
"On the contrary, it is precisely because we are a small state that we have to stand up and be counted when we need to do so."
The minister recounted how Singapore had upheld the court's decision to cane American teenager Michael Fay in 1994 after he was sentenced for vandalism, despite great pressure from Washington. Similarly, Singapore hung two Indonesian marines in 1968 for the bombing of MacDonald House during Konfrontasi. And this was despite the political and strategic circumstances of Singapore having been just kicked out of Malaysia, the British announcing their intention to withdraw and the fight against a communist insurgency.
He said Singapore must actively counter the tactics of other powers who may try to influence its domestic constituencies in order to make the Republic's foreign policy better suit their interests.
"Ultimately, we must be clear-minded about Singapore's long term interests, and have the gumption to make our foreign policy decisions accordingly."
Prof Mahbubani's commentary, published on July 1, had said one lesson for Singapore in the move by four Arab states to cut off diplomatic ties with Qatar was that "small states must behave like small states".
He added that in the post-Lee Kuan Yew era, Singapore should change its behaviour to exercise discretion.
In a sharp rebuttal, Ambassador-at-Large Bilahari Kausikan said the commentary was deeply flawed and dangerously misleading, adding that the professor's point that small states must always behave like small states was "muddled, mendacious and indeed dangerous".
Home Affairs and Law Minister K Shanmugam said Mr Kausikan's response was brilliant as he slammed the professor's piece as ''intellectually questionable'', adding that Singapore did not get to where it is by thinking small.
Responding to a question by the media on July 10, Prime Minister Lee Hsien Loong also said that as a small country, Singapore has to make its voice heard when important issues concerning it arise.
Dr Balakrishnan said yesterday that another core principle of Singapore's foreign policy is it needs to have a successful and vibrant economy, stable politics and a united society in order to be relevant in the international arena.
He also stated that Singapore must not become a vassal state. "We cannot be bought nor can we be bullied. And it means we must be prepared to defend our territory, our assets and our way of life," he said, adding that Singapore must promote a global order governed by the rule of law and international norms.
"Bigger powers will still have more influence and say. But bigger powers do not get a free pass to do as they please," he said.
"In exchange, they benefit from an orderly global environment, and do not have to resort to force or arms in order to get their way."
The foreign ministry organises town hall meetings regularly for its leaders to share knowledge and discuss topical issues of the day. Ambassador-at-Large Ong Keng Yong, who attended yesterday's session, told TODAY he found it useful.
"Personally, I find it useful to be reminded of what Singapore's foreign policy is about so that there is clarity of vision and mission after the recent debate on diplomacy of small states," he said.
"With the social media and tech-savvy and widely-travelled Singaporeans, there will be more public discourse on foreign affairs and international issues. As such, it is useful to have the Foreign Minister (stating) the practices and principles involved."