Singaporeans alone will decide Singapore's future: Chan Chun Sing
SINGAPORE — Singaporeans alone will decide the country's future and they must not allow others to coerce it or choose its course, said Trade and Industry Minister Chan Chun Sing.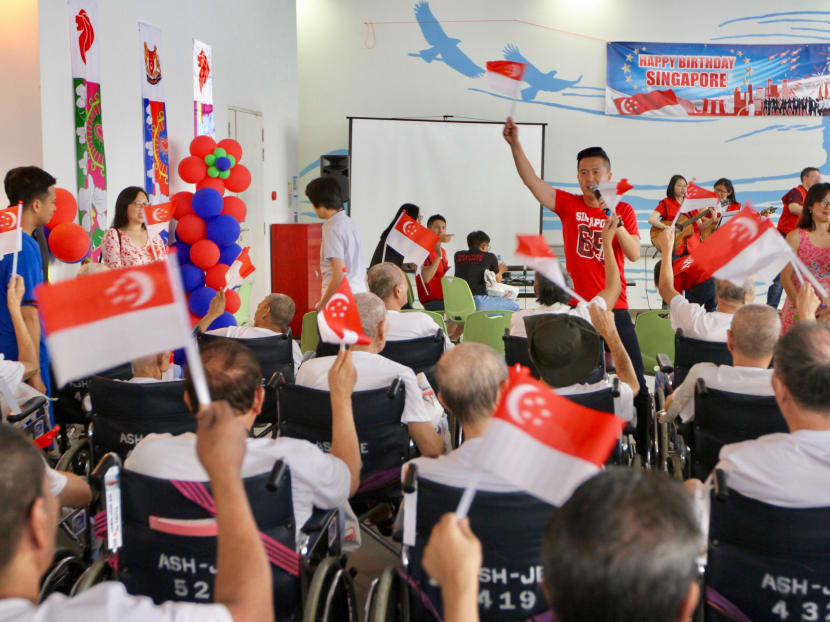 SINGAPORE — Singaporeans alone will decide the country's future and they must not allow others to coerce it or choose its course, said Trade and Industry Minister Chan Chun Sing.
"In countering the challenges of external influences, Singaporeans must always start from the premise that whatever decision we (take) collectively must be good for Singapore's long-term interest," Mr Chan said on Friday (Feb 15) at an inaugural lecture series featuring distinguished alumni of the Asia-Pacific Programme for Senior Military Officers.
The programme, run by the S Rajaratnam School of International Studies, brings together senior Singapore and international military officers yearly to network and discuss geopolitical and security issues.
Mr Chan, who was Chief of Army before he entered politics, said that by deciding their own path, Singaporeans may look after one another better, build resilience and forbid forces from pulling the country away.
"Whenever we are challenged, we must be prepared for the long haul, and be ready to stand firm and united," he told more than 140 academics, business professionals, policymakers and members of the public who packed a ballroom at the InterContinental Singapore Hotel.
Mr Chan added that when Singapore is targeted, understanding why it is happening is more critical than just grasping what is occurring.
It is of the "utmost importance" to know why others are feeling that way and taking a certain course of action against Singapore, for instance.
An accurate reading in this regard means Singapore is less likely to misread a situation and use the wrong response, thereby staying relevant and responding effectively, Mr Chan said.
It is, therefore, a challenge for the Government to help Singaporeans understand the geopolitical realities around it and the challenges confronting its people, past and present.
DANGER OF TURNING INSULAR
Even as Singapore's historical circumstances have brought it to where it is today, Mr Chan said Singaporeans should never forget that its future will hinge, too, on what is happening beyond its shores.
The danger is that the country may unknowingly turn insular as it reaps greater success, and think that what happens here matters for its success as though "it is the be-all and end-all".
"What happens in Singapore is certainly important, but (it) cannot be divorced from what is happening elsewhere. And unless we keep a keen eye on what is happening elsewhere, we may be blindsided by our circumstances," he said.
Mr Chan's lecture, titled Evolution of Singapore's Approach towards Total Defence, coincides with Total Defence Day, which falls on Feb 15 each year to mark the day Singapore fell to the Japanese in 1942.
This year, in the face of a rising cyber-security threat and its potentially far-reaching consequences, digital defence has become the latest addition to Singapore's overall security strategy. The other Total Defence pillars are military, civil, economic, social and psychological defence.
With threats becoming increasingly complex, Mr Chan said that apart from military action, enemies can attack Singapore by destroying its economy or economic systems, or targeting its social fabric and fundamental beliefs or commitments.
GUARDING THE SOCIAL FABRIC
At a dialogue after his speech, the minister waded into the issue of a Singapore identity, noting that Singaporeans have decided to build a nation regardless of race.
While the different communities in Singapore may not react the same way when something happens elsewhere, Mr Chan said the hope is that the people will react first as Singaporeans. He is confident that the country has edged closer to this goal today, and it will continue to do so.
Citing the example of a recent viral video on an altercation between a Gojek private-hire car driver and a passenger in which the latter asked if she was being targeted because she was "Chinese", Mr Chan said that under pressure, some people fall back on certain markers of identity.
"If this happened in the 1960s (when racial riots broke out in Singapore), we would have very different consequences," Mr Chan said.
The minister added that Singaporeans must be conscious not to "ride roughshod" over such strands. "We all came from different strands, we are made of different yarns, but we are trying to collectively weave a stronger rope together," he added.
Ultimately, for Singapore to continue defying the odds, Mr Chan said it must have the ability to defend itself and maintain its lifelines to the world, so that it is not a "land-locked, air-locked or sea-locked country".
It also needs to take care of its economic well-being so as to create jobs for its people and allow them to fulfil their potential. The country must also stay united, regardless of race, language, religion, ancestry, or "us being rich or poor".
Finally, Singapore needs to find capable and committed individuals prepared to step forward to serve. "It's not easy for any country to attract capable and committed people whose hearts are in the right place to come forward, set aside their personal aspirations, and work as a team to take the country forward," he said.
"We've been fortunate for the last 50 years, but it's a never-ending task to find that group of committed people."