Singaporeans rush to buy pounds as British currency weakens sharply
SINGAPORE — Sharp falls in the pound sterling against a range of currencies, including the Singapore dollar, have sparked some heavy buying of the British currency by Singaporeans studying in the United Kingdom.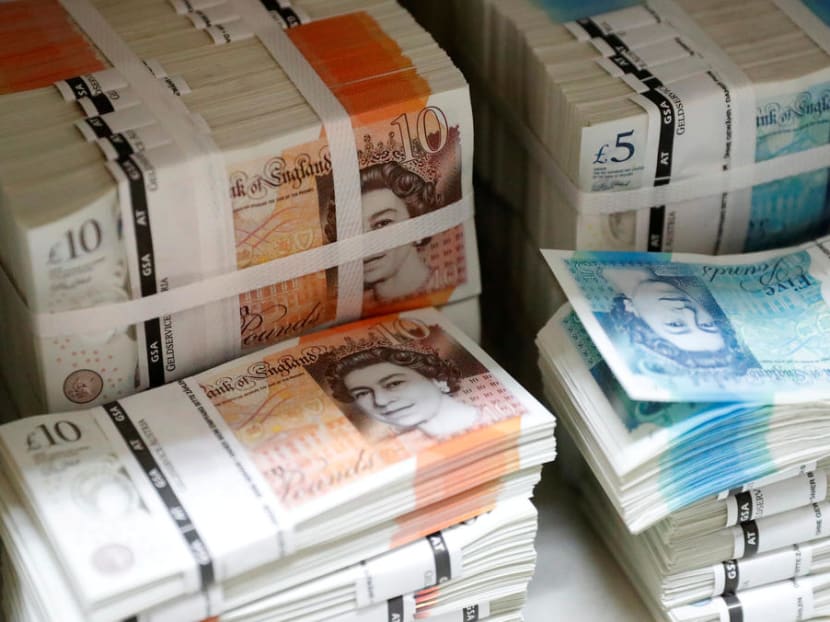 SINGAPORE — Sharp falls in the pound sterling against a range of currencies, including the Singapore dollar, have sparked some heavy buying of the British currency by Singaporeans studying in the United Kingdom.
Amid predictions the pound could fall even further as uncertainty over Brexit deepens, some students and holiday-makers are looking to exchange as much money as they can, to save on school fees and daily living expenses, for example.
The pound is hovering around S$1.69, having cost Singaporeans considerably more, S$1.79, as recently as mid-May. It sank as low as S$1.6832 on Tuesday (July 16), its lowest level since at least Oct 14, 2016 when it plumbed similar levels at S$1.6833. On Thursday afternoon, it had inched up to S$1.6943.
In early 2016, before the June 23 Brexit vote, the pound was trading at a little above S$2, and going back 15 years to 2004 it was over S$3.
Analysts say the pound is likely to remain on rocky ground until Oct 31 — the latest deadline for Brexit. By the end of 2019, economists said the rate may hit S$1.60, possibly declining to S$1.58 by the end of 2020. Currency markets have been spooked by recent hard-line Brexit rhetoric from Boris Johnson, who is expected to take over as British prime minister on July 23.
On Thursday, some money changers in Singapore told TODAY that they have seen a rise in the number of customers wanting to buy British pounds in the past couple of days.
When TODAY visited money exchange counters in The Arcade at Raffles Place, the exchange rate on offer was about S$1.70 per pound, which patrons said was lower than before.
Undergraduate at the University of Birmingham in the UK, Nicky Sun, 23, said that this has resulted in "cheaper school fees, housing rentals and shopping" for him.
"I have been tracking the exchange rate consistently and changing it whenever the rate is favourable. A good example would be these few days, where the pound dropped quite a bit," Mr Sun said, while back here on a visit.
In fact, Mr Sun is already planning to buy £10,000 (about S$17,000) more than usual, and is looking to buy even more "if the pound continues to slide".
Another undergraduate set to study in the UK this September, Mr Gordon Oh, 23, said he bought £588 at about S$1.70 per pound. "I would definitely exchange more when the British pound drops, but that would depend more on the Brexit news and updates," he said.
MORE CUSTOMERS BUYING POUNDS
Several of the money changers TODAY spoke to reported a sharp increase in the number of customers buying pounds.
Mr Douglas Yap, 58, the director of Flat Money Changer in Raffles Place, reported a 50 per cent surge in customers buying pounds. Since many Singaporeans study or take vacations in the UK, "there will always be demand" for pounds, he said.
Mr Danny Yoong, 51, the proprietor of Bon Voyage Money Change & News Shop at Tampines, said some customers are adopting a "wait and see" attitude. "People want to see if the pound will go down further and if it is worth it to buy now. But, what can happen is that if it eventually goes up again, then the opportunity is missed," he said.
Other money changers who have not seen an increase in buying of the pound suspect the lacklustre local economy might be one factor.
Fintech players, too, are noticing a startling increase in currency conversions from Singdollar to pounds. App-based money transfer firm TransferWise, which moves S$1.7 billion in and out of Singapore each year, told TODAY that its customers converted 29.8 per cent more Singdollars to British pounds in the past month alone than the monthly average of 2019 so far.
Mr Venkatesh Saha, TransferWise's head of Asia Pacific expansion, said this was because its customers were taking advantage of the favourable rates by converting more money "often because they anticipate they will need that money later on".
UNCERTAIN OUTLOOK FOR POUND STERLING
The sterling's weakness comes amid a tepid British economy, which is plagued with uncertainty over Brexit and looming political upheaval when Prime Minister Theresa May officially steps down next week. Ms May resigned as leader of the ruling Conservative Party in June but stayed on as the party conducted a protracted leadership ballot under its rules.
A successor is expected to be announced on Tuesday (July 23) following a vote by Tory grassroots members. Mr Johnson, a former foreign secretary, is seen as the favourite over the other contender, the current Foreign Secretary Jeremy Hunt.
Mr James Smith, an ING developed markets economist, cited concerns a new prime minister could pursue a "no-deal" Brexit — a scenario which would create more uncertainty in the markets. A no-deal Brexit would mean the UK's trading relationship with the EU — a huge market — would be mired in uncertainty.
The other possibilities are a revamped "soft" Brexit deal or a second referendum on Brexit, both requiring a deadline extension.
"Throw in the potential for a further escalation in global trade tensions and all of this means it's hard to see the Bank of England increasing interest rates this year," said Mr Smith. As in most major markets, rates are at rock bottom in the UK.
ING chief Europe, Middle East and Africa forex and interest rate strategist Petr Krpata said these concerns, including the possibility of Mr Johnson becoming PM, would build pressure on the sterling.
Mr Krpata said: "While the outlook for GBP (the pound) does not look great, sterling has already moved considerably. We (looked) at the technicals, such as risk premium, positioning and the option market, and conclude that despite the bad news already being reflected in the sterling, there is still scope for further GBP decline."
SINGDOLLAR OUTLOOK
When pegged against the Singdollar, however, the decline in the pound may not be as stark as might otherwise be the case since Singapore's economy, too, is facing headwinds due to rising global trade tensions.
On Wednesday (July 17), official data showed a steep 17.3 per cent dive in non-oil domestic exports to a six-year low in June, while the Ministry of Trade and Industry's advance figures last week indicated that Singapore's overall economy in the second quarter nearly stalled, growing by a small 0.1 per cent year on year.
This has led economists to forecast that the Monetary Authority of Singapore will be easing its monetary policy in its regular half-yearly meeting in October, coinciding with the Brexit deadline.
As a result, the slope of the policy band where the Singdollar is permitted to trade could be reduced or flattened. The Singdollar could be allowed to depreciate, giving the Republic's dwindling exports a much-needed boost, they said.
The central bank uses the currency exchange rate to protect the purchasing power of Singaporeans by ensuring that the prices of goods and services remain stable.
Based on his bank's projections, DBS Bank forex strategist Philip Wee said that the exchange rate for the pound to the Singdollar could hit S$1.60 by the end of 2019 and S$1.58 by 2020.
Mr Wee noted how during global recessions in 2000 and 2008, the pound to Singdollar rate had also weakened but at a slower pace than the pound to US dollar rate. "During a global recession, the Singdollar will also be pressured to depreciate," he said.
With Ms May's resignation expected to pave the way for Mr Johnson's appointment as PM, and with his pledge to take the UK out of the European Union with or without a deal on Oct 31 in a disorderly Brexit, "the worst-case scenario would be for the pound to US dollar to revisit its lifetime low around US$1.05 in 1985", said Mr Wee.