Singaporeans turn circuit breaker hobbies of working out, baking, decluttering into charitable projects
SINGAPORE — Working out, baking and decluttering wardrobes are a few of the activities Singaporeans have turned to during the circuit breaker to keep busy and stay sane at home.
SINGAPORE — Working out, baking and decluttering wardrobes are a few of the activities Singaporeans have turned to during the circuit breaker to keep busy and stay sane at home.
But some have gone a step further, by using these activities to raise money to give to those in need.
Among them is Zh Abdul Hafeez, who ended up donating S$1,008 of his own money to the Covid-19 Migrant Support Coalition by challenging his friends and family to a workout challenge.
Mr Hafeez, a 22-year-old undergraduate at the National University of Singapore, had come across a post on Instagram a week earlier of a similar fitness challenge and donation drive created by two friends, and was inspired.
The challenge, which took place over the weekend and ended at 11.59pm on Sunday night (May 17), required participants to record one Instagram story, which is 15-seconds long, of themselves doing as many repetitions as possible of either push-ups or squats. 
They then had to tag Mr Hafeez in their Instagram stories so he would receive their submissions and were encouraged to tag other friends to participate.
Mr Hafeez pledged to donate 10 cents for every push up and 20 cents for each squat. 
His close friends and family were quick to participate and the challenge gained further traction after former national footballer Fandi Ahmad's five children, Irfan, Ikhsan, Iman, Ilhan and Iryan Fandi, who have large followings on Instagram, began sharing posts of themselves participating in it.
"It definitely drew a lot more attention and reached out to a different demographic of people. I was truly heartened to see the amazing response, especially from people I didn't even know," said Mr Hafeez.
National pencak silat athlete Nurul Suhaila Mohamed Saiful, 25, and her two friends, fellow athlete Sheik Ferdous Sheik Alau'ddin and his brother Sheik Farhan Sheik Alau'ddin, also created a similar fitness challenge to contribute to the Sayang Sayang Fund, which provides funds for marginalised communities adversely affected by Covid-19.
"Staying at home can be challenging for some and as athletes ourselves, we know that physical exercise can help reduce stress and anxiety. We can improve our physical and mental well-being and contribute to a great cause," Nurul Suhaila said.
For every Instagram story or post of a person doing 10 burpees with the hashtag #BurpeesForSayangSayang, the trio pledged to donate S$5 to the fund.
"We have been pretty impressed by the response. Especially at the start of the campaign we'd get tagged in 20 to 30 videos a day. We really enjoy watching Singaporeans of all ages, with our youngest participant being only five years old, put their own spin on the challenge,' she said.  
"Many gathered friends on Zoom while others did the challenge with weighted vests and backflips."
Since they launched the challenge on April 20, the friends have managed to hit S$2,040 out of their S$3,000 goal and Ms Suhaila hopes they will be able to reach their goal by the time their challenge ends on June 1.
BAKING FOR A CAUSE
Meanwhile, Ms Tiong Linshan, 24, began an initiative at the start of the circuit breaker to bake and sell as much sourdough bread as she could, then donating the proceeds.
"I was feeling overwhelmed by the stories of the underprivileged communities in Singapore whose lives were upended by the virus," she said. "It felt unfair and almost cruel that a good portion of us could continue living in lockdown in relative comfort while there were families out there who worried about making ends meet and putting food on the table."
Feeling low about spending the day in isolation on her birthday on April 13, the marketing associate decided to take her mind off it by diving into a new project. 
That was when she started The Bread-First Club, a community-minded project in which Ms Tiong aimed to achieve two things — to share the joy of sourdough bread with her friends and to raise money through bread sales for Covid-19 relief funds in Singapore.
Orders quickly poured in from friends and family who were eager to support her initiative and Ms Tiong, who was waiting to start a new job at the time, would spend 12 to 18 hours a day baking to try to fulfil as many orders as possible.
Unfortunately, after two weeks, operations were halted due to the ban on home-based businesses but Ms Tiong still managed to raise and donate a total of S$837. 
"I had friends and customers who donated extra because they were supportive of The Bread-First Club, and my friends also pooled together a large donation as a birthday present for me to fund the materials and costs of running it," said Ms Tiong, who donated the amount to two charities providing support and comfort to foreign workers, low-income households and the elderly.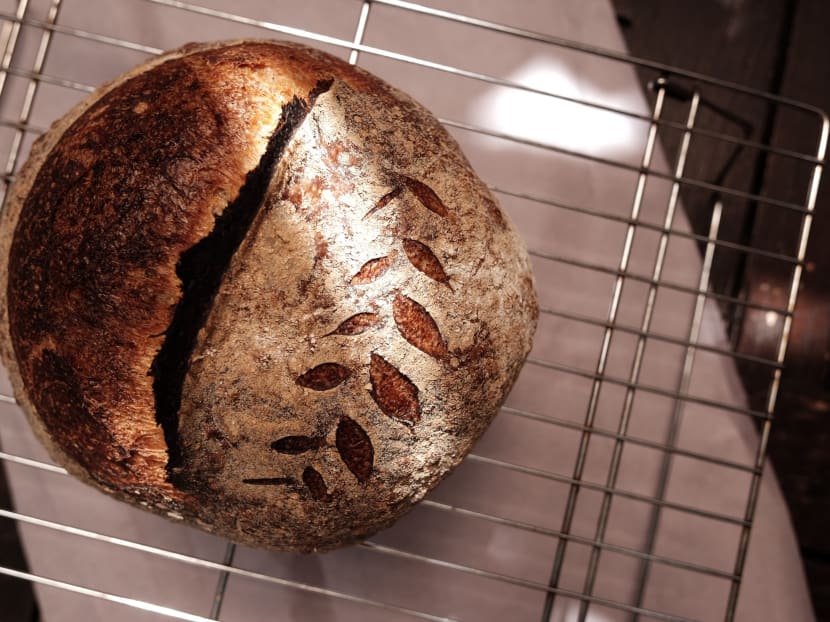 RAISING FUNDS THROUGH SPRING CLEANING
During the circuit breaker, flight attendant Germaine Tan decided to take inspiration from Japanese organising consultant Marie Kondo to declutter her room and closet. 
But instead of throwing away the clothes that no longer sparked joy, Ms Tan, 22, decided to sell them and raise funds for foreign workers.
Ms Tan took pictures of herself modelling the pieces for sale before posting them to Instagram.
"Ever since the start of Covid-19, I've wanted to find a way to contribute in one small way or another. When I was clearing my closet, I thought of this idea and decided that 50 per cent of the proceeds should be donated," said Ms Tan, who has raised S$78 thus far.
Quinn Chen, 23, who recently graduated from university, started a similar initiative on April 17. Titled Grab Bag for Good, the initiative was aimed at selling "grab bags", which are bags filled with two to three items of Ms Chen's pre-loved clothes, to raise funds to help provide meals to foreign workers in Singapore.
"I wanted to encourage people to give just a little to help. Other than to lead by example, I also wanted to make their day by offering some fashionable clothes. It's really just about spreading happiness while helping people," said Ms Chen, who has raised S$350 this way.