Singapore's greenhouse gas emissions top 50m tonnes: Report
SINGAPORE — Singapore generated more than 50 million tonnes of greenhouse gases in 2014, the bulk of it from the burning of fossil fuels to generate energy for industries, buildings, households and transportation.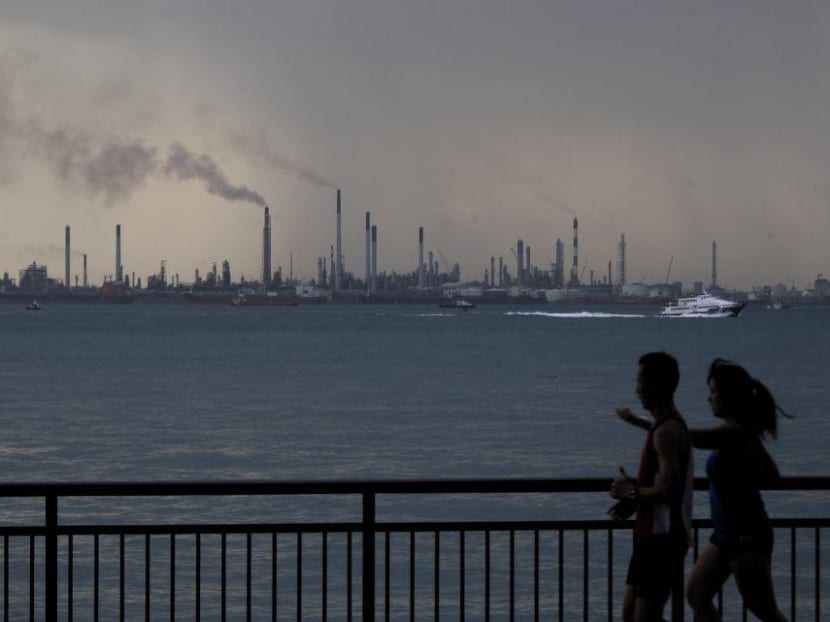 SINGAPORE — Singapore generated more than 50 million tonnes of greenhouse gases in 2014, the bulk of it from the burning of fossil fuels to generate energy for industries, buildings, households and transportation.
The figure, which is the latest available, was published online last week in a biennial report that the Government submitted to the United Nations on Dec 27.
The 50.9 million tonnes of greenhouse gases generated in 2014 is an increase of 4.8 per cent from about 48.6 million tonnes generated in 2012.
Carbon dioxide made up more than 95 per cent of total emissions, while other gases such as methane, perfluorocarbons and nitrous oxide accounted for the remainder. The emissions of the gases have been converted to carbon dioxide equivalent — or the amount of carbon dioxide that would create the same amount of warming.
'WELL ON TRACK'
Because Singapore's economy has grown at a faster pace over the same period of time, its emissions per dollar of gross domestic product has decreased significantly. From 2000 to 2014, Singapore's emissions intensity decreased by 37 per cent, the report stated.
Its emissions intensity is among the lowest in the world, the report added.
The Government said Singapore is "well on track" to meet its 2020 pledge to reduce emissions by 16 per cent below business-as-usual levels. It reiterated its pledge under the 2015 global Paris agreement to cut emissions intensity by 36 per cent (from 2005 levels) by 2030, with the aim of peaking around then.
Since the early 2000s, Singapore has largely switched to a cleaner fuel mix — from fuel oil to natural gas — for electricity generation.
While this has played a major part in reducing emissions, the Government said: "There are limits to how much more emissions can be reduced by switching fuels, as natural gas currently constitutes about 95 per cent of our fuel mix for electricity generation."
Singapore has increased its use of solar energy, and the Government added that a key mitigation strategy is to improve energy efficiency. This will require households and businesses to pay their part.
The carbon tax that will be implemented from this year — starting at S$5 per tonne of greenhouse gases and which will cover about 80 per cent of national emissions — will encourage reductions "where it makes the most economic sense", the Government said.
STRONG SIGNAL, BUT CAN SINGAPORE DO MORE?
Recent measures introduced by the authorities send a strong signal to companies to track their emissions and improve industrial energy efficiency, said Ms Melissa Low, a research fellow at the National University of Singapore's Energy Studies Institute.
Data on companies' uptake of the Government's Energy Efficiency Fund would shed light on whether new facilities and expansions include resource-efficient designs, and whether existing facilities are adopting such technologies, she said.
That Singapore's greenhouse gas emissions are "increasing, but at a decreasing rate", is in line with its 2030 climate target, noted Ms Low.
Dr Matthias Roth of NUS' department of geography felt Singapore could do more.
The drop in Singapore's emissions intensity is significant in making the economy more energy efficient.
"The main issue, however, is that despite this drop in emissions intensity, absolute emissions are allowed to increase every year. In terms of man-made climate change and global warming, only the absolute amount of emissions is relevant," he said.
Scientists have said emissions need to peak as soon as possible and be drastically reduced by 2050 to keep global warming below 2°C, he noted.
Singapore's pledge is unlike efforts by most developed nations, which have committed to reduce emissions significantly by as early as 2030, said Dr Roth.
Singapore's efforts are similar to those of developing nations -- that is, reducing emissions intensity but allowing emissions to increase (until 2030 in the case of Singapore), rather than committing to cutting absolute emissions. Singapore is claiming exemption for more drastic measures under a special UN Framework Convention on Climate Change article, which recognises country-specific limitations, he said.
"In the case of Singapore, apparent space constraints in the use of alternative energy sources are used as a reason for not being able to reduce emissions. However, as one of the most developed and richest nations on our planet, it may be time to rethink Singapore's special treatment and take more meaningful climate action now, which are in line with scientific recommendations to avoid dangerous climate change," said Dr Roth.
Singapore's submission of its biennial report comes after intense climate talks in Katowice in Poland last month, where governments adopted a set of guidelines for implementing the 2015 Paris Agreement.
Before the Katowice conference, scientists had said in a report issued by a UN body that there would have to be "unprecedented" changes to the way people generate and consume energy, use land and live, in order to limit global warming to 1.5°C above pre-industrial levels.
Scientists agreed that, more than ever, every bit of warming mattered. Current pledges by governments would at best yield warming of 3°C by the end of the century, some noted.