Singapore's hawker culture on Unesco list: A look-back at the drive to get an intangible cultural heritage title
SINGAPORE — The hawker culture in Singapore made it into a prestigious list of international cultural icons on Wednesday (Dec 16), after nearly three years of efforts and campaigns. Here is what it took to get there.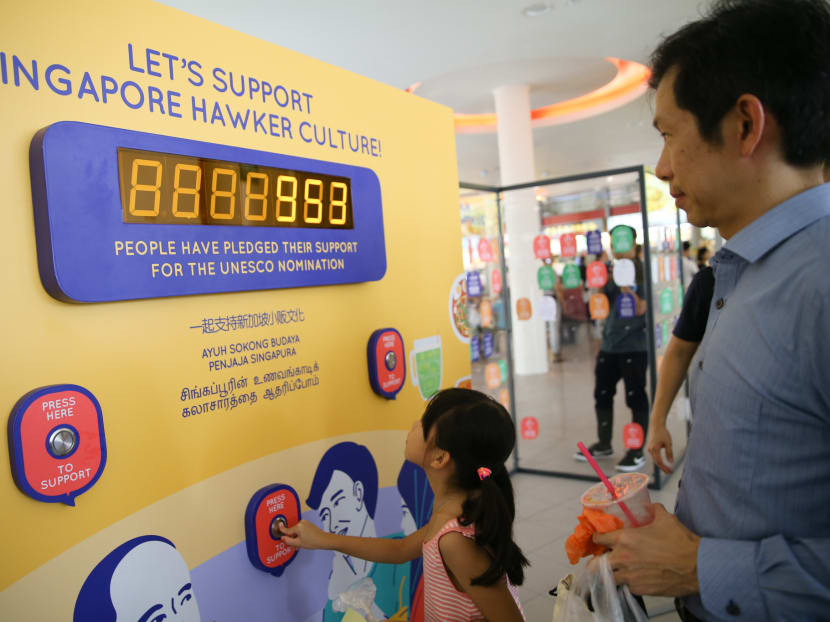 SINGAPORE — The hawker culture in Singapore made it into a prestigious list of international cultural icons on Wednesday (Dec 16), after nearly three years of efforts and campaigns to get there.
The decision to inscribe the hawker culture here onto the Intangible Cultural Heritage of Humanity list under the United Nations Educational, Scientific and Cultural Organisation (Unesco) was announced by the international body's intergovernmental committee online.
It joins more than 463 items already on the list.
Here is a timeline of the journey to the Unesco listing.
Feb 22, 2018: In a written agreement, Singapore ratifies the Unesco Convention for the safeguarding of intangible cultural heritage as a signatory. This allows the nation to submit nominations to Unesco for listing. 
April 8, 2018: The National Heritage Board (NHB) launches an inventory featuring 50 intangible cultural heritage elements practised here, which is part of the criteria for the nomination. Aside from hawker culture, pilgrimages to Kusu Island and Malay weddings were also listed as the cultural heritage elements.
Aug 19, 2018: At the National Day Rally, Prime Minister Lee Hsien Loong announces that Singapore will nominate its hawker culture to be part of Unesco's list of Intangible Cultural Heritage of Humanity.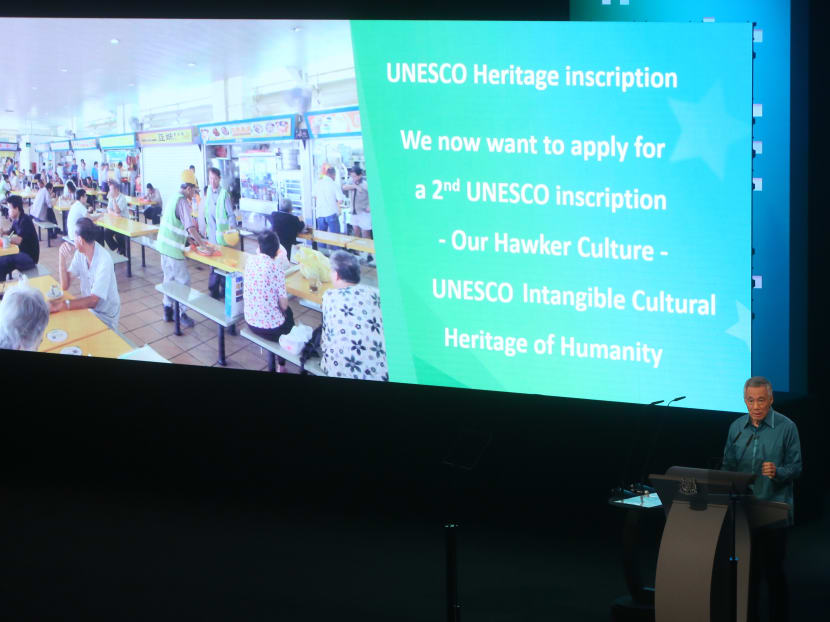 Oct 22, 2018: A 14-member committee is appointed to oversee and guide the effort to nominate the hawker culture for inclusion in Unesco's list. Chairing the committee are the heads of NHB, the National Environment Agency (NEA) and the Federation of Merchants' Associations, Singapore (FMAS). Over a tenure of 2.5 years, the committee has to provide recommendations, feedback and advice on the nomination documents to be submitted to Unesco in March 2019.
Aug 2018 - March 2019:
A website is launched for Singaporeans to pledge their support for the Unesco bid. On April 6, 2019, Dr Amy Khor, then-Senior Minister of State for the Environment and Water Resources, said that more than 850,000 people pledged their support for the nation's hawker culture.

Five photographers in Singapore are commissioned to take photos at five different hawker centres over 24 hours, which culminated in a photography exhibition, A Day in the Life of Our Hawker Centres.

National Geographic partners with the Ministry of Communications and Information to jointly launch a #OurHawkerCulture movement. From Dec 17, 2018 to Jan 12, 2019, a photography contest is held for Singaporeans and residents to share their personal perspectives on hawker culture. A special video vignette series delving into the culture, heritage, people and food behind the hawker culture here is planned for early 2019, to be told through National Geographic's distinctive creative lens.

Some schools show their appreciation for the hawker culture as part of the campaign. For example, some students from Ngee Ann Polytechnic volunteer for the Our SG Hawker Culture Travelling Exhibition. Students from St Gabriel's Primary School also dressed up as hawkers to engage visitors when the travelling exhibit was at the National Museum of Singapore.
March 29, 2019: NHB, NEA and FMAS submit Singapore's nomination. It includes a 10-minute video documentary, evidence of community support as well as details on safeguarding measures to ensure the promotion and transmission of the practice of hawker culture.
Nov 16, 2020: A 12-member evaluation body from Unesco gives its recommendation for hawker culture to be inscribed in the Unesco list, deeming that the submission fulfilled all the criteria required for inscription.
Dec 16, 2020: Singapore's hawker culture is now part of the Unesco Intangible Cultural Heritage of Humanity list.