Explainer: Why vegetation fires in Singapore in first half of the year surged to 3-year high
SINGAPORE —The unusually dry spell in Singapore has led to a sharp increase in the number of vegetation fires in the first six months of this year, reaching a three-year high.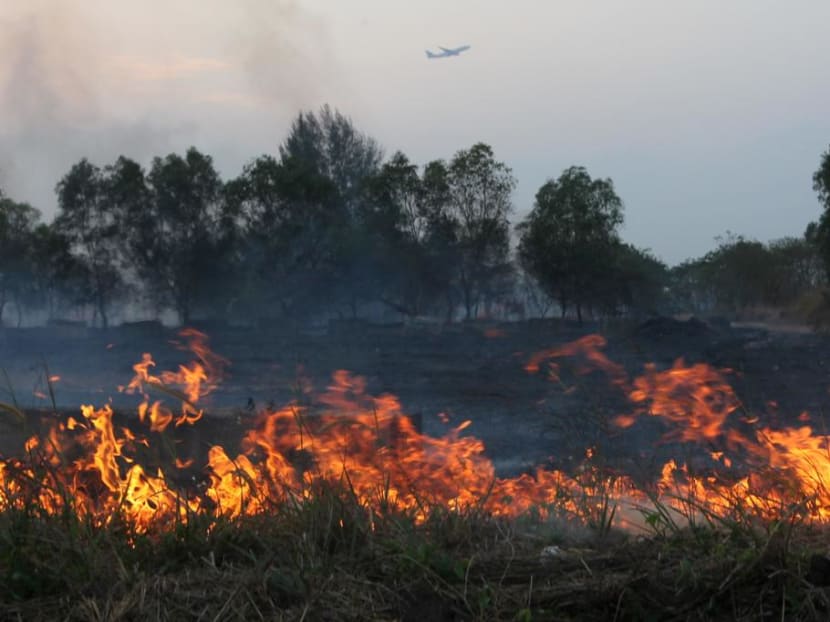 SINGAPORE — The unusually dry spell in Singapore has led to a sharp increase in the number of vegetation fires in the first six months of this year, reaching a three-year high.
The Singapore Civil Defence Force (SCDF) said 555 vegetation fires were reported in the first half of 2019, a 56 per cent jump from 356 in the first half of 2018 and an even bigger increase from 100 in the same period in 2017.
Earlier this week, a blaze broke out near East Coast Park (ECP), affecting an area about the size of two football fields.
The incident saw about 50 firefighters and 12 emergency vehicles including five fire engines, one red rhino and two supporting vehicles deployed, said SCDF.
TODAY takes a closer look at the causes of vegetation fires, why they are on the rise and what preventive measures are being taken to curb them.
WHAT CAUSES VEGETATION FIRES?
The SCDF said 502 vegetation fires were reported in the first three months of this year alone — almost twice the number in the first three months of 2018.
Associate Professor Koh Tieh Yong of Singapore University of Social Sciences said there has been a persistent warm anomaly in the sea surface temperature in the central tropical Pacific Ocean since November 2018.
"This led to convective clouds and rainfall to move away from South-east Asia so the soil condition in Singapore has been hotter and drier than average," said the weather scientist.
The Meteorological Service Singapore (MSS) said earlier this month that July this year was the driest July on record in Singapore, and suggested dry conditions were set to continue — increasing, among other things, the risk of haze affecting Singapore from fires in neighbouring countries.
High winds and low humidity increase the risk of vegetation fires, said Ms Gwen Phoo, head of marketing at safety equipment distributor Falcon Fire.
Ms Phoo explained that vegetation fires occur when an ignition source — such as discarded cigarette butts, burnt debris, or the sun shining through a glass fragment — is brought into contact with a combustible material such as vegetation that is subjected to enough heat and supply of oxygen.
She said: "On average, August is the least humid month in Singapore. When the humidity is low, there is a low amount of water vapour in the air, the more likely wildfires will start."
She added: "Based on data, Singapore's average humidity in the first half of 2019 is relatively lower (76.3 per cent vs 79.3 per cent) than that of 2018," she added.
IS CLIMATE CHANGE A KEY FACTOR IN THE INCREASE IN VEGETATION FIRES?
According to the MSS, in a statement in 2016, the island is heating twice as fast as the rest of the world.
Citing this, Ms Phoo suggested that climate change is an important contributing factor to this surge in fire incidence.
But Prof Koh emphasised that the effects of climate change tend to be observed over longer periods, whereas the increase in fire incidence from one year to the next was more directly attributable, in this case, to the variability in sea surface temperatures.
He added that in the first three months of 2018, the central tropical Pacific Ocean was experiencing a persistent cold anomaly, which caused the "opposite climate pattern" in Singapore.
The change in the atmosphere from cooler and wetter conditions in the early part of last year, to hotter, drier conditions this year could explain the rise in vegetation fires, he added.
HOW QUICKLY CAN VEGETATION FIRES SPREAD?
Fires in the natural environment tend to take longer to detect as compared to man-made fires, Ms Phoo said, adding that this factor usually contributes to the severity of the fire.
Prof Koh added that the spread of vegetation fires is fuelled by strong winds and an abundance of dry vegetation.
"The lower the relative humidity, the more readily a fire will start and burn — and the more vigorously a fire will burn," she said.
A raging vegetation fire can expand by an average of more than one football field in three seconds, warned Ms Phoo.
WHAT PREVENTIVE MEASURES HAVE BEEN TAKEN TO COMBAT VEGETATION FIRES?
To reduce the incidence of fires, SCDF has issued an advisory to related agencies that comprise the Wildfire Task Force Committee, which include the Singapore Land Authority (SLA), the National Environment Agency (NEA), the National Parks Board (NParks) and national water agency PUB.
Set up in 2005, the committee serves as a platform for SCDF and member agencies to work closely together in carrying out fire safety measures to minimise vegetation fires during dry spells and seasonal dry weather in the areas they manage.
These measures include trimming vegetation, watering dry areas and conducting patrols at hot spots.
In response to TODAY's queries, Director of NParks, Ms Sharon Chan listed several preventive measures they have put in place such as maintaining fire breaks in nature reserves, clearing coarse wood debris to reduce potential fuel load and intensified surveillance and patrols.
SCDF also advised members of the public to not dispose lighted materials such as cigarette butts or refractive materials such as glass pieces or bottles that may ignite dry vegetation due to sunlight.
Members of the public are also advised to extinguish all embers they may have caused before leaving the area.