Slow take-up rate for insurance scheme tailored for freelance instructors, despite earlier clamour
SINGAPORE — Freelance coaches have long clamoured for an insurance scheme specifically tailored for them that could ensure their income is not severely affected should they sustain injuries or illnesses.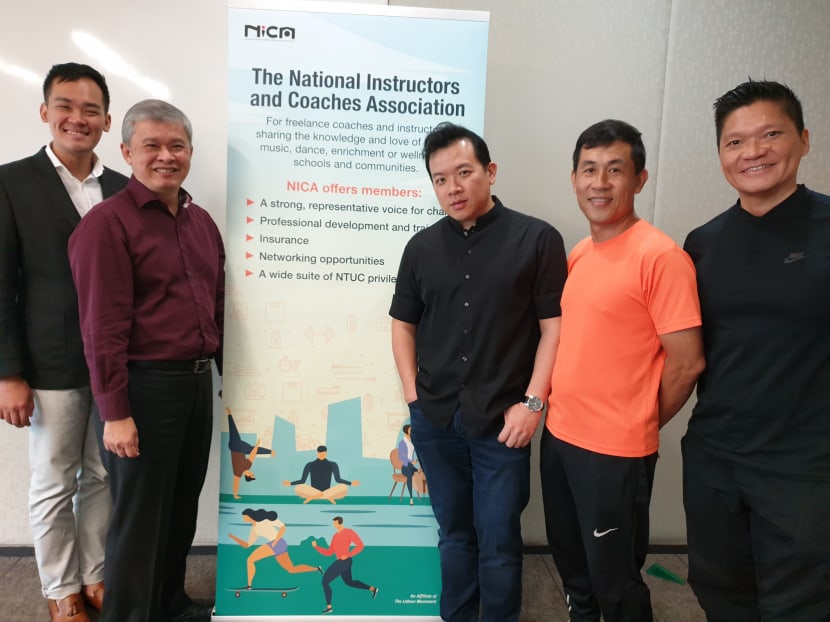 SINGAPORE — Freelance coaches have long clamoured for an insurance scheme specifically tailored for them that could ensure their income is not severely affected should they sustain injuries or illnesses.
Yet, only about 50 to 60 people have taken up a new insurance scheme rolled out by the National Instructors and Coaches Association (Nica) last September, said Mr Ang Hin Kee, assistant director-general of the National Trades Union Congress (NTUC), during a press briefing on Wednesday (Feb 20).
Nica, which oversees the interests of freelancer coaches in the sports, music, fitness, dance and wellness fields, is affiliated to the NTUC. Formed last year, it formally registered as a society this January.
It had introduced an insurance plan covering prolonged medical leave for coaches and instructors, following feedback from focus-group discussions that the nature of their work made them more susceptible to physical injuries or illnesses.
The plan aims to provide a daily income for freelancers affected by long periods of illness, injury or hospitalisation.
The annual premiums range from S$102 to S$788, depending on the age of the claimant and the insurance provider. Members of Nica, which number around 200, are entitled to further discounts on the premium in their first year.
Mr Shaun Leoi, a band director and member of Nica, said that he wanted to "iron out (his) finances" first before taking up the insurance. While the 28-year-old acknowledged that the plan was a "good initiative", he said that he felt no urgency to take up the plan as he was still young and rarely fell ill.
Mr Coach Ong, who is a basketball coach in primary schools, said that he was not aware of the plan.
When told of the details of the plan, Mr Ong, 31, said: "If (Nica) had done a bit of marketing to push it out to the coaches to get them covered, then the response could be good."
He added that the premiums were "reasonable" and that he was "willing to give it a try" if it could cover the loss of his income during periods of illness.
However, Mr Ong said that ultimately, it was the ease of filing the claims which would determine whether he buys the plan.
"Who do I claim from and how is the claim process like? These are the most important factors to consider before I sign up for an insurance plan," he said.
Freelance strength-and-conditioning coach Benedict Chia, 28, said that while he had not heard of the plan, he has no need for it.
"I already have my own private medical insurance plans which are sufficient. They already cover me for work-related accidents, and my hospitalisation plan covers me for any long-term injuries that I may sustain."
Nica's pro tem deputy general secretary Darius Lim said that the association's committee members will try to raise greater awareness of the insurance plan in the respective associations that they represented, to boost its take-up rate.
The 33-year-old said that a freelance choir director in primary and secondary schools earlier this year had already made a successful claim.
The choir director, who was registered with Nica, had bought the highest tier of the insurance which amounted to about S$286 in annual premiums last year.
He was later diagnosed with severe retina detachment in December and given 62 days of hospitalisation leave. With the insurance plan, he received a payout of S$11,800 after submitting his claims in January this year.
"Moving forward, we would want to engage more arts practitioners to tell them that this is something that everybody needs, and not just to be left for a later date," Mr Lim said.
Mr Ang added that NTUC hopes to provide prolonged medical illness coverage for private-hire car drivers as well.
SKILLS COMPETENCY FRAMEWORK FOR FREELANCERS
Separately, to address the lack of consistent standards among the services provided by freelancers, Nica said that it will work with NTUC and other stakeholders to establish a skills competency framework for each sector.
Nica's pro tem committee president Adrian Chiang, 40, said that freelancers were typically hired based on informal yardsticks such as referrals or user reviews. This had led to varying standards and quality in the market.
"Fly-by-night" operators had also depressed the wages of freelancers, with those who offered lower prices often getting picked over others with experience.
Mr Ang said that Nica is in the process of developing modular courses for each sector so that freelancers could receive certification according to different benchmarks.
While the association will not issue guidelines on how much freelancers should be paid according to the certification they received, Mr Ang said that freelancers could charge for their services in accordance with their own competencies and qualifications.