Some Chinese workers, businesses in Singapore shunned amid fear and anxiety over Covid-19
SINGAPORE — Mr Leslie Sim, 30, a lawyer, was recently in the lift of his office building with two masked cleaners who were disinfecting the grab rails and buttons when another man entered.
SINGAPORE  — Mr Leslie Sim, 30, a lawyer, was recently in the lift of his office building with two masked cleaners who were disinfecting the grab rails and buttons when another man entered. 
"That man asked one of the cleaners if he was from China," he said. 
When the cleaner said yes, Mr Sim said that the man pulled back in mock fear and shouted: "Aiyo you China ah, I scared".
Over at Chinatown Point, the general manager of Victor's Kitchen, who only wanted to be known as Mr Liao, said some customers have left his restaurant upon realising that some of its waitresses are from China.
Although the restaurant has put up signs saying that its Chinese staff have not been to China recently, its footfall has dropped by 30 per cent since end-January, he said.
These accounts reflect the discrimination being faced by some Chinese nationals here, as anxiety over Covid-19, which originated in the city of Wuhan in China, continues to mount. 
TODAY spoke to 20 business owners with Chinese workers and all said they have seen business drop, some by as much as 80 per cent. Partly, they think, this is because they have staff from China, and partly because many people are staying at home more these days.
'I AM PLANNING TO LIVE ON SWEET POTATOES'
The owner of a hair salon, who declined to be named, said she is struggling to pay rent at the People's Park Centre unit which she leases, as her regular customers are wary about her being from China and have stopped patronising her business. 
"Business has been so bad, I am planning to live on sweet potatoes each day for now as I'm not sure how I can get past this month's rent," she said.
She used to earn up to S$100 a day, but in the past two weeks has only been taking in S$30 to S$50 daily. 
She has also faced outright discrimination, she said. Recently, she wanted to buy masks from a shop in Eunos and was told she would only be allowed to purchase three, even though another customer before her had managed to purchase 10 pieces.
The reason, she suspects, is that the other customer was a Singaporean, while she is a Chinese national.
"After the purchase, the staff even scolded me with a derogatory term, saying that Chinese people were responsible for the (Covid-19) virus," she said.
Checks by TODAY found that several Chinese-run eateries in Chinatown have begun displaying notices informing customers that their shops have been disinfected or that their staff have not been to China recently. 
The manager of Dong Fang Mei Shi, a barbecue restaurant in Chinatown, who only wanted to be known as Mr Zhang, said that sales have fallen by 80 per cent from two weeks ago. Among other factors, customers are wary about dining in, as the restaurant has staff from China. 
"Before the outbreak, we could easily make up to S$10,000 per night. Now, we are struggling to even hit S$2,000," Mr Zhang said. 
He added that the drop in customers is also due to a sharp decline in Chinese tourist arrivals and the fact that Singaporeans are reluctant to visit crowded places these days. 
Supervisor of Da Miao Hotpot in Clarke Quay, Mr Tan Qi Sheng, said the restaurant has seen 70 per cent fewer customers since the Chinese New Year holidays.
"Customers have asked whether we have workers from China," he said, adding that some of these customers then chose not to eat at the restaurant after being told that it does.
Mr Eric Wang, the owner of Spring Heal Spa at Chinatown Point, told TODAY that his business has fallen by 70 per cent since the virus outbreak. 
"Since massage requires close body contact, a large number of customers have stopped patronising our shop to prevent coming in contact with our staff, many of whom are from China," he said.
The manager of a Hai Di Lao branch at Clarke Quay, Ms Zhang Xi, told TODAY that the number of customers at the outlet has halved since the Chinese New Year holiday, although regular diners continue to come.
"I did encounter one customer who asked how my family's province in China was, people were generally concerned about me."
'I DON'T THINK IT'S UNFAIR' 
Most of the business owners are stoic about their situation, saying that they understand why people are shunning their shops.
Mr Liao, the manager of Victor's Kitchen, said: "We are faced with a natural disaster now so I don't think it's unfair."
Similarly, Mr Luo, a waiter at Ni Pang Zi Grilled Fish at Boat Quay, said he can understand why customers are avoiding the restaurant he works at, which has several workers from China.  
"I don't blame them for wanting to avoid Chinese-run establishments because (Covid-19) did originate from China and nobody knows who has the virus," he said. 
Mr Luo, who is himself a Chinese national and has lived in Singapore for 18 years, said he still feels welcome here. 
"I think Singaporeans are some of the most welcoming people to foreigners. Singaporeans are the most kind people to us."
Ms Emily Bai, a manicurist who works at Bugis street, said her business has halved since January. She senses that people are keeping a distance from her as she is Chinese, but there is nothing she can do about it, she added.
"I am a little unhappy, but what can I do?"
FRUITS, VEGETABLES NOT SPARED FROM ANXIETY
Singaporeans who spoke to TODAY said they were avoiding Chinese-run establishments because they worry that some of the Chinese nationals working at these places have recently come from the mainland.
One, who only wanted to be known as Mrs Toh, 65, said: "I want to avoid places with large congregations of those from China, just to be safe."
She added that she would not know if the Chinese nationals have recently been in China. 
Others are going a step further, even avoiding fresh produce from China.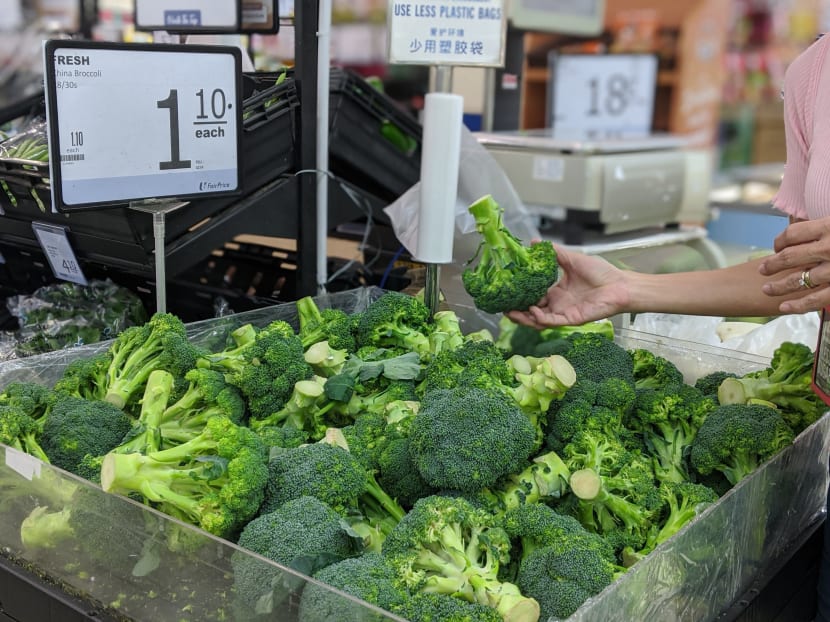 A customer at NTUC Fairprice, who wanted to be known only as Mdm Soh, told TODAY that she has not bought fruits and vegetables imported from China since the outbreak started.
"I am afraid," said the 71-year-old retiree. "Before the virus, I would buy broccoli from China. Now, I buy only those imported from Australia or locally produced sweet potato leaves. It costs more but I feel better that way." 
A patron at Cold Storage, homemaker Madam Lily Lee, 60, said that she also avoids produce and dried food imported from China. 
"The virus started from there. So for the time being I will stop buying from there," she said, adding that she feels the vegetables may not be "clean". 
A manager at a Cold Storage outlet in central Singapore, who did not want to be named, said that the store has received many queries from customers about the origins of its fruits and vegetables.
"Some customers are very particular. Many of them won't buy these products when they find out they are from China," he said. He reiterated that the produce from China is safe for consumption as they have been checked thoroughly. 
'A FALSE SENSE OF SECURITY'
Professor of Sociology Paulin Tay Straughan from the Singapore Management University said that for some Singaporeans, the avoidance of Chinese-run businesses or Chinese produce is a coping mechanism.
"Whenever there is a crisis that we have little control over, we often give in to fears and irrational reasoning," she said. "So by giving in to our irrational reasoning, for example by avoiding all things associated with the Chinese, it provides a false sense of security that one is 'doing something' to proactively ward off the virus." 
Local politicians have noted that such fears are unwarranted and xenophobic.
Prime Minister Lee Hsien Loong said on Feb 1 that the rise of anti-China sentiment worldwide is unhelpful in combating the spread of Covid-19. 
Speaking at the Chinese New Year dinner at his Teck Ghee constituency, he said: "Even though the virus started in Wuhan, it doesn't respect nationality or race — anybody can be infected."
"This is a problem that all countries must work together to solve, because it can easily get out of control in any one country, not just China."
Speaking to reporters on Feb 2 during a visit to the Changi Airport, Home Affairs Minister K Shanmugam made the same point, saying that there has been "small pockets" of anti-PRC (People's Republic of China) sentiments online.
"Disturbingly... we have noticed, a number of racially charged actions, posts... You know, fault lines bubbling below the surface," he said. "Thankfully, (it is a) small minority."
President Halimah Yacob echoed his comments on Feb 11, saying that no community should be blamed for the virus outbreak. 
"We should also not get into the habit of victim-blaming as viruses do not respect race, language or religion," she said.