Some foreign spouses on short-term passes worry about being separated amid Covid-19
SINGAPORE — It has become a pattern that every month or so, Ms Melissa Teo would have to worry about the possibility that her husband may be sent back to his native South Africa if his short-term visit pass (STVP) expires and his extension application gets denied.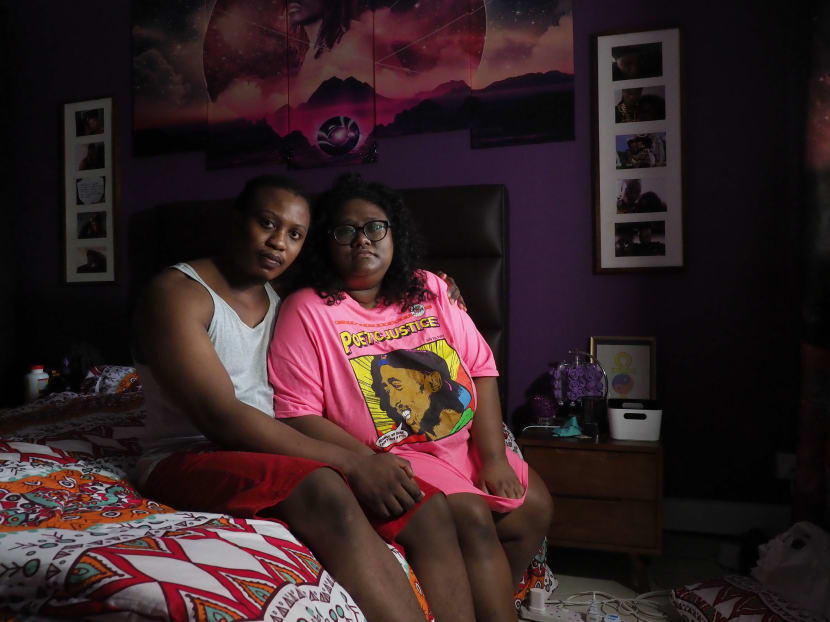 Short-term visit passes, which are typically between 30 and 89 days long, are given to some foreign spouses of Singaporeans
But the pandemic has made it difficult for the spouses to move in and out of the country as before
ICA has approved nearly all pass extensions and considers the difficulties caused by the pandemic
Some couples said they had been granted one- or two-week extensions, which caused them anxiety
SINGAPORE — It has become a pattern that every month or so, Ms Melissa Teo would have to worry about the possibility that her husband may be sent back to his native South Africa if his short-term visit pass (STVP) expires and his extension application gets denied.
Her husband, Mr Thapelo Molekoa, has extended his STVP around five times. If his pass expires, he will not be permitted to remain in Singapore and will need to book a flight home — a difficult prospect amid Covid-19.
Life plans will thus need to be put on hold, said Ms Teo, a Singapore citizen in her 30s. "We want to have kids, but having children in this type of circumstances where we don't have a permanent pass feels reckless."
It is a reality for thousands of foreign spouses who, amid a pandemic, worry about the possibility of being sent home in the most uncertain of times.
From February to July this year, the Immigration and Checkpoints Authority (ICA) received 8,395 applications for renewals of STVPs from foreign spouses of Singaporeans, Minister for Home Affairs and Law K Shanmugam said in a written reply to a parliamentary question in September.
Mr Shanmugam added that only around 2.8 per cent were rejected — a fact which transnational couples interviewed by TODAY said was reassuring.
Yet, amid the pandemic, the stakes are far higher if their STVP expires for some reason, they added.
Covid-19 has curtailed their ability to shuttle back and forth between countries due to travel restrictions. There is also no guarantee they can return to Singapore — short-term visitors need to have a SafeTravel Pass or approval from the Government.
Mr Molekoa, who is taking a course in fitness instruction in a Singapore educational institution, said: "It is like living life on the edge, because I never know when I will have to pack up and leave my wife for a long time.
"I really don't want to go back to our previous long-distance relationship, now that we are married." Mr Molekoa and Ms Teo had dated since 2017 after meeting online, and got married in January this year.
In general, STVPs have a 30-to-89-day period. Ms Teo said they have applied for a long-term visit pass (LTVP), which has a validity period of three years and, unlike STVP, can allow for local employment.
ICA has rejected a previous LTVP application.
Plan B, said Ms Teo, will mean moving to South Africa instead, which will entail selling her three-room flat and quitting her job as an operations writer who crafts permanent residency applications for a company here.
"But with the flight situation and all, we can't have any plans… A longer STVP extension would certainly help us," she said.
Ms Teo is worried that she will have to be forced to give up a career that she enjoys.
UNCERTAINTY REMAINS DESPITE PASS EXTENSION
Another Singaporean-Polish couple, who wanted to be known only as Daniel and JT, recalled their stress over missing their child's birth as Daniel's STVP would have expired before JT's pregnancy due date this month.
Daniel arrived in Singapore from Britain on June 24, shortly after the circuit-breaker period ended, to be with his wife during her final pregnancy term.
His anxiety faded somewhat after his STVP, which was to expire on Sept 22, was extended to Oct 22.
"I was hoping for another 90-day extension so I can be with my (newborn) child and my wife for a longer time, but it's a 30-day extension so it's not the best situation for us," said Daniel.
In Mr Molekoa's case, one of his STVP extensions gave him only a further two weeks — from July 31 to Aug 14. His pass has since been extended twice, expiring on Nov 9.
Each extension application costs S$40 upon approval and is payable if the accumulative period of stay exceeds three months.
Speaking to TODAY, Association of Women for Action and Research senior executive Chong Ning Qian said it has seen some STVPs extended by a week.
Said Ms Chong: "There is also no consistency in the length of extension, which adds to the uncertainty that they face."
The gender equality advocacy group has called on the authorities to grant an automatic five-month extension for foreign spouses of Singaporeans and permanent residents in view of global travel restrictions.
Since July, Ms Chong said her group has seen six cases of migrant spouses on STVPs who are hoping for an LTVP. Only one has succeeded so far, she said.
"One common refrain that they sometimes get (from people) is the suggestion that they could just 'go back to your country'. However, some of these migrant spouses have already been spending many years of their lives outside of their birth country or in Singapore, and may even identify Singapore as their home.
"The pandemic is certainly a trying time for all, but we urge for greater empathy to the situations of these couples and families who are trying to build their lives in Singapore," said Ms Chong.
In response to queries, ICA said that it considers genuine difficulties arising from the pandemic, such as prevailing restrictions in travel and flight connectivity.
"Applications for immigration facilities are considered holistically based on a range of factors, which includes whether the applicant has any adverse records, the duration of the marriage, whether the couple has any children from the marriage and the ability of the Singaporean sponsor to support the family financially," said a spokesman.
The agency urged prospective Singapore-foreigner couples to submit a Pre-Marriage Long-Term Visit Pass Assessment before they get married, which will provide prospective foreign spouses of Singaporeans with "greater clarity on their eligibility for long-term stay in Singapore".
It added: "As with most countries, the ICA does not grant immigration facilities automatically to foreign spouses of Singapore citizens."