Some heartland shops struggling with digitalisation despite big push, saying they lack the means
SINGAPORE — For about two decades, the convenience store run by Mr Wong Teng Keong and his wife has been faithfully serving residents near Taman Jurong Shopping Centre, being the go-to place to grab anything from magazines and greeting cards to snacks.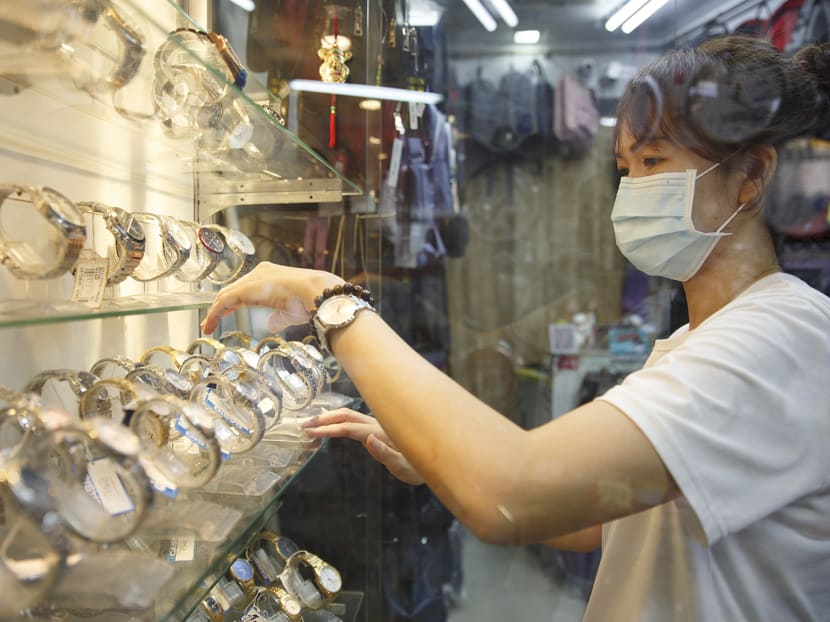 Despite the Covid-19 pandemic being a catalyst for businesses to go online, a number of heartland shops still struggle to do so
While digital payment solutions are widely adopted, about four in 10 heartland retailers still do not have presence online
One key factor is the resource-intensiveness of the process
Yet others are worried moving from a quiet physical store to an overcrowded online space would leave them engaging in price wars
SINGAPORE — For about two decades, the convenience store run by Mr Wong Teng Keong and his wife has been faithfully serving residents near Taman Jurong Shopping Centre, being the go-to place to grab anything from magazines and greeting cards to snacks.
When the Covid-19 circuit breaker was announced in early 2020, barring all but essential shops from operating, it impacted not only their frequent customers but also the shop owners themselves, who had no form of online presence to continue their business.
"We're old already, our (command of) English is also not so good. Not easy to go online," said Mr Wong, 69, and his wife, who added that their large inventory of small items makes it a more arduous task for them to go online.
As the pandemic has hastened the Government's push for heartland enterprises to embrace digitalisation and go online, a significant portion has yet to move in that direction beyond accepting electronic payment.
While about 86 per cent of neighbourhood retailers now offer e-payment solutions, only about six in 10 are taking further steps in the digital direction to list themselves on e-commerce platforms or establish online presence via social media or their own websites, according to latest statistics by Enterprise Singapore (ESG).
Heartland merchants who spoke to TODAY generally said that establishing and maintaining online presence for their shops requires a lot of resources that such lean businesses can ill afford.
Pouring such resources to go online, only to be undercut by cheaper sellers overseas, made the prospects of going online even less attractive.
SIGNIFICANT RESOURCE OUTLAY
Like Mr Wong, Ms Amy Tio who owns a bag and watch shop at Clementi Central was also held back from going online by the unfamiliarity of doing e-commerce.
"During the circuit breaker, I wanted to try but then I realised I didn't really know how," said Ms Tio, 48, in Mandarin, citing processes like listing items and handling orders online as well as managing delivery as among the things that were foreign to her.
Her shop, operating for about 20 years, offers digital payment options such as PayNow and Paylah, though she said she simply cannot dedicate time to learn how to further digitise her business as she runs the shop mainly by herself.
Not too far away from Ms Tio's shop, the owner and sole shopkeeper of TY Fashion at Clementi Central, who wants to be known only as Mr David, baulked at the prospect of having to set aside significant manhours and resources to set up shop online, even though he admitted that footfall to physical stores has gone nowhere but down.
"Even if we want to go online we have to pay up front quite a lot, maybe even S$10,000, before you can claim back from government grants; difficult for us to afford," he said.
While he declined to share exactly how much he brings home in a month, he said he would be ecstatic if he could even make S$3,000.
CONSISTENT EFFORT NEEDED TO STAY ONLINE
Once heartland retailers go online, it does take some effort to maintain their presence.
ini.berapa, a grocer located at a void deck along Gangsa Road in Bukit Panjang, started its own website during the circuit breaker to offer home delivery services for poultry, seafood and meat.
While their site was set up with the help of a family member, they have to set aside additional manpower for daily deliveries on top of keeping up their website and social media platform.
"I focus solely on handling online orders, maintaining the website and our social media engagement, while my parents and sister handle the day-to-day running of the store," said Mr Abdul Syakur Halid, 28, who also had to set aside time to pick up relevant e-commerce know-hows.
Even for retailers who list on major e-commerce platforms which offer their own delivery services, much manual work is still involved.
Co-founder of uMart, Mr Eric Teo, who has two convenience store branches in Balestier and Kovan and also lists items on platforms like Grab and Foodpanda, said that store employees need to be constantly aware of the availability of individual items and manually update each platform should a product run out, besides attending to walk-in customers.
"If an item is physically out of stock, but it is marked available online and the customer orders that item, then you end up disappointing that customer," said Mr Teo, 47.
This, he said, is besides the initial manual process of listing on each platform the 1,400 unique products that his stores sell.
CONSTANT NUDGES INTO DIGITAL WORLD
Efforts to push retailers to get into the online space have been aplenty.
In January 2021, the Housing and Development Board launched the Shopperlink app — an online directory that lists merchants in heartland malls and offers perks for users. It now lists merchants from 10 malls.
Separately, the Singapore Institute of Management's People Development Fund in January this year launched iShop@heartlands at Boon Lay Shopping Centre, where five youths with some working experience are attached to retailers for a half-year paid internship. These youths are tasked to carry out e-commerce tasks on behalf of heartland shop owners.
The fund was incorporated in 2020 as a charity with seed funding from the Singapore Institute of Management, in order to support Singaporeans in realising their career potential through access to learning pathways and experiences.
Perhaps the biggest effort in pushing retailers online would be Heartlands Go Digital, which was launched in October 2020. Among other solutions, the programme offers packages starting from S$99 for the first year for businesses to get on Carousell, Fave, Foodpanda, Vaniday or Shopback.
At that time, 53 per cent of about 17,000 heartland retailers adopted e-payment solutions while six per cent were on online platforms, said ESG in response to media queries.
The 17,000 enterprises refer to an "addressable pool of heartland businesses within relevant trade and are in active operations" out of a wider total of 20,000, the agency added.
"I am happy to report that as of February 2022, 85 per cent or about 14,500 of our heartland enterprises have adopted e-payment solutions such as Nets, Fave, Grab, or PayNow. In fact, more than half — 58 per cent or around 9,900 — are now onboard digital channels and e-commerce platforms," said Minister of State for Trade and Industry Low Yen Ling in Parliament in March.
As of March 4, these figures have inched up respectively to 86 per cent and 60 per cent, said ESG.
Notably, however, there is little to no assistance under the flagship Heartlands Go Digital programme to lighten the time consuming and tedious process of digitising inventory and listing them online for heartland merchants who tend to be resource-strapped.
To fill in this gap, a startup named FairMart is offering solutions from as low as S$50 a month to help automate the process of making products visible online.
By integrating FairMart's proprietary barcode scanner to their existing point of sale system, merchants can automatically have their product offerings uploaded online, along with the descriptions and images.
FairMart's co-founder and CEO, Jan Gasparic, told TODAY recently that their solution would help cut down the inventory process for an average mom-and-pop shop from 200 hours to about half an hour.
While FairMart lists its participating merchants — numbering around 100 since it started late last year — on its own website and allows users to make purchases there, Mr Gasparic stressed that the main objective is not to compete with big e-commerce sites but to bump the merchants' visibility online and drive traffic to the physical stores.
"We have a six times higher conversion rate for people going in store than just for online purchases," he said.
One such business that has benefited from the online-to-offline conversion is uMart, which said that the platform has helped to extend their reach to customers who "wouldn't ordinarily step into our stores".
Mr Teo recalled how a customer came all the way from Bukit Timah to his store in Balestier as the shop appeared online when she searched for a particular beverage.
"The customer who wanted that beverage subsequently saw a beer that she also really wanted and bought it, too. So there is this organic cross-selling that we don't even have to do," said Mr Teo.
GOING ONLINE, ONLY TO ENTER PRICE WARS?
While business owners agree that brick-and-mortar shops alone cannot survive, some doubt the sustainability of going online in view of keener competition.
An electric goods retailer at Taman Jurong Shopping Centre who declined to be named lamented how his physical store is already competing with online businesses, as some customers walk into the store to try products only to buy them from the cheapest seller online.
"But if you spend so much to go online, (where there are) a hundred sellers selling the same thing, how to make money?" he said.
"A lot of things sold online are too cheap, and a lot of my stuff, the supplier is in Singapore, so it's not as cheap as those who import from overseas… Hard to compete," said Ms Tio, the bags and watches retailer at Clementi Central.
Meanwhile, Mr Syakur from grocery retailer ini.berapa acknowledged that while his business cannot compete based on price as there are costs to cover, they instead focus on competing on quality.
And so far this strategy seems to pay off, with online orders contributing to about 25 per cent of their revenue. Encouraged by this, Mr Syakur said that they are in the online game for the long haul.
"People prefer to spend their time jalan-jalan than go to the wet market, so there's always a market for this service. The future is online, it's just a matter of how fast we head there," said Mr Syakur.