Some residents and hawkers anxious as Covid-19 cases surface in Bukit Merah, Redhill and Telok Blangah
SINGAPORE — The recent Covid-19 cases that surfaced at Bukit Merah View, Redhill and Telok Blangah have put some residents there on edge, because the housing districts' proximity to each other may just be a conducive channel for disease spread.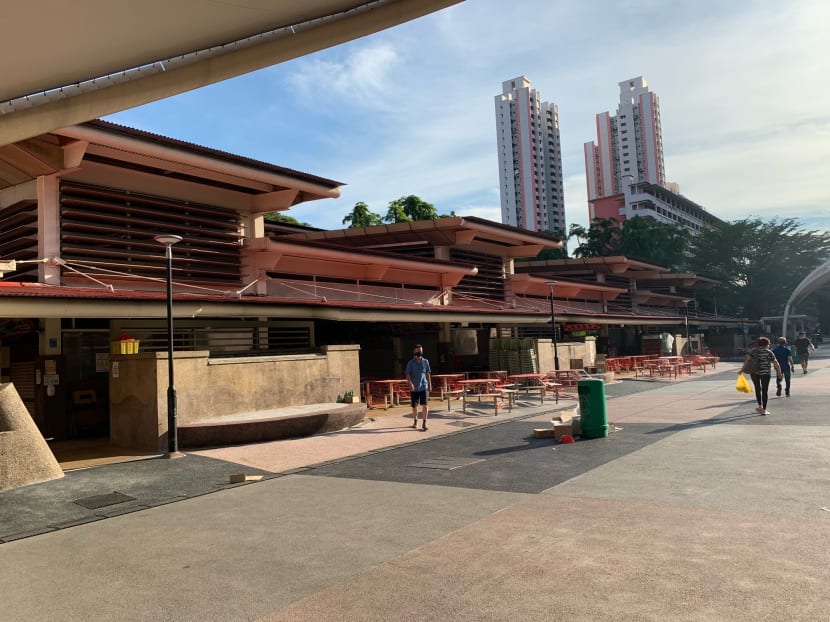 Residents and hawkers in Bukit Merah View, Redhill and Telok Blangah told of anxiety due to Covid-19 cases there
Some were watching earnings fall as people avoid going there
Others were worried about seniors and vulnerable family members in their midst
On first day of sale of Covid-19 self-test kits, one pharmacy in Tiong Bahru saw brisk sales
SINGAPORE — The recent Covid-19 cases that surfaced at Bukit Merah View, Redhill and Telok Blangah have put some residents there on edge, because the housing districts' proximity to each other may just be a conducive channel for disease spread.
Another factor is that these mature public housing estates have a high number of vulnerable older residents, some of whom may not be taking proper precautions in terms of mask-wearing and personal hygiene.
The 115 Bukit Merah View market and hawker centre cluster now has 39 cases, after the addition of 14 more on Wednesday (June 16).
The place is a 10-minute walk from Redhill Market and Food Centre, where an infected person visited it from June 8 to 10 for 45 minutes each morning.
A seven-minute drive away from the Bukit Merah View market is Telok Blangah Drive Food Centre, which will be closed from Wednesday to Friday for deep cleaning and disinfection by the West Coast Town Council after a 42-year-old hawker there was infected.
He is a family member of a confirmed case, a cooking assistant at the Bukit Merah View hawker centre who tested positive on June 13.
Human resource executive Vikeshdip Singh, 30, who lives in Telok Blangah Crescent said that he is "extremely concerned" about the situation since these are areas of high human traffic where the disease can spread rapidly to a large number of people.
"The affected locations are within close proximity to one another where, generally, there is a fairly high population of older folk, which raises concerns about their health and safety.
"That said, some of these elders might not be adhering to the safety regulations and guidelines, which in turn can cause a domino effect in the spread.
"Having the new locations not far from each other is alarming," he said.
When news first broke that there were emerging cases of coronavirus infections at 115 Bukit Merah View, Mr YW Yang, who is in his 70s and semi-retired, also wondered if infections may spread later to nearby food centres.
He goes to the market and the one at Redhill to buy food regularly and said that there were other smaller food centres and markets catering to the population in the interconnected neighbourhoods.
"The ones at Alexandra Village and ABC Brickworks near Ikea Alexandra, and Beo Crescent near Havelock Road and Jalan Bukit Merah come to mind. Also, Tiong Bahru Plaza and Tiong Bahru market, as well as the ones at Telok Blangah and Bukit Purmei," he said.
The Bukit Merah, Redhill, Tiong Bahru and Telok Blangah estates are just a few bus-stops away from each other and some are within walking distance of each other.
Ms Joan Pereira, Member of Parliament (MP) for Tanjong Pagar Group Representation Constituency (GRC) overseeing the Bukit Merah View estate, told TODAY on Wednesday (June 16) that residents are concerned about the seniors living in the area.
The closure of the market and food centre there was extended by 11 days until June 26, when it was meant to reopen on Wednesday after three days of deep cleaning and disinfection.
There were just two infected people at the start: Workers at the market confirmed to have Covid-19 on June 9 and 10.
In a Facebook video post on Wednesday, Finance Minister Lawrence Wong, who co-chairs the Government's Covid-19 task force, said that it is evaluating the "timing and scope" of the next stage of reopening high-risk activities and businesses, given the "major new cluster" in Bukit Merah.
The next stage of reopening was due to start next Monday, which would include allowing people to eat out at hawker centres and dining establishments.
"Unfortunately, we have had a latest outbreak of cases, and we are likely to be dealing now with a very large cluster in Bukit Merah, where the cases are breaking out not only in the market and the hawker centre, but also all around the vicinity," he said.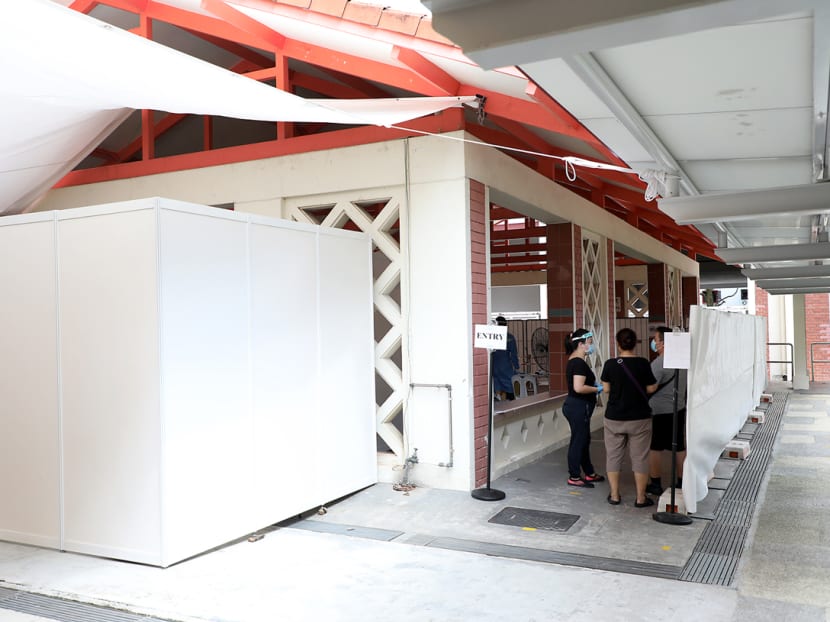 One resident who lives in Block 125 Bukit Merah View near the market said that the fear of possibly getting infected prompted him to get tested as early as he could at the testing site just next door at Block 125A.
The 26-year-old, who works in the finance industry and gave his name as just Bryan, said that he had visited the market on June 9 to buy a takeaway lunch and "got a shock" when he saw the news of the cluster there.
"It's definitely scary to have (a cluster) right at your doorstep."
The swab test he took on Tuesday was negative and he urged his father and their domestic worker at home to also get swabbed. They will go to the testing site on Thursday to do so.
Madam Lina Said, 62, a housewife who often visits her children's home in the area to care for her grandchildren aged five and 13 months said: "I feel scared for my grandchildren. (The market) is closed now but as much as possible, I try to avoid the surrounding shops, too. We can buy our groceries from somewhere else or online."
With residents such as Madam Lina avoiding surrounding areas, some hawkers are being affected as well.
Mr Aloysius Booi, 42, who runs the Tian Tian Hainanese Curry Rice stall in the 116 Food Farm coffee shop at Block 116 Bukit Merah View, said that business is "the worst it has ever been in 48 years because of the Covid cluster".
Mr Booi, who has been manning the stall for 15 years, said that business has dropped by 80 per cent.
"Because there's a fear factor and the fear factor is contagious. When the name of a 'cluster' was being given, that's when people started being worried. Even customers who need to eat will be very scared.
"When they said there's a cluster nearby, as a businessman, the first thing that came to my mind was, 'That's it'," he said. 
When TODAY visited the stall at 6pm, it was quiet with two customers buying food from there. "It was once bustling," Mr Booi said. "Business is really bad now."
The sentiments were different for 30-year-old resident Yip Jun Siang.
Although he lives in a flat opposite the market, his work as a radiographer at the National Centre for Infectious Diseases means that his chance of exposure to the coronavirus is already higher than the average resident. 
"It is, like, no difference to me, the risk, except now (I have to go farther) to buy fruits," Mr Yip said, referring to the closure of the market. 
"Of course, residents here should probably get vaccinated and those who can get swabbed should get swabbed," he added.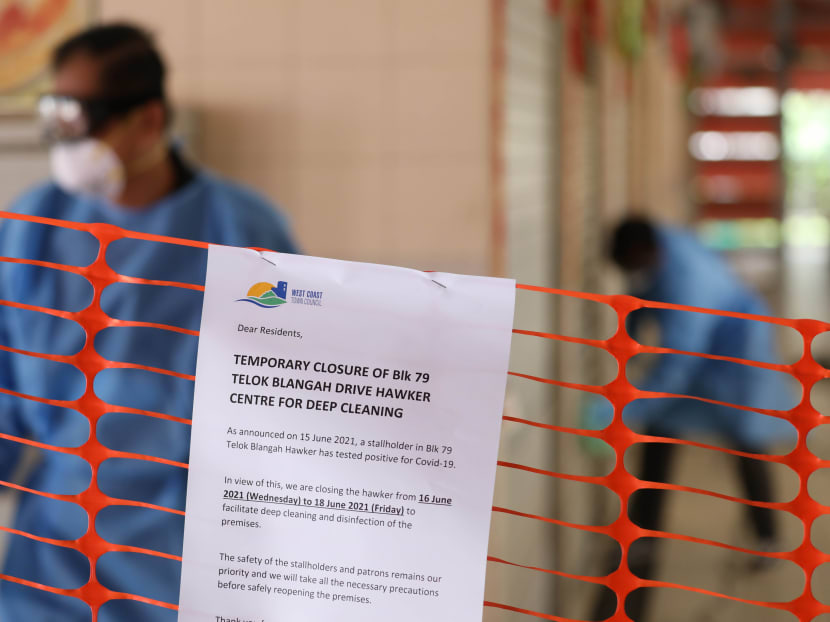 Over at Telok Blangah, Madam Mariam Kassim, 48, who lives a five-minute walk away from Telok Blangah Drive Food Centre, told TODAY that she was a "little worried initially" because she would usually pass through the food centre to get to the other stores.
"It's also where we'd go to grab breakfast. But I'm feeling a little relieved to know that we haven't visited the food centre on the day or after the infected person had been there.
"Also, looking at other factors and (cleaning) efforts in place, I'm not paranoid about a potential exposure so close to home. 
"Being a healthcare staff, I have to be swabbed every alternate week and the TraceTogether app acts as a good indicator in knowing if we've been in close contact to possible exposure," she said of the contact-tracing mobile application used nationwide.
Ms Rachel Ong Sin Yen, West Coast GRC MP, said that there was feedback from some stallholders that they would like to be swabbed. 
"This has been raised to MOH and pending response," she told TODAY.
"We don't have a cluster (at Telok Blangah Drive). One hawker was infected, so we are not a cluster… There is no panic, no shock, everyone is calm, based on the people I spoke to and the feedback I've gotten," she added.
The third location is the Redhill Market and Food Centre, where all stallholders had to undergo compulsory Covid-19 tests on June 12 and 13.
Ms Tan Ai Ling, 52, who has been running a soya bean drink stall for more than 20 years, said that she "cannot be scared". 
"How to feel scared? There are so many people who come to the hawker centre. We have to work, we come into contact with so many people, so we are not scared — but everyone else is," she said. 
"Today, there were no people — whole day. Morning to now, very, very few people. Usually, there are more."
Mr Thomas Tan, 38, who has been running a food stall at the Redhill hawker centre for the past 17 years said that business has dropped by 70 per cent.
"(When) this kind of thing (happens, we have) no choice. We just have to be prepared with masks and take care," he said, noting that many seniors in the area do not wear their masks, which is a concern.
"Here in Redhill, many people like to walk here, walk there, walk all about without wearing mask. They will sit down and pull the mask down. Must give high fines to them and they will be scared," he said.
When TODAY visited the area at 5pm, many seniors were seen sitting at tables in the food centre and the surrounding areas.
For Madam Hamisah Haliman, 55, she said that things looked "normal" in the Redhill market.
"From what I know, if there is a Covid case, they must close, but everything is still open, so we think it's okay. If they close, we will think it's serious and we won't go down there," she said.
Mr Melvin Yong, MP for Radin Mas constituency where the Redhill market is located, said that he has spoken to some residents and they were understandably worried about whether there would be a Covid-19 cluster there.
"For those who have been to places previously visited by Covid-19 cases, I would advise them to monitor their health closely and to visit a doctor if they feel unwell.
"We have been encouraging everyone to get vaccinated as soon as the vaccine is offered to them, and to adhere to the safe management measures, such as wearing a mask properly, so that they get the maximum possible protection," he said.
Ms Pereira said that residents in Bukit Merah View are worried as well for themselves, their loved ones and the community, especially the stallholders, which is why many of them are taking more precautions and are getting tested.
"They are also concerned about the elderly in our area who may not have access to groceries due to the extended closure of the market and hawker centre, and our Residents' Committees and grassroots volunteers are reaching out to residents to offer assistance to those who require it."
She added that the self-test kit for Covid-19 that went on sale at major pharmacy chains on Wednesday provides an added accessible option for people to self-monitor and test themselves, which will complement the Government's existing efforts to detect and ring-fence infections quickly. 
NO RUSH FOR SELF-TEST KITS 
The self-test kits, which enable users to do an antigen rapid test through nasal swabs, are available from pharmacists at selected Guardian, Watsons and Unity stores.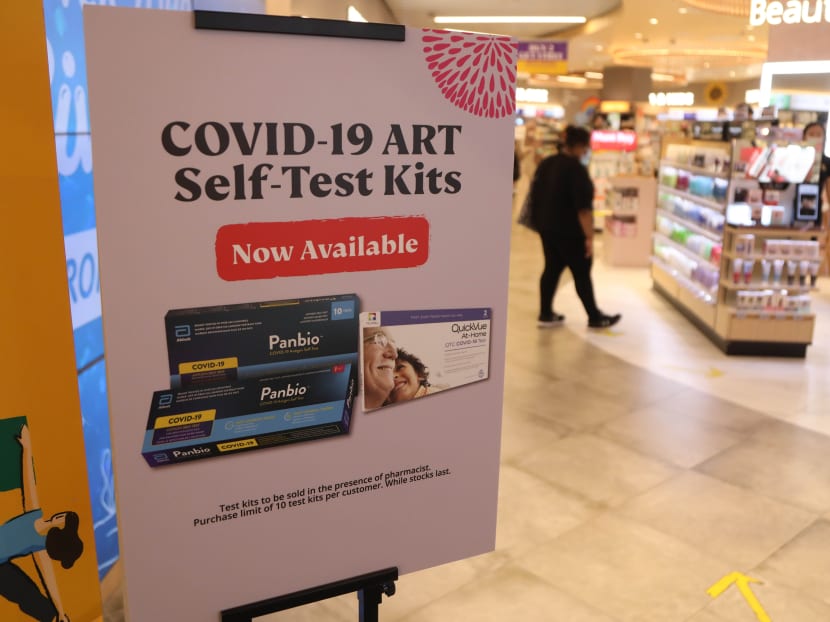 Among the brands approved by the authorities for use here, the Abbott PanBio Covid-19 Antigen Self-test and QuickVue At-Home OTC Covid-19 Test kits have gone on sale for now.
Guardian said that demand has been manageable so far and added that the chain has "adequate stocks to cope with the demand".
However, it noted that there was slightly higher demand for the kits at its Tiong Bahru Plaza outlet up until noon.
This could be due to the cluster at Bukit Merah View nearby, with the market just two bus-stops away from Tiong Bahru Plaza.
When TODAY visited Tiong Bahru Plaza at around 5pm, the two pharmacies in the mall had adequate stocks of the self-test kits, with more than 15 sets available at each pharmacy.
At least two customers were seen buying the kits, but they declined to be interviewed.
Elsewhere, there was no rush for the kits at seven Guardian, Watsons and Unity stores that TODAY visited in Toa Payoh, Novena and Bishan.
The shelves were well-stocked at these outlets with more than 15 sets for each of two brands on sale.
"Demand hasn't exactly been very high, but there's been a stream of customers so far," Miss Ong Qi Jun said. The 28-year-old is a pharmacist at Guardian located at Block 512 Bishan Street 13.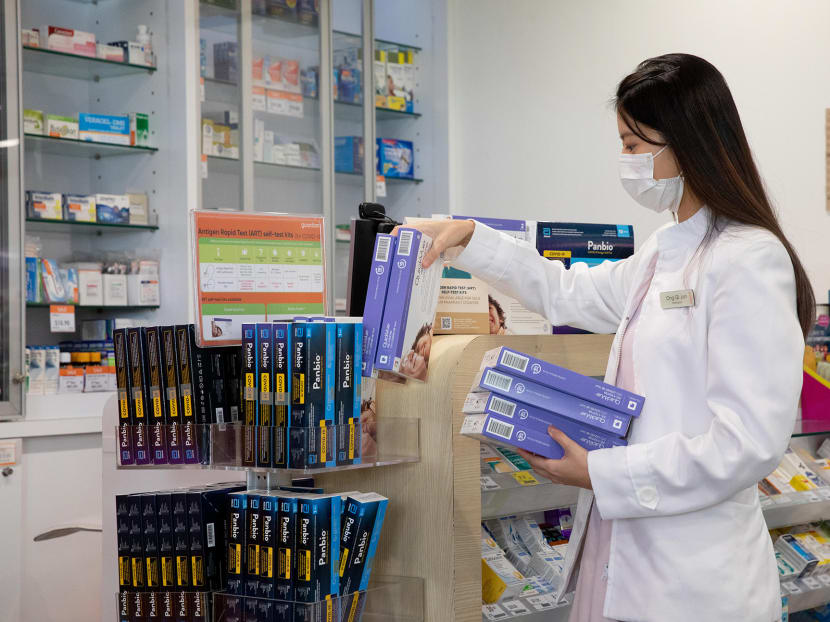 Prices of the kits vary slightly among the pharmacies.
For example, the Abbott PanBio kit costs S$12.80 at Unity and Guardian, and S$13.10 at Watsons. The Quidel QuickVue kit, which comes in a pack of two, costs S$20.80 at Unity, S$21.40 at Guardian and S$21.65 at Watsons.
The kits are not recommended to be kept for long periods, with a shelf life of less than a year.
When asked for sales figures on Wednesday, Unity said that it was still too early to have "any meaningful data on sales". Guardian declined to provide sales figures and Watsons did not respond by publication time.