Some restaurants turn a blind eye to 'rule of 5' to allow bookings for bigger groups
SINGAPORE — In calling to make a table booking for a group of diners that number more than five, TODAY found that 19 out of 20 restaurants were willing to accept the request. And one among the 19 even suggested that the rule can be bent by providing different contact details for each table and calling for separate bills.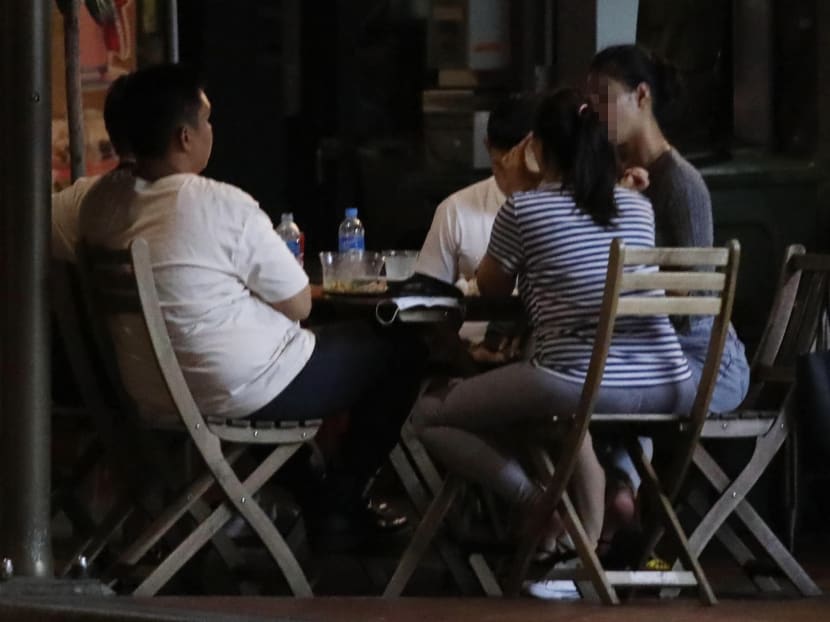 There are restaurants that still allow groups of more than five people to dine in by seating them separately
Of the 20 restaurants contacted by TODAY, 19 accepted such large bookings
The Restaurant Association of Singapore said that restaurants are aware of the ruling
However, it is difficult to trace customers who seek to get around the rules
  
SINGAPORE — In calling to make a table booking for a group of diners that number more than five, TODAY found that 19 out of 20 restaurants were willing to accept the request.
And one among the 19 even suggested that the rule can be bent by providing different contact details for each table and calling for separate bills.
Covid-19 regulations state that groups of more than five are not allowed to dine in, even if seated separately, but some restaurants continue to flout the rules.
In one recent case, hotpot restaurant Hai Xian Lao was served a 10-day suspension and a S$2,000 fine for allowing 20 people to gather in a locked private room, among other breaches of safe distancing rules.
In an updated joint advisory on July 30 by trade agency Enterprise Singapore, the Housing and Development Board, Singapore Food Agency (SFA), Singapore Tourism Board (STB) and the Urban Redevelopment Authority, it was stated that gatherings of groups of more than five people are not allowed at food-and-beverage (F&B) outlets — even if seated separately.
Exceptions can be made if all members of the group are from the same household and they must be seated at different tables with no more than five persons a table and with at least 1m spacing between the tables. 
Doing a check on Aug 6 and 7, TODAY called 20 restaurants as a customer to make bookings for large groups not from the same household and found that 19 accepted the bookings.
On Aug 17 and 18, TODAY identified itself to the 19 restaurants that accepted the bookings and asked them for their comments.
Staff members from a Chinese restaurant in the central district said that they accept such reservations because it is "impossible" to identify if different groups are related to each other when seated separately. 
At a seafood restaurant in the eastern part of Singapore, one staff member lamented that as business has been slower due to the pandemic, it does not want to "turn down customers who would just patronise another (restaurant) instead".
At least one other restaurant said it did not know of the updated ruling where groups bigger than five from different households cannot be seated at separate tables.
Ms Selina Wee, a human resource administrator at East Ocean Teochew Restaurant, said: "There are safety ambassadors that check up on us, and we thought that as long as tables only seat up to five people, are 1m apart and there is no intermingling between the tables, there wouldn't be an issue.
"Moving forward, we will highlight this with our management, inform staff members and definitely not accept such bookings anymore."
On Sunday, TODAY reported that irresponsible diners intermingling between tables have been an issue for some restaurants. 
In a recent Facebook post that has gone viral, Mr Sid Kim, owner of Vatos Urban Tacos and Vatos Catina, recounted how two tables of guests at Vatos Urban Tacos kept intermingling, despite repeated reminders that it was not allowed, so the restaurant had to call the police.
"For customers, breaching the safe distancing regulations might not seem that important," he wrote. "But for restaurants, it's literally a matter of life or death. Many F&B establishments are barely hanging on as it is — a massive fine and 10 days of mandatory shut down could easily be the final nail in the coffin."
Among the 20 restaurants contacted by TODAY, only one turned down the request for a large group booking. Imperial Treasure Super Peking Duck at Paragon mall said that only a booking for one table with a maximum of five people is allowed.
CORPORATE BOOKINGS
Although their staff members accepted large group bookings when TODAY called to enquire, some restaurants said that they are aware of the rules and have briefed their employees several times.
Mr Darren Yew, general manager of Peach Garden, said that its employees and its reception team that handles reservations have been briefed about the mandated safe distancing measures.
He noted that they have had callers who make reservations on behalf of different groups, such as corporate representatives that make bookings for different sales teams within their company. 
In such scenarios, Peach Garden will make clear that reservations must be from different groups and must not intermingle. 
"The restaurant will also arrange their tables to be placed at different areas or rooms as an added precautionary measure to prevent intermingling," Mr Yew said.
Ms Mabeline Chea, manager of Lei Garden Restaurant, also said that its staff members are fully aware of the rules and have been briefed, but are unable to differentiate groups of customers if they call separately.
"We will check (with our staff members) and remind them that such bookings are not allowed," Ms Chea said.
'CUSTOMERS ARE FRUSTRATED, TOO'
Mr Vincent Tan, president of the Restaurant Association of Singapore, said that it reminds its members to follow the government regulations through Facebook posts, but noted that it is difficult for restaurants to keep track of customers who try to get around the rules by making multiple bookings under different mobile numbers and names.
He said that he cannot comment on behalf of individual restaurants that are seeing slow business, but the association is in talks with the authorities to loosen these restrictions, and hopes that existing regulations for wedding banquets and ceremonies will be extended to social gatherings — where up to 50 people can dine together while seated separately in groups of no more than five.
"Not just restaurants, but customers are also frustrated by this five-at-a-table rule as they have to limit their social gatherings or jump through loopholes by making multiple bookings," Mr Tan added.
When contacted, Enterprise Singapore, STB and SFA declined to disclose the number of restaurants that have been caught breaching this rule. 
In an emailed statement, Enterprise Singapore said: "(We work) closely with industry partners, including the Restaurant Association of Singapore, to ensure F&B establishments are aware of and adhere to the guidelines. 
"Personnel, including safe distancing ambassadors and enforcement officers, are also deployed on the ground to conduct surveillance checks and ensure that the establishments comply with the necessary measures."
The F&B industry has been one of the worst-hit by the Covid-19 pandemic, with many being forced to close during the circuit breaker that restricted activities in April and May. Others continue to suffer revenue cuts as they comply with safe distancing measures and reduce their seating capacity.
The Department of Statistics Singapore reported that F&B sales in June dropped by 43.5 per cent compared to June 2019, with restaurants being the hardest hit with a 59-per-cent decline compared to the year before.