Some TraceTogether users upset with Govt's revelation on police access to data, say they'll use it less
SINGAPORE — Singapore writer Ng Yi-Sheng had been using the TraceTogether mobile application for months during the Covid-19 pandemic. He even carried the token out with him when it is not necessary to use both together, because just holding the token made him feel safe.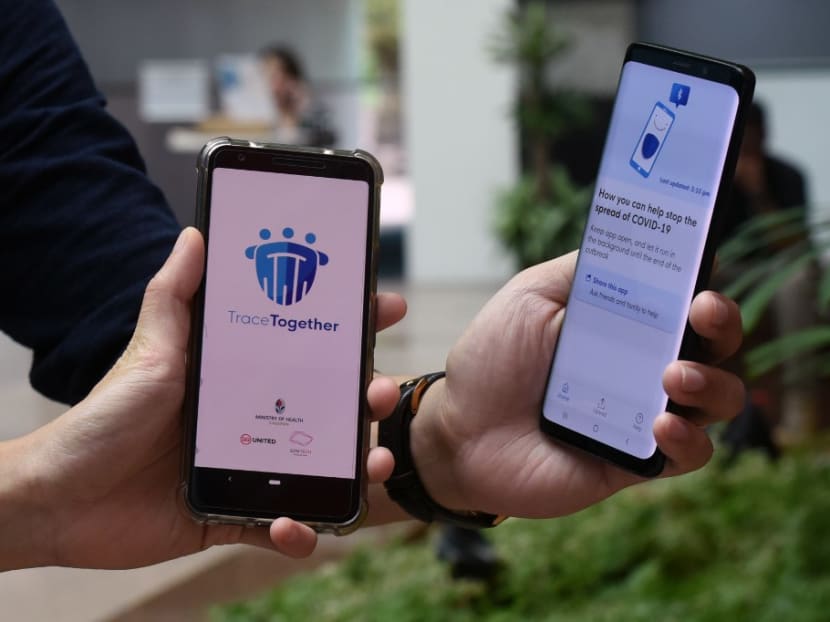 Since it was made known that TraceTogether data can be used for criminal investigations, some users react by limiting use of app or token
Political observers noted that the news may have eroded trust in the Government 
Others believe users will still keep their eye on the greater goal of beating the pandemic and continue using it
The jury is still out among MPs on whether data should be exempted from police use for solving crimes
SINGAPORE — Singapore writer Ng Yi-Sheng had been using the TraceTogether mobile application for months during the Covid-19 pandemic. He even carried the token out with him when it is not necessary to use both together, because just holding the token made him feel safe.
This week, the 40-year-old deleted the app and has started leaving his token at home, after learning that TraceTogether data could be used for criminal investigations.
Not that he had anything to hide, but because he felt betrayed, as he put it, by the trust he had placed in the Government's earlier assurances that the data was used solely for contact-tracing purposes to combat coronavirus transmission.
When it was revealed in Parliament this week that the police can obtain TraceTogether data for criminal investigations under the Criminal Procedure Code (CPC), it set online conversations abuzz. 
This is even though other forms of sensitive data such as phone or banking records are subjected to the same provision of the CPC and the regulation has been around for years.
For Mr Ng, the issue is a matter of trust. The backtrack by the politicians has left him with a "visceral feeling of betrayal".
"If you have the realisation that (the data) would not be as private as you mentioned earlier, why didn't you say something?" he asked, saying that this might dampen people's faith in the Government. 
"It does feel like there has been a promise broken... It feels like choosing not to use TraceTogether — and to use only the other (SafeEntry system) — is the least I can do to assuage my emotions," he said, adding that it is his way of communicating to the Government that he is upset.
Apart from Mr Ng, several other people interviewed by TODAY also said that they would limit their use of TraceTogether.
After the news was out, Dr Vivian Balakrishnan, Minister-in-charge of the Smart Nation Initiative, admitted that he had not thought about the CPC when he made earlier assurances that the data would be limited to contact-tracing. 
Minister for Law and Home Affairs K Shanmugam then clarified that the data will be used for "serious offences" such as murder and terrorism-related crimes.
Mr Ng, who had been encouraging his friends to adopt the TraceTogether initiative, said of the parliamentary exchange: "Because I've been speaking in (the Government's) favour, not only is my trust in (the Government) eroded, but people's trust in me is eroded."
THE RIPPLE EFFECT
Several political experts who spoke to TODAY agreed that the revelation had reduced public trust in the Government and, consequently, the TraceTogether programme.
Dr Felix Tan, an associate lecturer at SIM Global Education, said that even though the Government may not have intended to leave out vital information on how TraceTogether's data is used, it looks as if it had overlooked the issue of the CPC, discrediting itself to some extent.
Assistant Professor Walid Jumblatt Abdullah of Nanyang Technological University's School of Social Sciences said that the issue will likely affect TraceTogether's take-up and usage rates. 
Mr Muhammad Faizal Abdul Rahman, a cyber and homeland defence research fellow with the Centre of Excellence for National Security at the S Rajaratnam School of International Studies (RSIS), said in a commentary for TODAY that this episode shows the need for public agencies to improve policy coordination and observe its implications for public communications and trust.
"If there is an intent to lie, the Government would not make this clarification at all at the first livestreaming of Parliament.
"The immediate need to focus national efforts on bringing the pandemic under control to keep people safe, and ironing out the kinks in a new system as large as TraceTogether could explain the delay in clarification."
WHAT OTHER USERS SAY
Social entrepreneur Tham Jun Han, 27, is disabling his phone's Bluetooth both at home and when he is out, and thus not using the TraceTogether app fully. Previously, he would keep the app running in the background.
He likened the use of TraceTogether data for purposes other than contact-tracing to changing the terms of service of a contract.
"It's a way to show that I don't agree with this new contract," he said. 
A final-year student from the National University of Singapore said that she will not use TraceTogether now.
The 23-year-old, who did not want to be identified, created an email template on Wednesday for those who want to write to their Members of Parliament (MPs) about the issue.
She shared the document on her social media and messaging accounts, but could not confirm how many views the posts have received.
Dr Wong Han Teng, 31, noted that the Government had put much effort into reassuring people that TraceTogether data would be used only for contact tracing.
The researcher still uses the TraceTogether app regularly because his workplace requires it, but now selects the "Pause Tracking" function after checking into the venue.
"It's kind of like the start of your worst fears happening, and it may unravel further," he said.
However, other users such as Mr Sivakumar Rajendran said that they will continue to use TraceTogether.
The 32-year-old communications executive said that while he felt that the Government had taken the public's trust for granted, he did not foresee himself being involved in police investigations. 
Online user Wai Yee commented on TODAY's Facebook page: "It's quite funny how many people would rather a murderer run free and protest the use of data from this app… Contradicting as it is, Facebook has leaked data many times and you are still here."
BEATING THE PANDEMIC STILL THE FOCUS
Dr Woo Jun Jie, a policy researcher at the Institute of Policy Studies, is optimistic that this latest development will not affect the TraceTogether programme because the majority of Singaporeans are more concerned about beating the pandemic.
On the matter of letting down public trust, some MPs from the ruling People's Action Party (PAP) noted that many assurances had been made to clarify the intent of using TraceTogether.
Ms Tin Pei Ling, MP for MacPherson constituency, said that Dr Balakrishnan's clarification in Parliament showed that "there has been no sinister intent or attempt to befuddle this whole TraceTogether initiative".
Mr Vikram Nair of Sembawang Group Representation Constituency (GRC) acknowledged that many people are unhappy, but he sees the issue as "a misunderstanding". 
People who are not lawyers may not be aware that there are provisions in the CPC to collect information for investigations, he said.
"And if you ask ordinary Singaporeans, if a crime takes place and the police can access information that can be used for investigations, they will not be opposed to it."
Still, Mr Leong Mun Wai, a Non-Constituency Member of Parliament, noted that the detail was disclosed only after a parliamentary question was posed and not during the launch of the TraceTogether token in June last year.
Mr Leong, who is from the opposition Progress Singapore Party, said that the Government should make clear the circumstances under which the CPC will apply when it collects personal data in future.
FOR AND AGAINST EXEMPTION FROM CPC
With other tools to solve crimes available to the police, including closed-circuit television cameras, some observers are saying that the Government should exempt TraceTogether data from the CPC to safeguard people's privacy and assure the public of the programme's original intent.
These views were echoed by opposition Workers' Party MP Gerald Giam in his Facebook post on Monday.
Mr Giam, MP for Aljunied GRC, said it is "ill-advised" that the Government has not ruled out the use of TraceTogether data for criminal investigations.
"I hope they change their position, for the sake of our national battle against Covid-19."
The governments of some countries such as Australia have denied law enforcement agencies access to data from contact-tracing apps in a bid to boost their take-up rates.
However, Mr Nair said that doing so would be the "worst message" to send to the public since it would suggest that the police cannot be trusted and the public wants to hamper the police's ability to solve crimes.
Ms Cheryl Chan, a PAP MP for East Coast GRC, said that the police will still have to do their due diligence before gathering the data.
"Beyond that, they don't have authority to go in and check on all the information and I think that's reasonable."
Mr Muhammad Faizal of RSIS said: "For those who insist on avoiding TraceTogether, it is their choice. However, they should note that they face the trade-off of more exposure to Covid-19 and crime risks."