Some workers in Westlite Woodlands dorm 'sad and worried' to be in quarantine again
SINGAPORE — After being confined to his room at the Westlite Woodlands dormitory for most of last year, Mr Sikder Azad thought that he was finally "going back to (a) normal life".
More than 1,000 residents from Westlite Woodlands dormitory are moving into quarantine facilities for 14 days
It was a blow to some of them who thought life was getting back to normal 
Now they are worried that they will not get paid since they cannot work for the period
They also said that there are fellow workers who are panicking and stressed by the turn of events
SINGAPORE — After being confined to his room at the Westlite Woodlands dormitory for most of last year, Mr Sikder Azad thought that he was finally "going back to (a) normal life".
"We'll do normal work again and will be able to take care of our families again," the 36-year-old migrant worker from Bangladesh said of what he had envisioned.
His hope was short-lived.
Mr Sikder is among more than 1,000 residents of block A of the dormitory who are being moved into government quarantine facilities for 14 days. On Thursday afternoon, dormitory residents were seen leaving in dozens of buses, ushered by personnel in full personal protective equipment.
The thought of being back in quarantine and the possibility of being back in lockdown for an unspecified amount of time has left him worried, Mr Sikder told TODAY over the phone at around 6.30pm on Thursday. He was waiting in line to board one of the buses then.
"We're feeling sad. We thought we will work during (the fasting month of) Ramadan (for Muslims), do the prayers together again, but no, we're going back to quarantine," Mr Sikder added.
He has worked in Singapore for 13 years and has lived in the dormitory for more than four years, but declined to reveal his occupation.
"If these changes keep happening, six months (in) lockdown then six months work, then again locked in, of course we will be sad," he said.
Above all, Mr Sikder is afraid that his pay will be reduced, since that was the case when he was put under quarantine last year.
"I'm not shocked but I'm just worried because there's no work and we have families. And I'm scared they won't pay us because we haven't worked for three days already," he said.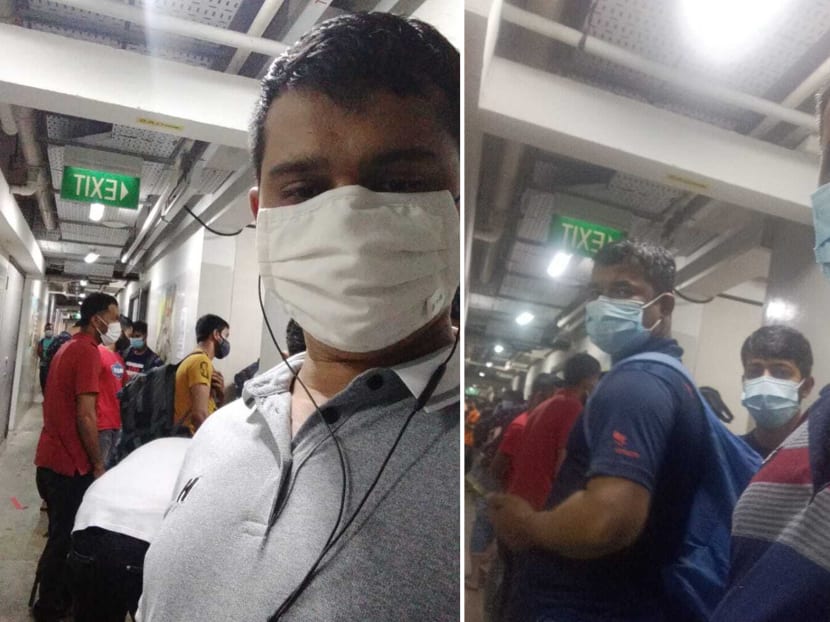 Second Minister for Manpower Tan See Leng said at a press conference by the Government's Covid-19 task force on Thursday that the quarantine orders are necessary to prevent and contain the possible spread of infection in the dormitory.
This comes after a 35-year-old Bangladeshi worker staying there, who had completed his Covid-19 vaccination, tested positive for the virus on Monday as part of rostered routine testing.
The work permit holder who works as a construction supervisor at Prosper Environmental & Engineering had already completed his vaccination on April 13.
Precautionary tests were conducted on all residents at the dorm after a close contact — one of his roommates — was found to be positive for Covid-19 at a dedicated quarantine facility.
Seventeen others have also tested positive after the authorities began "special testing operations" for residents at the dormitory, the Ministry of Health (MOH) in an update on Thursday.
All 17 had recovered from past infections.
Swab tests will be conducted on all the remaining residents in block B of the dormitory.
'NOT HAPPY'
Bangladeshi worker Hossen Anwar, 31, has been putting up at Ibis budget Singapore Emerald hotel along Lorong 6 Geylang since Tuesday, after someone in the room beside his in the dormitory tested positive for Covid-19.
Mr Hossen was tested on Tuesday and the result was negative.
He told TODAY that he is "not happy with the situation at all" and he no longer wants to stay in the dormitory.
Another Westlite Woodlands resident of almost four years, Mr Munsi Hasan, 36, who was also on his way to a quarantine facility, said: "We thought the coronavirus was over. But it's back now. If we can't work, we won't be able to make money. We're only concerned about that. We're not afraid of the virus."
Mr Munsi, a Bangladeshi who has worked in Singapore for 10 years, is now employed by Prosper Environmental & Engineering.
"I am really surprised that the coronavirus is back (in the dormitory). We didn't think that we will be put under quarantine. We don't like to stay alone inside a room. We love to work outside," he said.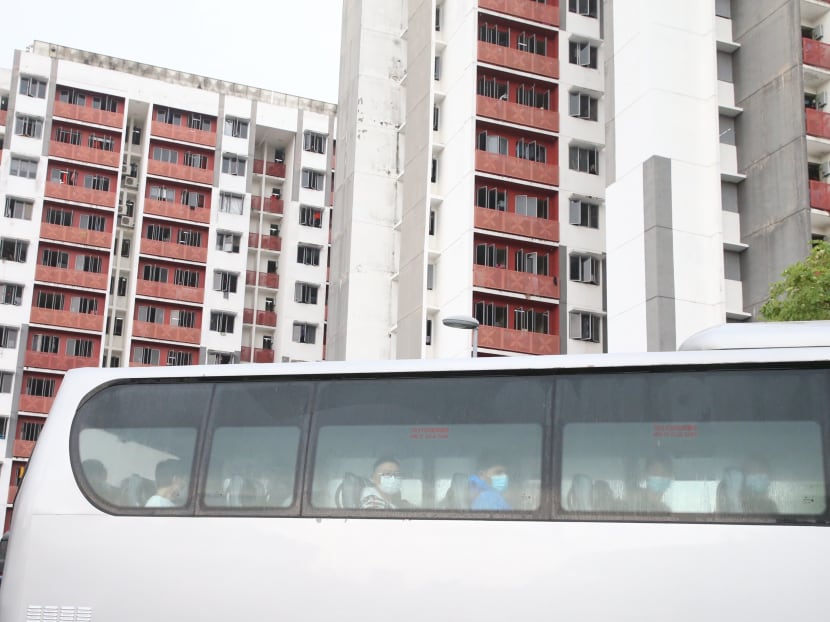 A resident of block B, Mr Abedin AKM Mazharul, 36, said that workers in that block are praying that they stay safe and need not be put under quarantine.
"We're not allowed to go out until the overall swab test result for block B arrives. For me, my second dose of vaccination appointment is tomorrow... It'll be very troublesome for me if we are stuck inside here."
Mr Abedin, a Bangladeshi who works as a mechanical coordinator at Munsiong Engineering Limited, added: "From our point of view, the dorm should allow us to go for vaccination, which is very important at this stage." 
Moreover, he has taken leave from work and was expecting to return home on May 8 as his 22-month old daughter, whom he last saw when she was six months old, has to undergo treatment for a medical condition. He is now afraid he might not be able to do so.
"This is a really weird situation for us this time because everyone is already back at work… Each one of us is worried, some are panicking to see such a situation again.
"Overall, the experience is like mental pressure on each of us."
STRICTER MEASURES
MOH said in a statement on Thursday that from April 29, all recovered workers who stay in dormitories, as well as workers from the construction, marine and process industries who have crossed 270 days from the date of their coronavirus infection, will be enrolled back into the rostered routine testing scheme.
This will also include workers who have completed their vaccinations, and those undergoing rostered routine testing have to complete a swab test every 14 days.
With the emergence of new variants of concern around the world, all newly arrived migrant workers from higher-risk countries and regions — including those with a positive serology result for past infection — will have to serve stay-home notices at a dedicated facility before being put up at Migrant Workers Onboarding Centre for another testing regime.
They will have to take Covid-19 polymerase chain reaction (PCR) tests before they leave the onboarding centre.
Those suspected of re-infection will be isolated and will have to undergo repeat PCR tests to monitor the trend of their viral loads, to ensure that such cases are detected promptly.