Some youths drawn to S'pore F1 thanks to Netflix series, drivers' social media posts but others remain uninterested
On the first day of the Singapore Grand Prix, many youths were spotted near the circuit 
They told TODAY that they were drawn to the sport due to several factors
These include watching a Netflix series called "Formula 1 — Drive to Survive", playing the official F1 video game and following drivers on their social media accounts
In 2018, the then F1 boss had said that Singapore is a 'perfect platform' for F1 to attract younger fans, as he described various efforts it was doing so
SINGAPORE — Before last year, 14-year-old Ernest Goh had never watched a Formula One (F1) race. That all changed after he made an impromptu trip to watch the Singapore Grand Prix from the Marina Square mall last year.
"It was lucky that I went, because after that I just went into the world of F1," he said. 
Inspired and wanting to "try" driving a race car himself, he then purchased F1 22 — the official video game of the 2022 FIA Formula One World Championship and eventually became a semi-professional gamer at the end of last year. 
When TODAY spoke to the student on Friday (Sept 15), Ernest was braving the heat outside the paddocks near the Singapore Flyer to catch a glimpse of some of the drivers. 
Armed with a clipboard containing printouts of the various race cars, he said proudly that he had managed to get autographs from Alpine's Esteban Ocon and Ferrari's Carlos Sainz, among others. 
Also in Ernest's hands was a three-dimensional mock up of a Red Bull car that he had spent over 10 hours crafting — printing pictures of the car, cutting them up and pasting them together to form the palm-sized model. 
Ernest was one of the many young people spotted near the Marina Bay Circuit on Friday — a perhaps successful outcome of efforts by The Formula One Group to try to draw younger audiences to the race.
In an interview with TODAY in 2018, the group's then head honcho Chase Carey had said that Singapore is a 'perfect platform' for F1 to attract younger fans, as he described various efforts it was doing so.
This includes investing in its digital department, focussing on content production, relaxing restrictions so that teams, promoters and drivers can create and share content online.
It had also launched an annual e-sport competition for its official video game.  
In response to TODAY's queries on how race organisers here are attracting more young people, a Singapore GP spokesperson said that the Netflix series "Formula 1: Drive to Survive" has contributed to the popularity of the sport. 
This was true for several of the young people TODAY spoke to on Friday, who said that the documentary — a collaboration between Netflix and F1 — was what got them hooked on racing and the Singapore Grand Prix.  
In its fifth run, the series has garnered massive numbers of viewers since it first started in 2019 and is a big reason for F1's rise in popularity in recent years. 
For 18-year-old Samantha Lee, watching the series in 2021 was what got her captivated on a sport she calls an "emotional rollercoaster". 
The polytechnic student added: "F1 really brings people together and the atmosphere, the suspense and excitement — it's an emotional rollercoaster but in a good way." 
She had bought tickets and was attending the practice sessions with her brother, 15-year-old secondary school student Kayden Lee.
Upon seeing the cars rush past, the pair exclaimed excitedly and whipped out their phones to capture them before they disappeared around the bend. 
From being first introduced to F1 through watching "Drive to Survive", 32-year-old Shailesh Ahuja, who is a software engineer, is now attending all three days of this year's race. 
The Netflix series was an entry point for Mr Ahuja's interest in the "engineering complexity and the strategic parts of the race", which had led him to follow F1 official broadcasts for the expert commentary and technical analysis of car and driver performance. 
Singapore GP did not respond to TODAY's queries on whether there has been an increase in the number of young fans and if so by how much.
But its spokesperson said that social media savvy F1 drivers such as McLaren's Lando Norris, Ferrari's Charles Leclerc, Alpha Tauri's Daniel Ricciardo, Aston Martin's Fernando Alonso have "further connected with the youth with their creative content". 
Indeed, the pair of tickets Priyanka Bala had gotten as a birthday present was her opportunity to see the drivers and teams she had been following on Instagram for a year in the flesh. 
The junior college student had rushed to Marina Bay with schoolmate Annabeth Cheong, both 17, right after their classes had ended on Friday.
Priyanka told TODAY that attending the race in person was particularly exciting after following F1 teams and drivers on online platforms, and in particular her favourite driver Lewis Hamilton.
"Even though you can view it on screens, from the comfort of your home, the general surroundings and the vibes of people who are interested in the same thing as you are, is really nice". 
For Rishabh Paliwal, 24, who is a software engineer, this will be his third time watching the Singapore race, and the first race he has attended since the Covid-19 pandemic.  
Keen to "soak up the experience right here at home" once more, he agreed that F1's efforts to capture a younger audience has been successful due to its "recent push into social media platforms" and the popularity of the "Drive to Survive" Netflix series. 
"It has made everyone excited about the sport again," Mr Paliwal said.
He added that he follows the accounts of drivers and teams that he is a fan of, and watches long-form content such as highlights and interviews on YouTube.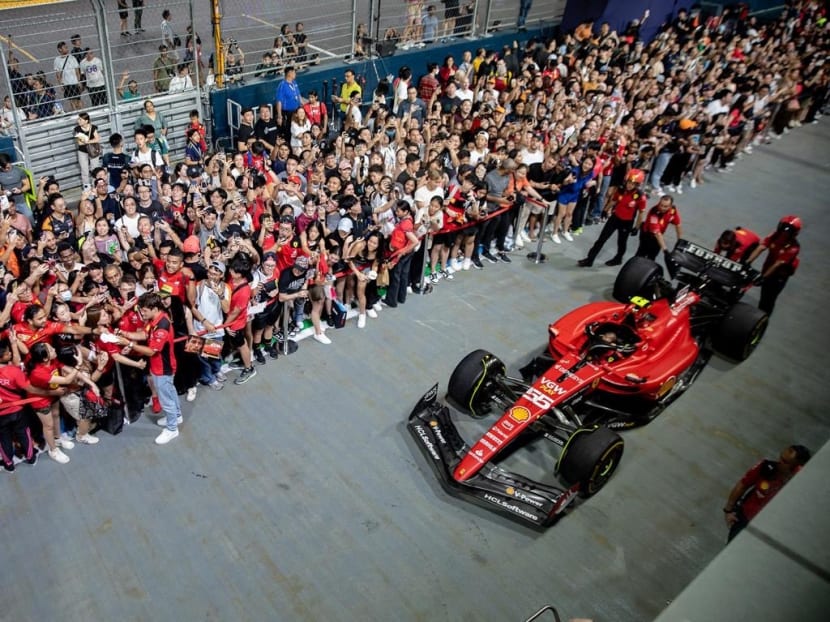 The Singapore GP spokesperson said that in the lead up to the night race here, it has also organised several programmes to engage the local community and to "spread F1 mania to the heartlands"
These included the #SingaporeGP Truck with its F1 simulators and games, live screenings of selected F1 races, pop-up events, and school talks held on The Beginner's Guide to Formula 1 in partnership with online platform Sgcarmart.
"Every edition of the night race also features an entertainment line-up that a wide range of fans can look forward to," the spokesman said.
That has drawn some youths who are not necessarily fans of the race to also buy tickets for the event. 
At the Padang on Friday night, eager concert goers screamed for the Asian acts under music recording firm 88rising, such as K-pop idols Jackson Wang and Bibi, singer NIKI and rapper Rich Brian.
Dressed to the nines were 21-year-old graphic designer Wynne Teh and 24-year-old social media executive Juliet Suen. 
The sounds of the F1 cars racing by were just background noise for the concert junkies as they watched K-pop girl group XG dance and sing their hearts out.
"Their performance was so good, and I didn't know about the Japanese girl group but they were such a vibe," said Ms Suen, referring to Atarashii Gakko! Leaders. 
Still, for some youths, the Singapore Grand Prix is not their cup of tea.
Ms Joanne Ng, 26 told TODAY that she is simply not interested in watching cars race and has never attended any F1 event here but added that the concert performances may make her more inclined to go in future. 
"I think if the concert line up has artists that I like or music styles I care for then it might be worth the ticket price. Otherwise, I'm not paying that price to watch cars race," the health professional said. 
Prices for the race weekend can go up to a whopping S$1,988, which includes grandstand seats for all three days as well as food and beverages. 
Similarly, 26-year-old April Liew who enjoys art and generally does not follow sports, said that she has "no personal investment" in F1 since all of the drivers are from overseas. 
However, she said that she might get interested in the sport if there ever came a day when a local driver competes on the grid. 
Ms Liew added that she knows the event more for the singers and celebrities who perform at the concerts. 
"The concert might pique my interest but my impression is that those are outdoors, so I've never really been inclined to go. Maybe if one day a singer I really like comes, then I'll go," she said, adding that her favourite singers include Singaporean star J J Lin and Taiwanese band Mayday. 
ADDITIONAL REPORTING BY LORAINE LEE