Specialised intellectual property litigation track to be introduced in High Court: Edwin Tong
SINGAPORE — A specialised intellectual property (IP) litigation track is about to be introduced in the High Court with simplified processes and cost-saving features, Second Minister for Law Edwin Tong told Parliament on Monday (Sept 13).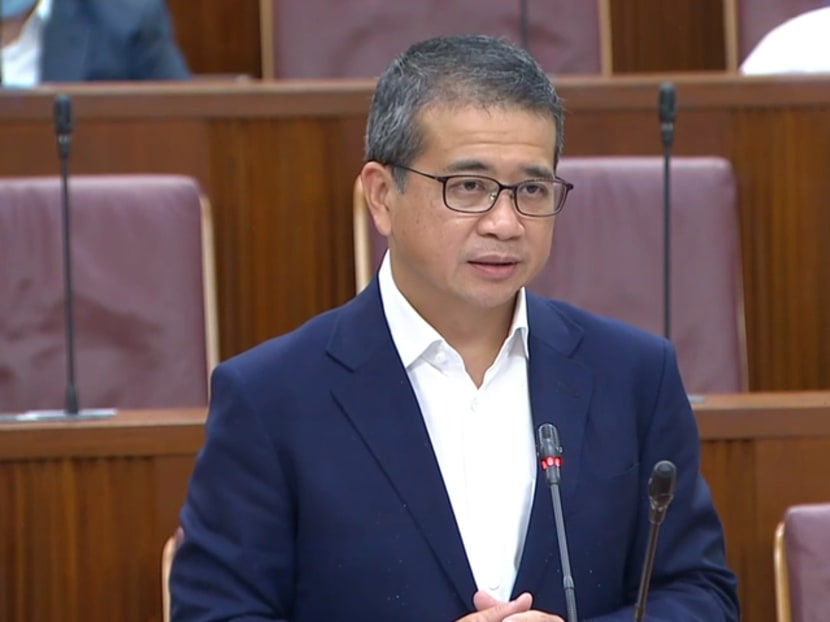 A specialised intellectual property litigation track is about to be introduced in the High Court 
More details would be given in coming months, Second Minister for Law Edwin Tong said
He made the announcement during a debate on the Copyright Bill, which was passed by Parliament
The Bill revamps the rights of performers and creators of content, among other changes
SINGAPORE — A specialised intellectual property litigation track is about to be introduced in the High Court with simplified processes and cost-saving features, Second Minister for Law Edwin Tong told Parliament on Monday (Sept 13).
He was speaking during a debate on the Copyright Bill, which was later passed by Parliament on Monday, bringing in a range of changes affecting the rights of content creators and performers, among other measures.
More details of the new High Court litigation track would be announced in the coming months, Mr Tong said.
In 2019, the Ministry of Law and the Supreme Court had started looking into the proposal, he added.
Mr Tong, who is also Minister for Culture, Community and Youth, made the announcement in response to several Members of Parliament (MPs) during the debate on the Copyright Bill, although the new litigation track is not part of the revamped legislation.
The MPs highlighted that creators and performers, notably freelancers, may lack the financial resources to take enforcement action against parties that infringe their copyright, which is a form of intellectual property.
Mr Louis Ng, MP for Nee Soon Group Representation Constituency, said: "Under the new Copyright Act, creators and performers have the right to be attributed when their work or performance is used. Also, creators of certain works including commissioned photographs, portraits and engravings will be granted default copyright ownership."
He said that these new rights are supposed to give individual freelancers and creators from small- and medium-sized enterprises greater bargaining power to negotiate better terms with commissioning parties.
However, the contrary may also run true because these better terms could be excluded by contract, he pointed out.
"As individual freelancers and small- and medium-sized businesses lack financial resources for litigation (when) contract terms are found unreasonable, what alternative avenues of recourse are available to this group?" Mr Ng asked.
Mr Yip Hon Weng, MP for Yio Chu Kang, noted that with the challenging employment landscape, more young Singaporeans are turning to freelance content creation, with the hope of eventually turning it into a career.
"But to do so reliably, they must be able to defend the intellectual rights to their concepts and creations, as well as to guard against unscrupulous people who may plagiarise their contents," he said.
"Otherwise, how can they expect to be fairly remunerated, if their creations and ideas can be copied or used by others without repercussions?"
Mr Yip also said that without such safeguards, these gig economy content creators may no longer find it worthwhile to create unique content.
There must therefore be effective and affordable means of enforcement for such matters, and mediation is one cost-effective way to deal with such matters, though it needs to be made more affordable and streamlined, he added.
"I note that the Intellectual Property Office of Singapore (Ipos) offers mediation as a formal route to settle copyright disputes. Even so, the costs can be hefty for a freelancer just starting out.
"The cheapest option appears to be an administrative fee of S$50 a party, and a mediator fee of S$500 a party for a four-hour session. That alone may exceed the cost of a brand logo design.
"The victim may feel that the cost, time and effort to go through mediation are not worthwhile in pursuing the matter," Mr Yip said.
Besides mediation, there should be other mechanisms such as tribunals that could be set up to hear such disputes, he added.
To these, Mr Tong responded: "Mr Ng, in particular, asked whether there could be a special court process created or whether the copyright tribunal could be a cost-effective means of enforcement.
"Mr Yip suggested that there could be cheaper alternatives such as mediation for freelance creatives. We have received much of this feedback, and discussed it a lot with stakeholders during public consultations." 
However, the solution would have to stretch beyond the current legislative amendments, Mr Tong added.
"We will ensure that there are cost-effective enforcement options available and that creatives who are individuals or small-business owners will be made aware of it," he said.
He noted that Ipos runs intellectual property legal clinics, which aim to provide creators and performance with a "quick and easy way'' to assess the situation and decide if they want to have copyright, what is the level of infringement and what the next steps might be.
"Typically, there is a 45-minute session with an intellectual property specialist lawyer. Advice can be sought on any intellectual property infringement issue, including enforcement options, and the cost is fully reimbursable by Ipos." 
Mr Tong also said that in general, many clear situations can be resolved by a "simple letter of asserting rights", telling the alleged infringer of the rights and asserting them, and asking that the user then stop the actions, pay the licence fee or give credit for the application in appropriate cases.
"Finally, we appreciate the importance of efficient and cost-effective alternative dispute resolution mechanisms such as (what) Mr Yip (had) suggested: Mediation.
"I believe the fees mentioned by Mr Yip are for mediation of copyright disputes in Singapore, under the auspices of the World Intellectual Property Organization's Arbitration and Mediation Center or Wipo AMC.
"These fees are in fact the result of Wipo's existing collaboration, Wipo AMC, to reduce mediation cost of copyright disputes, and are already highly subsidised.
"That said, we are already exploring with other government agencies on how to make mediation even more accessible," Mr Tong said.
Wipo is a self-funding agency of the United Nations with 193 member states, and it facilitates intellectual property services, policy, information and cooperation in the global forum.