SAF training to be enhanced with deal to develop Australia facilities
SINGAPORE / CANBERRA — Australia and Singapore on Friday (May 6) announced that the two countries will jointly develop military training areas and facilities in Australia in a move that will enhance training by the Singapore Armed Forces (SAF) Down Under.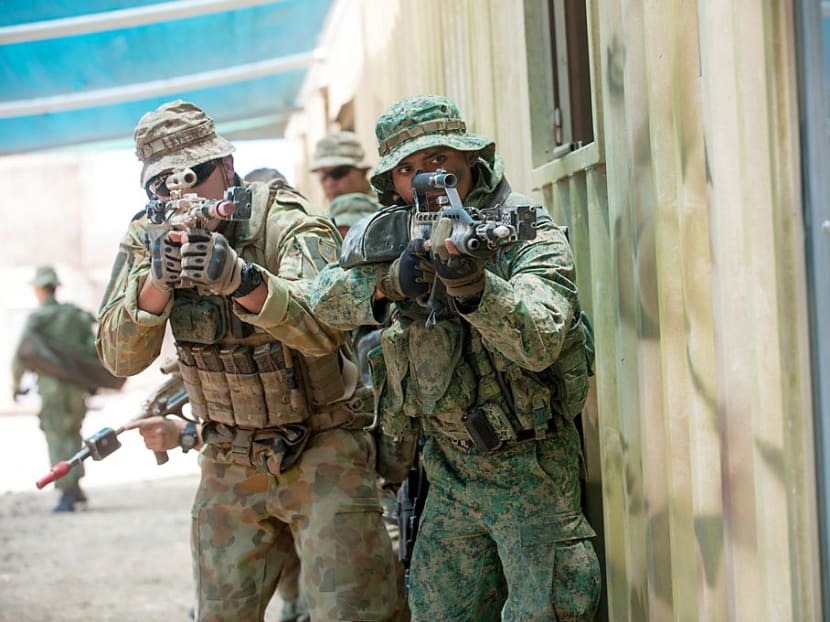 SINGAPORE / CANBERRA — Australia and Singapore on Friday (May 6) announced that the two countries will jointly develop military training areas and facilities in Australia in a move that will enhance training by the Singapore Armed Forces (SAF) Down Under.
Calling the deal a wish come true, Defence Minister Ng Eng Hen said in a Facebook post on Friday morning: "For the SAF, it means we have ­secured another 25 years to train in an even larger area, and to build state-of-the-art training facilities for combined arms and joint exercises. 
"This training will sharpen the SAF to one of the most well-trained and proficient militaries in the region, to keep Singapore and Singaporeans well protected."
Australian Prime Minister Malcolm Turnbull said Singapore will spend up to A$2.25 billion (S$2.25 billion) to double the capacity of its military training facilities in northern Australia. "It is a very, very significant commitment to investment in north Queensland," he told the Australian ­media, which reported the new arrangement will see Singapore ­increase the number of troops it has in Australia from the current 6,000 to 14,000 a year. The reports added that the troops will stay for up to 18 weeks, longer than the current 60 days.
A spokesman for Singapore's Ministry of Defence said the amount of A$2.25 billion was "indicative and sets a cap on the life-cycle costs over 25 years for advance training facilities to be jointly developed and used by both militaries".
The full details of the redevelopment of military training areas at Townsville and Shoalwater Bay in Queensland are yet to be finalised. 
The deal is part of the recently concluded landmark agreement between Singapore and Australia to deepen ties and strengthen cooperation in multiple areas ranging from defence and trade to innovation and people-to-people ties, building on a Comprehensive Strategic Partnership (CSP) agreed by both countries less than a year ago. Under the agreement, Singapore and Australia will also elevate a joint training drill, codenamed Trident, to a signature bilateral exercise.
Both countries also announced that they would enhance military personnel exchanges and initiate civilian personnel exchanges, as well as boost ­intelligence and information sharing, such as in counter-terrorism. 
In addition, Australia and Singapore will work together on defence science and technology, in areas ­including combat systems/command, control, communications, computers and ­intelligence integration, and cognitive/­human systems integration, said a joint announcement by the two countries.
"These major areas of cooperation and collaboration demonstrate the ­extent of our strategic defence partnership," added the announcement.
Speaking to reporters on Thursday, Dr Vivian Balakrishnan, the Minister for Foreign Affairs, said the package of bilateral cooperation initiatives agreed by Singapore and Australia will put both countries "on a completely new trajectory for the next generation".
When asked by reporters how other countries in the region will perceive the growing defence ties ­between Singapore and Australia, Dr Balakrishnan said "it shows the level of strategic trust between us".
"It also shows everyone that we take the SAF seriously … We live in an uncertain, troubled and sometimes difficult world, but we have to do our best to stay strong individually, as well as to build a network of friends and good partners," he added. 
Speaking to TODAY, analyst Dr Daniel Chua also does not foresee any negative reactions from other countries over Singapore and Australia's new agreement, pointing out that the two nations are not seen as threatening to the region.
"Both countries contribute to the region positively through economic and political cooperation in various forums, so the enhancement of Singapore-Australian ties should not raise alarm," said the assistant professor at the Institute of Defence and Strategic Studies at S Rajaratnam School of ­International Studies in Singapore.
Dr Chua also said the elevated ­defence cooperation should not come as a surprise since Singapore and Australia have been partners in the Five Power Defence Arrangements (FPDA) since 1971. "Australian benefits relate to the enhancement of defence diplomacy through bilateral exercises with the SAF and increase of goodwill," he said, adding it also increases the level of mutual understanding and interoperability between the SAF and the Australian Defence Forces.
Australian Trade Minister Steven Ciobo called the agreement a "logical extension" since his country has "great" long-term ties with Singapore.
"I don't think it's a surprise to anybody that a small city-state like Singapore, for example, looks throughout the region to where they're able to ­mobilise forces, to where they're able to build experienced capacity and training," he told Australian media.
Besides Australia, the SAF also trains in other countries including India, Germany, New Zealand and South Africa.