S'pore to be worst hit by job displacement as tech disrupts region's labour markets: Study
SINGAPORE — Workers in Singapore will be hit hard by technological disruptions with the Republic's labour market set to face the largest degree of job displacement regionally in the next decade, based on a study on the impact of artificial intelligence (AI) on workers in six South-east Asian economies.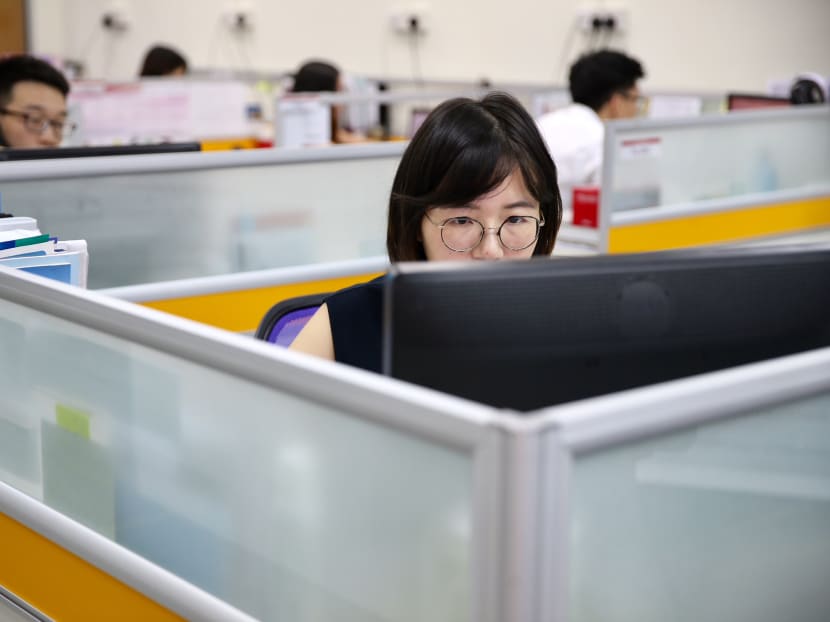 SINGAPORE — Workers in Singapore will be hit hard by technological disruptions with the Republic's labour market set to face the largest degree of job displacement regionally in the next decade, based on a study on the impact of artificial intelligence (AI) on workers in six South-east Asian economies.
The new study by technology company Cisco and economic forecasting agency Oxford Economics also found that Singapore will have to confront the biggest mismatch between skills and jobs created among the countries in the region.
The findings were released on Wednesday (Sept 12) on the sidelines of the World Economic Forum on Asean (Association of South-east Asian Nations), a high-level gathering on innovation and entrepreneurship in Hanoi.
Data showed that about one-fifth of Singapore's full-time equivalent workforce (20.6 per cent) will have their jobs displaced by 2028. This is higher than the figures for Vietnam (13.8 per cent), Thailand (11.9 per cent), the Philippines (10.1 per cent), Indonesia (8.1 per cent) and Malaysia (7.4 per cent).
In absolute numbers, however, the number of workers expected to be displaced in Singapore (500,000) trails those in Indonesia (9.5 million) and Vietnam (7.5 million), for instance.
The study noted that Singapore, which is "already close to the frontier of technological progress", has an exceptional enabling environment for innovation and digital transformation, as well as a small geographical area, and modern and upgradeable infrastructure. This means that businesses can take advantage of innovations as they become available.
By contrast, the smaller job displacement in relative terms for other economies such as Indonesia and the Philippines was due to a variety of factors, including a possibly slower pace of technological change, expectations of institutional and political constraints on automation, and a challenging regulatory environment.
The study involved a multidisciplinary team of experts from across the region, who provided insights into the role that technology will play in various sectors and occupations. Data on 433 occupations across 21 industries was tapped to model the impact of these technological-adoption patterns on the 275 million full-time equivalent workers across the six countries by 2028.
As displaced workers reskill to move into new jobs, the study suggests that Singapore faces the biggest challenge despite its highly skilled workforce.
The Republic is set to confront a gap in average skill levels of 14.3 (on a scale of 100), higher than the Philippines (13.9), Vietnam (13.4), Malaysia (12.7), Thailand (8.5) and Indonesia (8.4).
This, said the team behind the study, is due to Singapore's digital transformation taking place at a faster rate than other Asean countries.
The city state's more supportive environment for investments in robotics and the Internet of Things — the global network of Internet-enabled sensors, devices and systems — will, for example, lead to a much greater displacement of production workers and labourers.
These low-skilled positions will be less affected in the other five countries surveyed in the next 10 years, the study said.
"The majority of new job opportunities in Singapore are likely to be created in highly skilled managerial and professional roles, reflecting the growth areas of the economy. Thus, a considerable uplift is required in the overall skills composition of (the) workforce," it added.
The acute skills shortfall in the region stems largely from the areas of information technology skills including those in programming and systems evaluation (41 per cent) and operations skills such as those in installation and operations analysis (12 per cent).
Asked to respond to the study's findings on Singapore, a Manpower Ministry spokesperson said the impact of technology on jobs is often mixed: Although it may reduce the reliance on manpower in some areas, companies that are growing have to hire more workers to fill other jobs.
"While keeping an eye on the impact of technology, including artificial intelligence, the Government's priority is to help workers stay in employment by keeping their skills current or get back into employment quickly if they are displaced," the spokesperson noted. "Where possible, it is better to intervene upstream before workers are retrenched."
The ministry's spokesperson added that statutory board Workforce Singapore and the economic agencies are engaging firms on their transformation plans and manpower needs, so as to support them in reskilling and redeploying workers in jobs at risk to new roles.
Mr Naveen Menon, Cisco's president for South-east Asia, told TODAY that the Government's initiatives on education and training, such as the SkillsFuture movement for lifelong learning and Professional Conversion Programmes for mid-career switchers, reflect its efforts to help workers to reskill as labour requirements shift.
Still, he acknowledged that more can always be done and "one of the key success factors is to focus on the long term".
Governments need to ensure that workers acquire skills that go beyond just technical knowledge, said Mr Menon. The key is to develop a flexible labour market that ensures citizens can transit from one occupation to another.
"To do this effectively, citizens need skills like problem-solving, design and critical thinking, leadership, collaboration, conflict resolution, and empathy. In a digital future where everyone will have access to the same data and information, these skills will be the key differentiator between being employable or not," he added.
IN NUMBERS
By 2028, 28 million fewer workers in the region — more than 10 per cent of the present workforce across the six countries — will be needed to produce the same level of output as today.

Agriculture is the industry forecast to be worst hit in Asean, accounting for 9.9 million full-time equivalent workers displaced.

In Singapore, some 85,000 existing roles will disappear, pushing workers into other industries and vocations.

The wholesale and retail sector is set to face the highest levels of displacement in Singapore by 2028 (80,000 jobs), followed by manufacturing (55,000) and transport (50,000).

However, wholesale and retail is also poised to see the greatest job creation in Singapore in the same period (100,000 jobs). Manufacturing will come second (70,000 jobs), followed by finance and insurance (60,000 jobs).