Streaming of students has 'unintended side effects', 'labelling' has to be addressed: Indranee
SINGAPORE — Singapore society has to find a way to deal with "labelling" or stereotyping students, Second Education Minister Indranee Rajah said, conceding that the streaming system in schools has had an "unintended side effect" on how pupils view themselves and are perceived by others.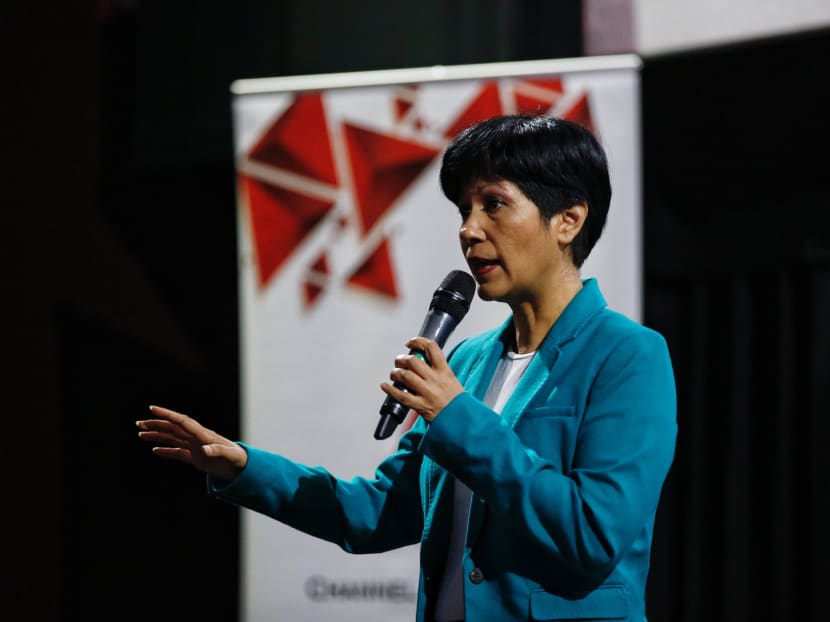 SINGAPORE — Singapore society has to find a way to deal with "labelling" or stereotyping students, Second Education Minister Indranee Rajah said, conceding that the streaming system in schools has had an "unintended side effect" on how pupils view themselves and are perceived by others.
She was responding to a question on Monday (Oct 29) about what the Government plans to do to alleviate the stigma of students in different streams and classes, during a dialogue session that followed a screening of the Channel NewsAsia documentary Regardless of Class at a Shaw Lido cinema.
The dialogue, co-presented with Dr Janil Puthucheary, Senior Minister of State for Communications and Information, was attended by about 100 participants including students, teachers and social-enterprise workers.
Ms Indranee said that the streaming system — which classifies students into the Express, Normal (Academic) and Normal (Technical) streams in secondary schools — was started to deal with the "stark outcomes" when students of different abilities and foundations in subjects were made to progress at the same pace.
It was a well-meaning move meant to help some students who learnt at a slower pace and needed time to understand concepts, allowing them to learn together as a group. While it has worked in arresting the dropout rates, the system did turn up unintended side effects, she added.
Turning to a student in the audience who was in the Normal (Technical) stream and was featured in the documentary, Ms Indranee said: "I've no idea where you'll ultimately end up, but I hope it will be something that makes you happy, and allows you to really grow and flourish and make the best of your abilities.
"But we do have to try to find a way to deal with this labelling."
Ms Indranee stressed that Singaporeans can bridge the gaps by recognising the "intrinsic worth" of human beings, which is not measured by material possessions, such as the money one has or whether one wears nice clothes.
She, too, learnt this lesson when she was four years old. She had told a gardener next door, who had tried to be friendly and greeted her, not to talk to her.
Her sister then told her never to "talk to somebody like that", as the gardener was doing his best to earn a living. "My sister passed away in 1996 from breast cancer, but of the many, many wonderful memories we had, that's the one lesson I remember that has always stayed with me, which is that you always treat other people as (you would) yourself."
'IRRESPONSIBLE' COMMENTARY BEHIND BACKLASH
The Regardless of Class documentary, which was first telecast on Oct 1 and examined the social class divide in Singapore, caused a furore after online users took issue with the remarks of a pupil who said that it "may not be very viable in terms of closing the gap" for students of different streams to be in the same class.
That pupil was from the Integrated Programme offered by selected schools for brighter students, who skip the O-Level examinations en route to the A-Level exams, among other certifications.
On Monday, asked by an audience member what he thought of the backlash, Dr Puthucheary — who hosted the documentary programme — said that it stemmed from several blogs which ran "inappropriate editorialised commentary" on the show's trailer, which he acknowledged was edited slightly provocatively.
The blogs, which he did not name, commented on the trailer as though it were "the product". The majority of those who were riled up did not watch the documentary, Dr Puthucheary said, and many also did not see the trailer.
"They were just looking at the headline of the commentary and getting angry," he said. Neither he nor the Channel NewsAsia team could have anticipated such a backlash.
"It was really unfortunate that some people decided to write about something in this way… that was a bit irresponsible. But these things happen and you've to... give some room for commentary and for people to make these kinds of comments and opinions (which) sometimes are going to be wrong."
TASKFORCE TO LOOK INTO ABSENTEEISM, DROPOUT RATES
On Sunday, the Education Ministry announced that Ms Indranee will chair a new government taskforce to identify gaps in areas such as the motivation of students from disadvantaged families, measures to tackle absenteeism and dropout rates, as well as outreach to parents.
Ms Indranee said on Monday that young people from different socio-economic backgrounds do not start on a level playing field, and the taskforce will look at how to help those who "don't have the same advantages".
Beyond income, these children are given a different worldview due to their home environment. For instance, an investment-banker father would be able to explain the global financial crisis to a child who asks about it.
"If your dad was doing something very different, working in a much more manual field, let's say, he may not be able to give you quite the same answer, and immediately, the two children have very different responses and therefore, can't quite deal with the issue the same way."
The taskforce, Ms Indranee said, will look at real, practical issues, to try to understand their causes. For instance, it is very difficult for a child to have a good grounding in English and reading, if both parents do not speak, read or write English.
The group will see how it can intervene and link up the different agencies to help these students.
There are now various schemes such as learning support, remedial programmes and after-school care in schools, and counselling at the family service centres, but Ms Indranee said that "somebody" needs to string them together. "That's not quite being done at the moment."
Coordination can be better, and there is room to work with more volunteer groups, she added.
"We are trying to see how, holistically, we can bring all the different pieces together to make sure that the child who comes from a disadvantaged background has the chance and the opportunity to realise his or her full potential."