2 S'poreans run over 300km each, smashing national record in global knockout-style ultramarathon
SINGAPORE — After running the "race of their lives", two Singaporean ultramarathoners beat fatigue and outlasted hundreds of global competitors from countries with more established ultra-running scenes, such as Germany, the United Kingdom, New Zealand and Norway.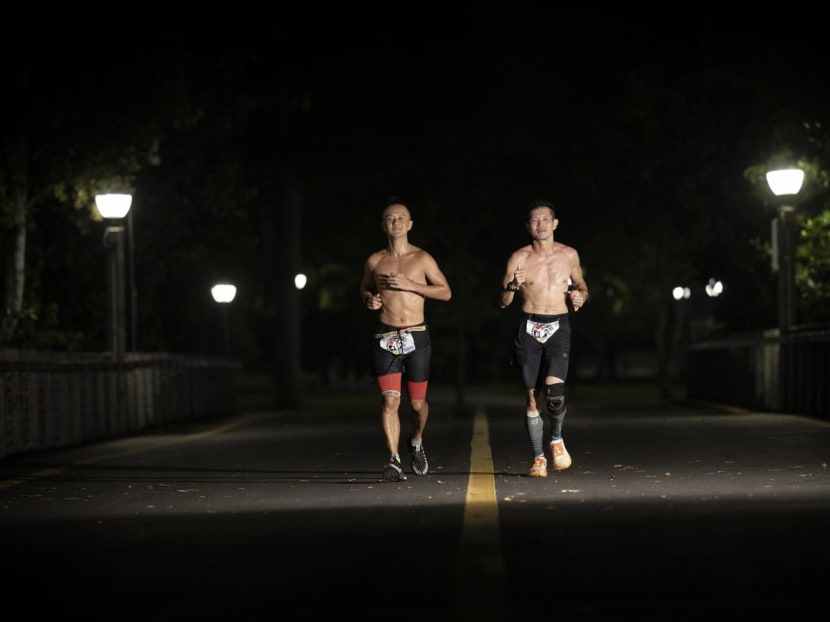 Joshua Toh, 45, and Deric Lau, 46, were competing in the Backyard Ultra, a unique "last-man standing" ultramarathon race format
Competitors must consecutively run 6.7km loops at the start of every hour, and those who give up are eliminated
Toh emerged as the national winner, breaking the Singapore record in the process by running 51 laps
Both men outlasted stiff competition from countries such as Norway, Germany and the United Kingdom
SINGAPORE — After running the "race of their lives", two Singaporean ultramarathoners beat fatigue and outlasted hundreds of global competitors from countries with more established ultramarathon scenes, such as Germany, the United Kingdom, New Zealand and Norway.
Across three days from Oct 15, runners Joshua Toh, 45, and Deric Lau, 46, competed in the 2022 iteration of the Backyard Ultra World Team Championship, a global ultramarathon race format that was first held in the United States in 2011. 
They each ran a total of around 340km over 50 hours, with Toh beating Lau in a mental battle during the race's final hour to clinch the national win and breaking the previous Singapore record of around 228km over 34 hours.
The overall winners hailed from Belgium, where two runners ran a world record of nearly 677km in 101 hours.
WHAT IS THE BACKYARD ULTRA?
Under the competition's rules, marathoners must consecutively run 6.7km laps at the start of every hour. Those who fail to return before the hour is over, or choose not to start the next lap, are eliminated.
Toh and Lau were part of a 15-strong team that represented Singapore in the Backyard Ultra championship, which is a form of "satellite competition".
This meant that each participating nation held their own race in their respective country, with all nations starting at the same time. 
Thus, unlike other ultramarathons traditionally held in mountainous regions with cooler climates, the runners in Singapore were plying 6.7km laps in a hot, humid and sometimes muddy route in Pasir Ris Park.
The tournament format meant that stamina and endurance mattered more than raw speed. The last runner standing will be declared the winner, and so such races can often last longer than an entire day.
Indeed, it was only following 51 such 6.7 km loops of the park — about the distance between Singapore and Kuala Lumpur — that Toh was eventually declared the Singapore winner, after Lau did not complete his 51st loop within one hour. 
The race organiser, Ms Jeri Chua, said that the event was first held in Singapore during the pandemic in 2020, and back then the winner came in at 34 loops, which was the Singapore record. 
"To be honest, I did expect (the record) to be equalled at least, but beyond that it's always very hard to gauge, as it's a race with no fixed ending," said Ms Chua, who is the also the owner of sports retailer Red Dot Running Company. 
The race began on Saturday, Oct 15, at 8pm. Of the 15, there were two women, one of whom made it to 22 loops. Five men made it to 24 loops, or exactly 100 miles (161km), but by the 29th loop, it was only Toh and Lau left in the running. 
Toh, a commando regular and a seasoned ultramarathon runner of over 10 years, told TODAY over the phone that he had initially planned to finish at least 48 loops no matter what, while his "hopeful goal" was to be the last man standing. 
His competitor Lau, who works in banking, had been an avid runner for years, but had started running ultramarathons only recently in 2020.
Although it was his first time running the Backyard Ultra, like Toh, he aimed to run 48 loops too. 
'LOVE-HATE' RELATIONSHIP
One peculiar element of the race, said Ms Chua, is that the distance that the winner ends up running will depend on the distance run by the second-placed runner, also known as an "assist", as the winner needs to do just one lap more than the assist runner to be crowned. 
"You can have one person who is incredibly motivated to carry on, but if you don't have the assist, who is just as important, you can't do it," she said. 
Once Toh and Lau breached the 34-loop barrier and set a new unofficial "national record", it became a matter of who would be the first to blink, they said. 
Both competitors told TODAY after the race that they had "mixed feelings" about the other person. 
Said Toh: "When it comes down to two runners, we are just waiting for the other one to drop out to end the race... we need to outrun each other to win it.
"But at the same time, the number of laps is also something that contributes to your overall achievement and your entire effort... imagine if Deric were to stop at the 40th lap, and I completed 41, then I would fall short of what (the 48-lap target) I set, so therein lies the teamwork part of it." 
SURPASSING THE BREAKING POINT
The run stretched on past the 40-hour mark, and a race that had started on Saturday was now being run on a Monday, in the sweltering mid-day heat. 
Even though he had overcome hallucinations due to sleep deprivation while running overnight, it was the hot sun that proved the biggest challenge for Lau, who soon began to feel the effects of heat exhaustion. 
"It was like a switch in my brain just flipped, from being very confident to suddenly feeling pitiful for myself, asking myself why I was running in this heat," he said. 
At that point, while running the 42nd lap, he told his competitor Toh that he planned to drop out of the race after the lap was over, much to Toh's relief. 
Lau said, however, that when he had returned to the rest point with these thoughts of quitting, his supporters and race organiser, Ms Chua, talked him out of quitting. 
Lau said that the motivation helped him to dispel the thoughts of quitting and to attempt another loop. 
"On hindsight, without the pep talk, we wouldn't have reached 50 (laps)," said Lau.  
However, Toh said that as inspiring as Lau's comeback from the brink was, it effectively meant both had to run more laps. 
"It was like, my chance (to win) was coming, but to my surprise and horror he lasted another eight laps more," said Toh with a chuckle. 
It was this steely resolve to run "just one more lap" that both runners ran late into Monday night, and they were soon outlasting running teams from Norway (38 laps), Germany (46 laps), the United Kingdom (47 laps) and New Zealand (46 laps). 
On the 51st lap, at about 11pm on Monday, Lau said that he felt it was finally the "right time" to pull the plug, in front of a big group of family and friends who had gathered to support the duo. 
He had been experiencing stomach problems since the afternoon, and was worried that there could be long term health issues should he have continued. 
This left Toh waiting at the start line after he completed his 51st loop, counting down the seconds before it was finally confirmed that Toh was the champion, as Lau did not make it back to the finish line by the stroke of the hour. 
"It was mixed feelings of disbelief and joy, and relief that there will be no running, no more loops," he said. "It really exceeded my expectations, as running 51 (laps) never crossed my mind." 
Toh said that his career in the military was instrumental in helping him persevere through the lowest points of his race. 
"Some of the very harsh and physically demanding training that I went through in my army career shaped my mental resilience, and I would think that it's something maybe most civilians don't go through... it gives me that little bit more when tough times come." 
With this win, Toh has earned a chance to represent Singapore at next year's Backyard Ultra Individual World Championships to be held in the United States. The race will feature the national winners from the 2022 competition. 
His goal at the event will be to break his own record at the very least, and fly the Singapore flag high. 
As for Lau, he said that he would want to come back for the next edition of the race, to challenge the record again, regardless of whether he wins. 
"The position to me isn't that important... It was about discovering what my body could take, where my limits were," said Lau.