S'poreans team up with foreign workers to tackle tasty challenge
SINGAPORE — The second edition of a cook-off for migrant workers proved more popular this year, with 24 partners chipping in, up from five last year.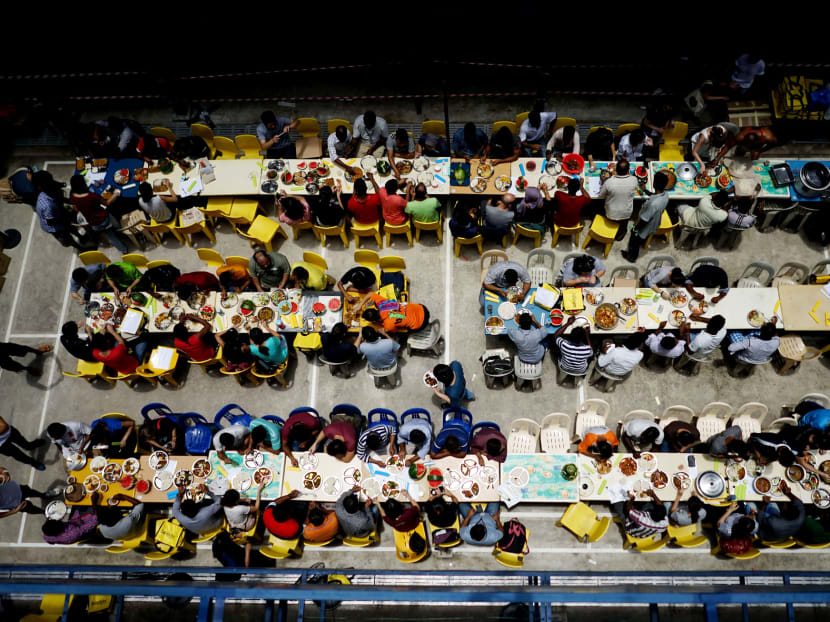 SINGAPORE — The second edition of a cook-off for migrant workers proved more popular this year, with 24 partners chipping in, up from five last year.
Called Majulah Belanja, which translates to "Onward, To Treat", the cook-off saw migrant workers and Singaporeans teaming up to whip up dishes at Woodlands Lodge 2 on Sunday (Sept 18).
Unlike last year, when teams were given a budget to shop at the dormitory supermarket, this year had social enterprise 45Rice donate 25kg of fortified rice, a Bangladeshi caterer provide raw ingredients, Onhand Agrarian fish farm contribute 10kg of prawns and crabs, and Kwong Woh Hing Sauce Factory give out bottles of sauces as prizes.
Some 140 migrants and 72 locals took part, up from 120 workers and 48 locals last year.
A joint initiative by social enterprise Geylang Adventures founder Cai Yinzhou, and D Wall dormitory manager Alexander Wu, both 26, the idea came to Mr Wu last year when he was watching popular cooking TV series, MasterChef.
Noting that food nutrition for workers is still an issue, Mr Cai said the event was a chance to juxtapose what the workers usually eat here, versus what they eat back home.
He also felt that food as a universal medium could help break down the barriers between Singaporeans and the migrant worker community, amid tensions over sharing common spaces.
Noting that Singapore is at the "peak of migrant worker conversations", such events could give the "ground-up push" in policy-makers eventually tackling issues such as championing better housing, food, and "changing the power balance".
"We should never be comfortable with the state of events, where all we do is provide feel-good events ... We want to move towards quality change, like (improving accommodation). But a lot of it stems first from bridging social barriers," said Mr Cai.
Such integration activities have become more common in recent years, with initiatives including United World College cultural exchange programmes with injured migrant workers as well as a health screening and a cricket game with migrant workers organised by Ngee Ann Polytechnic.
A group of 17-year-olds from Hwa Chong Institution has also organised sports sessions, cinema trips and beach and library outings, said community organisation HealthServe.
Non-governmental organisations that support migrant workers' rights felt such programmes help bridge the gap between Singaporeans and migrant workers, but stressed that the problems faced by the workers remain, such as salary disputes, heavy debts from agent fees, and poor working and living conditions.
HealthServe executive director Colin Chia said the many new initiatives — be they food sessions, carnivals, free health-checkups, corporate events, IT training sessions — signalled "exciting" changes.
"It's helped many workers to get to know Singaporeans as friends, to be aware we have a community that cares for them and supports their mental-well being. Singaporeans also learn about their plight, so (such activities) do bridge the gap in many ways," he said.
He also noted that doctors and lawyers had been prompted to start conversations about issues like healthcare costs and look for ways to help vulnerable groups of workers.
Transient Workers Count Too (TWC2) executive committee member John Gee said the success of such initiatives would depend on whether they are one-offs, or planned with the longer term in mind.
Such events allow workers to encounter locals on "something like equal terms", and allow them to show a side of their interests and abilities that locals might not otherwise encounter.
"They become three-dimensional human beings, instead of beings that move about in the background of our lives, not much noticed unless they are seen as inconveniencing us or being the victims of something horrible," he said.
"However, no one should imagine that this makes real grievances or complaints go away, on the part of workers or their employers. We still need to look at how we deal with these, but if events such as this enhance mutual respect, that may make the process easier."
Ms Debbie Fordyce, also an executive committee member of TWC2, said such events may sometimes fall short of their objective "if the workers are treated as beneficiaries of the organiser's largesse".
"When workers are invited to an event and expected to follow instructions, answer questions, play games and win prizes, the result may be that organisers feel that they've given something to a disadvantaged group, but the workers may perceive that as a different experience," she said.
"Until existing laws and regulations are effective in ensuring migrant workers are not subject to exorbitant recruitment fees to obtain a Singapore job, given jobs and salary security, and are able to negotiate the conditions of their work ... integration and friendships with Singaporeans will always be of secondary importance."