S'pore's 'demographic time bomb' starts ticking next year: UOB report
SINGAPORE – Singapore will cross the demographic Rubicon next year, when the share of the population who are 65 and over will match that of those under 15 for the first time - a threshold that will have sweeping effects on all aspects of the country, from the economy to defence, a report released on Wednesday (Dec 6) said.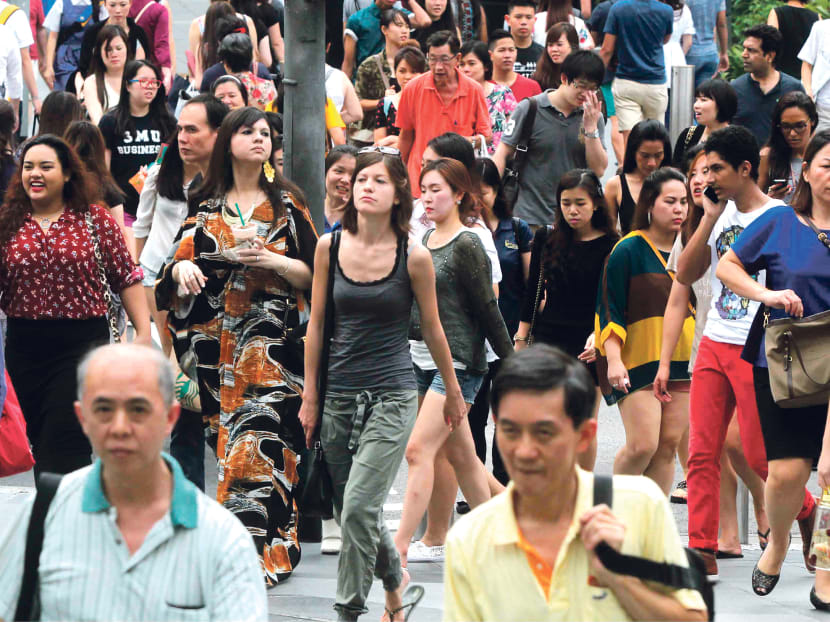 SINGAPORE – Singapore will cross the demographic Rubicon next year, when the share of the population who are 65 and over will match that of those under 15 for the first time - a threshold that will have sweeping effects on all aspects of the country, from the economy to defence, a report released on Wednesday (Dec 6) said.
If the demographic trend is not reversed or slowed, it will mean Singapore's population will age rapidly in the coming years, said the report by UOB economist Francis Tan.
In the worst-case scenario, the dependency ratio – the proportion of working age adults to dependents comprising children and the elderly - will drop to almost 1:1 by 2030. The economy will also stall because of a lack of workers, and healthcare costs will balloon, a situation akin to what Japan is experiencing now.
Among other things, this will mean rising healthcare costs, which will mean higher taxes – all at a time when the economy is stuck in neutral, economists whom TODAY spoke to said.
Japan's experience provides a sobering reminder of what could lie in store. A recent report in The New York Times, for example, zoomed in on the phenomenon of lonely deaths, which the article described as "the natural and frightening conclusion of Japan's journey since the 1960s". The article noted that for many of the elderly in Japan, who live alone in vast complexes, death is a matter that goes unnoticed by everyone, until the stench of decomposing bodies alerts neighbours.
The UOB report, however, hastened to add that there is time for Singapore to reverse the ominous trend, and that the Government can enact changes that will mitigate its effects.
"The demographic time bomb only starts ticking in 2018 — it does not mean that it will explode yet," Mr Tan wrote. "There is still a sizeable percentage of working-age population supporting the economy. That said, one will have to understand that this cannot last forever."
Nevertheless, he said, "Singapore is facing one of the toughest economic and social challenges since its independence in the form of a rapidly ageing workforce and population."
He added: "By 2030, we estimate the percentage of below 15 year olds to fall to only 11 per cent, while that of the above 65 year olds will reach 27 per cent of the resident population. That will put us in the similar situation as Japan today. And it is only a short 12 years away.
"Imagine the implications that this will bring for policymakers, educators, healthcare providers, investment advisors, and a whole slew of other stakeholders. Will we demand more adult diapers than children diapers? Will we need more nursing homes than childcare centres? Will we need more geriatricians than paediatricians?"
Mr Tan's warning is only the latest in a series about Singapore's demographic "time bomb". The widely-criticised 2013 Population White Paper explicitly warned of it, but it was lost amid the focus on population growth, which policymakers later admitted was a result of poor messaging.
IMMEDIATE POLICY IMPLICATIONS
Economists interviewed said that unless the Republic loosens its grip on immigration, taxes would have to be raised in the near future - a prospect being raised by government leaders in recent weeks - as a result of the rapidly greying population.
Speaking to TODAY, Mr Tan reiterated that the size of Singapore's workforce will shrink, and the lower contributions to the nation's coffers from economically-active individuals could prompt the Government to look at imposing new taxes on e-commerce transactions for example, and raise the goods and services tax (GST) from the current 7 per cent to 9 per cent in 2019. Still, the better-than-expected economic expansion this year might "probably result in higher wage growth" next year, which would cushion consumers from any GST increase, added Mr Tan.
OCBC Bank economist Selena Ling said there were other options to increase tax revenue, such as raising corporate income tax and stamp duties or even reinstating estate duty which was abolished in 2008.
But she pointed out that the Government could also prioritise spending in various areas in order to manage its growing expenditure.
After years of surging foreign manpower growth, the Government has — since 2011 — moved to tighten the inflow of immigrants in its bid to reduce reliance on low-cost foreign labour. The Government has made clear on several occasions that it will not perform a U-turn on its stance.
Still, some economists have said it may be time to re-look these policies, although they have cautioned that this must be done in a politically sensitive manner.
Mr Tan felt that Singaporeans need to understand the stark realities, and they "cannot have the cake and eat it too". "They have to make the choice – they either pay higher taxes if they want a smaller pool of immigrants or pay lower taxes and open the doors to immigrants," he added.
Singapore University of Social Sciences economist Walter Theseira noted that the impact of the demographic changes on the workforce tends to be gradual. "The decline in local labour force can in the near term be made up for by changing immigration restrictions," he reiterated.
Maybank economist Chua Hak Bin argued that loosening the immigration policy is necessary to cushion the adverse effects of a greying population. "Raising the intake of working-age foreigners will help shore up growth and fiscal revenue, and reduce the tax burden on younger Singaporeans," said Dr Chua.
Singapore is unlike Japan, where there is a larger pool of workers domestically to allow it to have strict immigration controls, said CIMB economist Song Seng Wun. Should the Government decide to loosen its stance, the focus should be on welcoming those who can generate more economic activity, such as in the technology sector.
"The key is Singaporeans need to be assured that they don't feel squeezed out, and that everyone can have a good quality of life," said Mr Song, adding that the Government still has time to improve the country's infrastructure including the rail network.
Despite the ominous trend, Singapore can take some comfort in the fact that it got rich before growing old, as Mr Tan pointed out in his report. The same cannot be said for other countries in Asia, the International Monetary Fund (IMF) warned in April.
The IMF estimated that Asia's population growth rate will fall to zero by 2050, and the share of the population who are of working-age in the region has already peaked. This means the ratio of the population aged 65 and older will be almost 2.5 times the current level by 2050, and even higher in East Asia, Mr Tan said.
He added: "Singapore is lucky in some sense – that she has reached an enviable developed economy status with high per capita income. However, for a country like Thailand, or even China, it remains to be seen how the economy will restructure/reinvent to push for higher income before they get old."
Responding to queries from TODAY, the Prime Minister's Office Strategy Group acknowledged that Singapore's aging citizen population due to low fertility rates and increasing longevity will have major impact on our society and economy, and noted that "these challenges are not new, and we have been preparing for them".
"We will continue to work closely with Singaporeans and society-at-large to address these demographic challenges, including strongly supporting Singaporeans' marriage and parenthood aspirations."