Sports, games and injuries: How much is too much for the young? Experts caution on risks, health problems
A track-and-field athlete since the age of 10, Mingwen Lee Sullivan has sustained various sports injuries over the years, but the worst pain the 16-year-old Raffles Institution student has endured does not involve broken bones.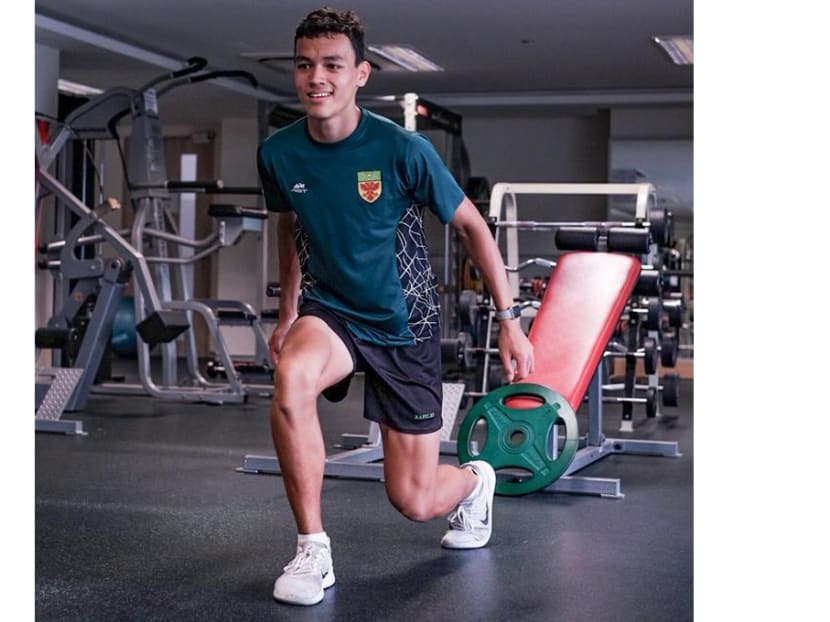 A track-and-field athlete since the age of 10, Mingwen Lee Sullivan has sustained various sports injuries over the years, but the worst pain the 16-year-old Raffles Institution student has endured does not involve broken bones.
In the last four years, Mingwen has been representing his school in the National Schools Track and Field competitions. Besides training in school three times a week, he also plays basketball and football, and hits the gym several times a week.
He clinched first place this year in the National Schools B Division Boys' high jump event.
Two years ago though, the young athlete started experiencing really bad persistent pain in his left hip.
"I couldn't run because of the pain. The faster I tried running, the worse the pain would be. It affected my performance at long jump and high jump events," he told TODAY.
He later found out that he has hamstring enthesopathy, a disorder involving the connective tissues between the tendons or ligaments and the hip bone socket.
Senior physiotherapist Samuel Ong who treated Mingwen and who works at private physiotherapy group Core Concepts, said that this condition is commonly caused by repetitive movements such as running and trauma to the affected area.
Mingwen's case shows that greater attention should be paid to the bodies and well-being of the young who are actively involved in sports.   
In growing children and teens, the benefits of sports and exercise are well-established: They have higher energy levels and improved mental well-being, and develop better focus, dexterity, as well as leadership and team-building skills.
However, what parents may not realise is that if proper pacing is not observed, children and teenagers can over-exert themselves due to the pressure to excel.
Experts interviewed by TODAY said that anecdotally, they have observed an increase in active children and teenagers experiencing persistent aches and pain due to sports-related activities. 
Dr Mohammad Ashik, senior consultant at KK Women's and Children's Hospital's (KKH's) department of orthopaedic surgery, said that this is likely due to them starting sporting activities and taking part more in such activities at a younger age.
The tendency to focus entirely on a specific type of sport with little or no diversification also contributes to the trend, he added.
What health professionals here have been noticing has been affirmed by the National Athletic Trainers' Association in the United States.
In an article on Friday (Oct 18), the New York Times reported that the American association has issued new recommendations urging parents to ease up and keep watch on their children who specialise in one sport — due to a growing concern over the rise in injuries and burnout among young athletes, which can lead to lifelong health problems.
The recommendations, which are more stringent than those issued by some physician groups, stated that children and adolescents should postpone specialising in one sport for as long as possible. Ideally, they should not play a single sport for more than eight months a year, and when they have training and competition, they should take at least two days off each week for rest.
The association also proposed that a child's age equals the number of hours he or she should spend in sports training each week.
INCREASED COMPETITIVENESS AND OVER-TRAINING
At Core Concepts in Singapore, the group said that it has seen a 70 per cent increase in children and teenagers seeking treatment in the last 10 years, among them cases of persistent pain from sports-related injuries.
Last year, it saw a total of 115 patients aged 16 and below. One of the youngest that its senior principal physiotherapist Chng Chye Tuan has seen is an active eight-year-old girl with heel pain.
Mr Chng said that other sports-related pain issues commonly seen in this younger group include ankle sprains, knee pain and anterior cruciate ligament tears, which occur when stabilising ligaments of the knee is torn during an uncontrolled twisting motion.
He added: "We have also observed increased competitiveness at sporting events, which requires young athletes to undergo high-intensity training regimes.
"Repeating the same drills for a particular sporting motion, such as sprinting and kicking, puts a child at risk of 'overuse' injuries." 
Unlike acute injuries, such as a bone fracture, overuse injuries are usually more insidious by nature. They tend to occur over time due to repetitive actions or stress on the bones and muscles.
Dr Ashik of KKH said that overuse injuries tend to be more common in activities that involve sprinting, distance running and jumping.
The lower legs are more vulnerable to such injuries as they support the entire body weight in addition to the activity's repetitive movements, he added.
Muscle imbalance and tightness are also common in athletes who specialise in a specific type of sport.
Dr Ashik said: "Overtraining can also cause overuse injuries because the growing bones and ligaments (of children and teenagers) are subject to undue stress with repetitive loading without adequate recovery. As a result, painful inflammation of the bone-tendon joint and stress fractures can occur."
NOT GOOD TO TRAIN THROUGH THE PAIN
It is not unusual for young athletes to plough through their training sessions despite their pain.
Dr Chong Kian Chun, a consultant orthopaedic surgeon at Island Orthopaedic, a member of Healthway Medical Group, said that even as schools and training academies emphasise safety while playing sports, the pressure on a child to succeed can sometimes lead them to brush off accidents or injuries.
"Given the stress and added expectations placed on children and teenagers in sports co-curricular activities or competitive sports in general, they can also be afraid or unwilling to inform anyone if they are injured or overtired, which further reduces the likelihood of diagnosing and treating an overuse injury in the early stages," Dr Chong said.
Moreover, overuse injuries usually occur over time, which make them challenging to diagnose and treat.
Sports-related injuries may sometimes be mistaken for "growing pains", further delaying treatment, Dr Chong added.
Depending on how severe the injury is and the part of the limb involved, pain from overuse injury can manifest in different ways.
For instance, it can occur at the start, during or after the sporting activity, or during and after the activity. The pain usually resolves with adequate rest, only to recur when the same activity is resumed, Dr Ashik said.
DANGERS OF DELAYING TREATMENT
Cautioning young athletes against keeping pain symptoms to themselves, the experts warned that overuse injuries can worsen over time if not properly managed.
"This is especially pertinent for adolescents as their bodies are still growing and developing," Dr Chong said.
"Untreated prolonged injuries will build up over time, resulting in them becoming more difficult to treat as they get older or cause recurring injuries.
"Injuries to the growth plate (an area of developing tissues near bones) can also lead to further complications such as deformities as the child grows."
Mr Chng said that in any type of physical pain, the body will find ways to compensate for the pain. It may respond by avoiding movements deemed as threatening.
"These altered movement patterns may eventually be locked in as muscle memory and become the body's preferred way of moving, despite recovering from the initial injury," he said. In the long run, this can still lead to other injuries and complications.
WHEN TO SEEK HELP
Mr Ong of Core Concepts said that early detection of the source and cause of the pain can aid recovery.
Seek professional help if pain persists for more than two weeks even with rest.
Dr Ashik said that other red flags that warrant medical attention include pain affecting routine daily activities, when there is persistent pain at night or at rest, or both, as well as pain associated with fever, night sweats and weight loss.
POSSIBLE TREATMENTS
Overuse injuries, which can be diagnosed by a sports physician or an orthopaedic sports surgeon, may be treated with a brief period of rest and anti-inflammatory medication, Dr Ashik said.
"Icing the affected area can help alleviate pain and swelling post activity. Thereafter, patients will benefit from a rehabilitation programme to build injury resilience and allow for a safe, gradual return to sports activity."
For Mingwen, when he experienced the persistent pains, he tried various treatments, including acupuncture and tui na, a therapeutic form of massage used in Traditional Chinese Medicine. He eventually found relief through a non-surgical treatment called AposTherapy.
Mr Chng said that this therapy treatment, which is approved by the United States Food and Drug Administration, is found to be effective for conditions such as knee osteoarthritis and other musculoskeletal disorders such as lower back pain, hip pain and ankle problems. 
Core Concepts is licensed to provide AposTherapy in Singapore. The original developers of the therapy are orthopaedic doctors in Tel Aviv, Israel.
Mingwen wore a foot-worn biomechanical device, which was calibrated progressively by his physiotherapist, for 30 minutes every day and did specific exercises at home.
He said: "The pain subsidied after two months. Now, I do lots of stretching, tui na and yoga to prevent the pain from recurring."
PLAY SAFE, PLAY SMART
Rather than deal with injuries when they occur, experts said that parents should educate their child on injury risks and prevention.
"Encourage them to play smart and play safe," Dr Chong said. 
Mr Ong recommends that young athletes visit a physiotherapist for performance evaluations, so that they can train in an optimal manner that reduces injury risk.
When choosing sport activities for children, the experts advised considering the child's growth and development, taking his or her interest in mind, and focusing on developing a broad range of fitness and motor skills.
"Before signing up for a sport, parents must consider the fitness level of their child, especially if he or she is a first-timer or not particularly active," Mr Chng said.
"Remind the child not to push beyond their body's threshold because of peer pressure to perform as well as their friends."
Senior clinical exercise physiologist Micheal Lim, the head of sports medicine programme at KKH's family medicine service, said that instead of early specialisation of a single sport, children should be encouraged to engage in multiple sports.
"Progression in training should be individualised and tailored to the child's fitness, physical and learning abilities. For example, if your child is smaller in build, consider having him or her participate in a lower-age category."
Ensure that age-appropriate sports rules, such as no head-on or above-shoulder tackles, are enforced during sports participation, Mr Lim added.
It is also important to monitor the child's physical and psychological well-being regularly.
"For example, are they enjoying the sport? Are they coping well? Consider a change of sport or modify the training regime as required." 
Advising parents to be a positive role model for their child, Mr Lim said: "Praise your child for effort and place less emphasis on results, especially younger athletes or children who are just starting out on a sporting activity."