Sri Lanka president arrives in Singapore on social visit pass, did not ask for asylum: Police, MFA
SINGAPORE — Sri Lanka's President Gotabaya Rajapaksa, who fled his crisis-hit country to Maldives on Wednesday, has arrived in Singapore on Thursday (July 14) evening. He was in the country on a social visit pass, the police here said.
Sri Lanka's President Gotabaya Rajapaksa arrived in Singapore at Changi Airport on July 14 evening
The police here said he arrived on a social visit pass and did not ask for asylum
The police also warned everyone, including visit pass holders, to abide by the laws here or face punishment
SINGAPORE — Sri Lanka's President Gotabaya Rajapaksa, who fled his crisis-hit country to Maldives on Wednesday, has arrived in Singapore on Thursday (July 14) evening. He was in the country on a social visit pass, the police here said.
The Ministry of Foreign Affairs (MFA) said in a separate statement: "It is confirmed that Mr Rajapaksa has been allowed entry into Singapore on a private visit. He has not asked for asylum and neither has he been granted any asylum."
Singapore generally does not grant requests for asylum, both MFA and the police said.
Home Affairs Minister K Shanmugam had said in a written parliamentary reply in September last year: "As a small, densely populated country with limited land, Singapore is not in a position to accept any persons seeking political asylum or refugee status".
Mr Rajapaksa submitted his resignation shortly after reaching Singapore on Thursday, a spokesman for the Sri Lanka parliamentary speaker's office said.
The emailed resignation would be examined before a formal announcement — expected on Friday— is made, the speaker's spokesman Indunil Yapa said. 
Protests against Sri Lanka's economic crisis have simmered for months and came to a head last weekend when hundreds of thousands of people took over government buildings in Colombo, blaming the Rajapaksa family and allies for runaway inflation, shortages of basic goods, and corruption.
In their statement on "Mr Rajapaksa's visit to Singapore", the police asked that "the public, Singaporeans, residents, work pass holders and social visitors alike, abide by our local laws".
"Action will be taken against anyone participating in a public assembly that is illegal," they added.
Mr Rajapaksa arrived on board a Saudi Arabian Airlines (Saudia) flight — various reports suggested that he was flying on board flight SV788 — which touched down at Changi Airport at 7.17pm.
The flight was originally scheduled to land at 6.48pm, going by the airport's flight schedule board.
Mr Rajapaksa was expected to arrive in Singapore on Thursday morning via a Singapore Airlines commercial flight from the Maldives.
Reports indicated that due to security concerns, he did not board the SQ437 flight, which arrived in Singapore at 7.50am.
The president, his wife and their two security officers were reportedly waiting to secure a private aircraft to head to Singapore at a later time, Sri Lanka media Daily Mirror reported based on sources from the Maldives.
Three passengers on board SV788 told TODAY that their flight was meant to touch down at Terminal 3 at first, but they were ushered out of the plane at Terminal 2 and told to board a Skytrain to Terminal 3, where their luggage was waiting for them.
None of the passengers interviewed reported seeing anything unusual during their flight, although one of them said that she saw security officers escorting a man out of the plane at Terminal 2.
The passenger, who did not give her name, could not confirm if it was Mr Rajapaksa.
Airline staff on the flight told Reuters the president, dressed in black, flew business class with his wife and two bodyguards, describing him as "quiet" and "friendly".
TODAY saw a Saudia plane moving into the airport's VIP Complex at around 7.19pm, and a convoy of three vehicles —  a white BMW, a black Mercedes Vito and a black Toyota Alphard — were seen driving out of the premises around 8pm. They were accompanied by two Certis Cisco riders on motorbikes.
Shortly after, two cars were seen leaving the adjacent JetQuay terminal, which is catered to "commercially important persons", with at least one police car accompanying it.
None of the vehicles bore the Sri Lanka national flag and TODAY was unable to spot Mr Rajapaksa in any of them.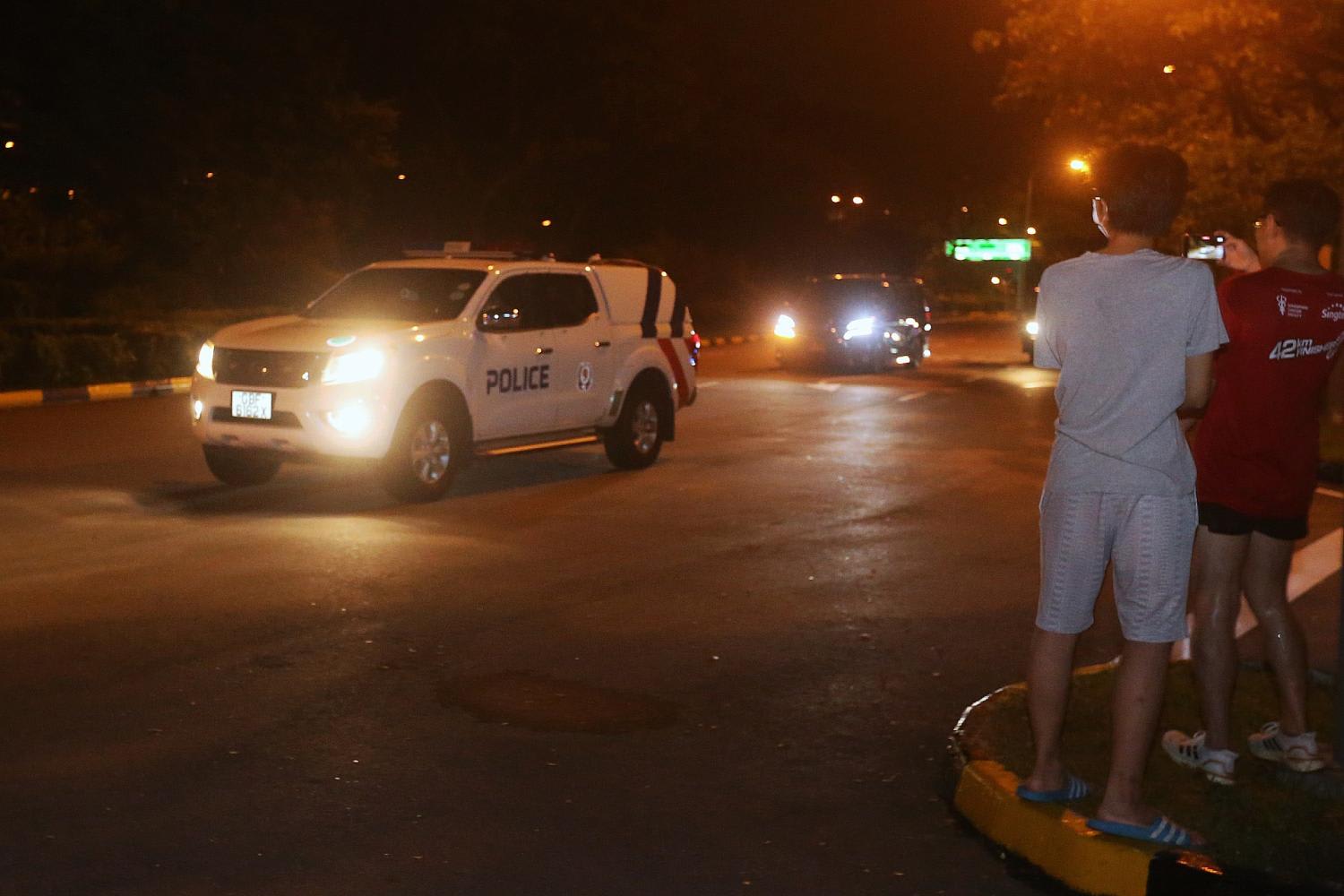 Over at Terminal 3, at least 20 Sri Lankans, including those who have become naturalised Singaporean citizens, were disappointed that they were unable to catch a glimpse of the disgraced president.
Among them was a 38-year-old who gave his name as just "Thaya".
The engineer said that he heard talk of Mr Rajapaksa arriving and wanted to see if it were true, though he would not engage with the president if he saw him. 
"He has already been defeated by the people of (Sri Lanka) and the whole world is looking at him as a person who destroyed a country."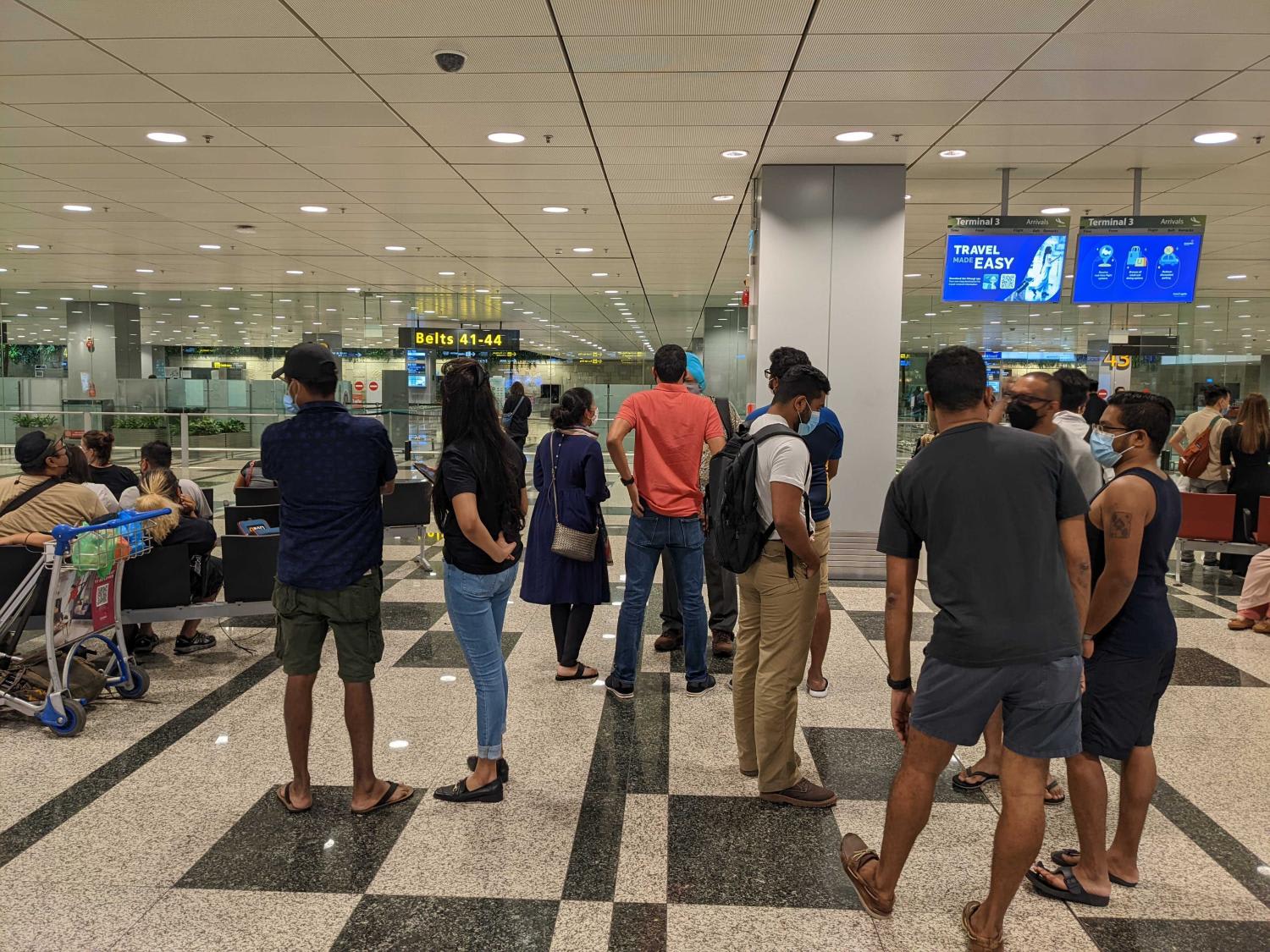 One 35-year-old, also an engineer and who declined to be named, said that he arrived with several of his compatriots because they wanted to show support for their homeland.
"We can't protest… so the best we can do is to come here and at least make our presence felt.
"We can also ask him, 'Why did you come here?'"
The man's companion, who identified himself as just "Max", a 35-year-old engineer, said: "At least we can show him that he can't just run away from whatever problems he created in (Sri Lanka)… or run away from his responsibilities and let the people suffer in the country."

News agency Reuters reported that a fresh curfew was imposed on Thursday in Colombo, Sri Lanka's capital, until early morning on Friday in a bid to prevent further unrest and uprising.