Fengshan, ABC Brickworks stallholders grapple with extended closure as renovations stopped during circuit breaker
SINGAPORE — With circuit breaker measures in place to curb the spread of Covid-19 in Singapore, stallholders at two markets are feeling the pinch as their stalls remain close for at least another month as renovation works were halted midway.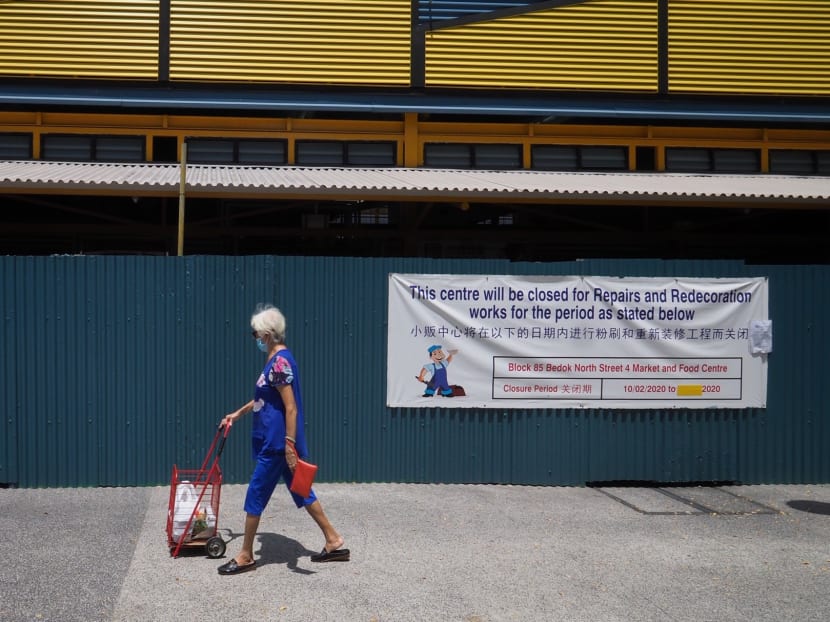 SINGAPORE — With circuit breaker measures in place to curb the spread of Covid-19 in Singapore, stallholders at two popular markets and food centres are feeling the pinch as their stalls remain close for at least another month as renovation works were halted midway. 
Fengshan Market and Food Centre, which has 158 stallholders, has been closed since Feb 10 and was slated to reopen on April 18 but circuit breaker measures were put into place on April 7 deeming renovation works non-essential. 
Meanwhile, ABC Brickworks Market and Food Centre in Bukit Merah which was closed on March 16 for renovation works pushed its reopening date from May 15 to June 16 for the same reason, said the Tanjong Pagar Town Council.
While the reopening date for ABC Brickworks market has been set, Member of Parliament for Fengshan Single Member Constituency Cheryl Chan said there is no certainty when work will resume at Fengshan market.
She added that her appeal to the Ministry of Trade and Industry and Building and Construction Authority for continuation of works was successful as it was at the concluding stage but a lockdown in the foreign worker dormitories eventually put the renovations on hold.
"Reopening of the market depends on whether the foreign workers are available to continue the works after the circuit breaker is lifted and no further restrictions or unforeseen situations," said Ms Chan.
"If it all goes as planned, it will take about two weeks once renovations restart before the hawkers can move in to organise their stalls and prepare for reopening," she said.
HOW HAWKERS ARE GETTING BY 
The majority of stallholders in both markets told TODAY they are waiting it out and relying on their savings to get by.
Over at Fengshan market, Mr Wee Xiang Jun, 31, owner of Ah Balling Peanut Soup, is one such stallholder. 
He had initially thought of selling his desserts online but did not have a centralised kitchen to work from. 
The family is now relying on their savings to get by and Mr Wee is using this time to let his father, who is in his 70s and helps to run the business, rest.
Meanwhile, the owner of Swatow Wanton Noodle Linda Tan said she has also been eating into her savings and even had to put her three employees on unpaid leave after she had to close three stalls in the market for more than two months.
"(My employees) didn't think of getting another part-time job because they thought it was just going to last two months. Now that it's extended, I can't pay them," said the 56-year-old.
However, Mr Ewan Tang, owner of Jin Jin Dessert in ABC Brickworks Market said he continues to pay the one employee he has despite his stall being closed. 
"I put myself in his shoes. With the Covid-19 situation here, it must be tough for him," said the 42-year-old.
Some stallholders have gone online to continue their business and even offering delivery services to keep themselves afloat.
Mr Lester Lee, 25, whose 55-year-old father owns Sin Lian Huat Joss Paper and has been operating in Fengshan market for more than 30 years, said:  "The situation is not going to get better so we have to be innovative and think of ways we can keep the business going. Since there's a demand for praying products, I decided to promote it on social media and even provide delivery services."
While there is some traction online, Mr Lee said their sales continue to take a hit and they have made only about 10 per cent of what they normally make at the physical store since they went digital on May 3.
Mr Giam Chia Yong, 38, owner of Chai Chee Pork Porridge, said that as soon as the circuit breaker was implemented, he knew it would affect the reopening of his stall and decided to transfer his operations to two other pork porridge stalls run by his older brother in Tampines and Bendemeer. 
Although the returns are "not much", Mr Giam said: "We have no choice. Business is bad and we had to do something. The only thing we can do is provide delivery services since people can't dine in at our stalls."
Similarly, Mr Hairi Ansar, who is running his family business Project Penyek by Ansar at ABC Brickworks, also started doing deliveries to aid his dwindling sales while he operates from his other stall in Chinatown Complex.
"Offices are closed and people are working from home, it's a ghost town here in Chinatown Complex. So I decided if people are not coming to me, I should go to them," said the 45-year-old.
THREE MONTHS OF RENT WAIVED
Tanjong Pagar Town Council said it will waive the Service and Conservancy charges (S&CC) charges and Temporary Occupation Licence (TOL) fee for the additional month of closure for stall holders at ABC Brickworks market.
In response to TODAY's queries, NEA said a 50 per cent rental waiver for the month of June will be applicable to stallholders in hawker centres managed by NEA or NEA-appointed operators which includes the ABC Brickworks Market, which has a total of 137 stalls at the market and the food centre.
For Fengshan market, Ms Chan said she has sought for full waiver of rental fees from the NEA, TOL fee and S&CC charges from town councils for all stalls.
Dishwashing and cleaning service charges are waived until they begin operations again.
In June, rental fees under NEA will also be waived 50 per cent, she added.
The three month rental waivers given by the Government have given stall holders like Mr Chua Yok Chai a peace of mind as they take this period to rest. 
The 65-year-old has rarely taken a rest day since his family started operating the bak chor mee stall in Fengshan market more than 30 years ago. 
In the last three months, customers have been calling him non-stop to ask when his stall will reopen but he has reassured them that he will resume operations as soon as the renovation works are completed. 
Ms Chan said she will assess the situation to see if further help needs to be extended after the circuit breaker is lifted so that stall holders can reopen for business as soon as possible. 
"After all, I do not wish their livelihood to be further impacted as many depend on this as their source of income," she added.