WhyQ for hawker food in CBD? Start-up does it for you
SINGAPORE — They hail from India, but fell so deeply in love with local hawker fare that they ditched their banking jobs to start a hawker-food delivery business.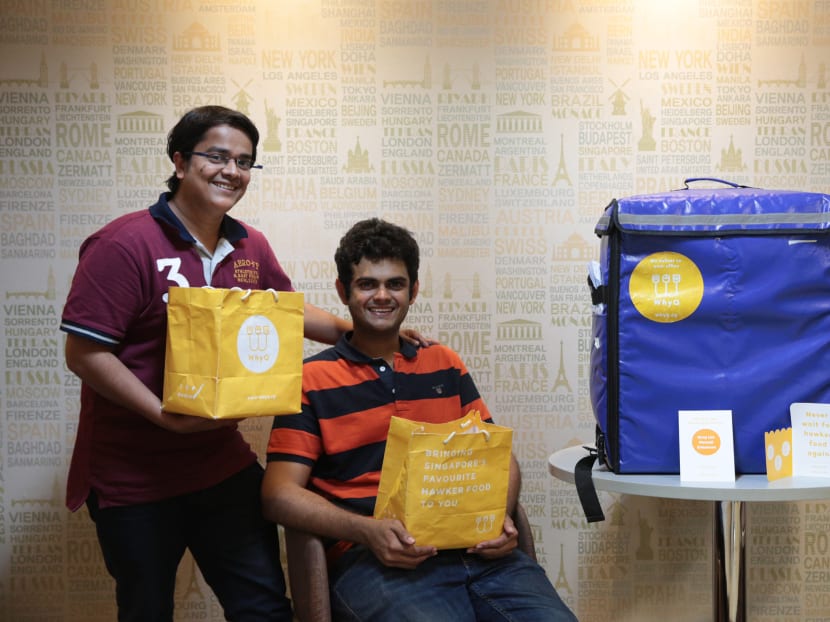 SINGAPORE — They hail from India, but fell so deeply in love with local hawker fare that they ditched their banking jobs to start a hawker-food delivery business.
Mr Rishabh Singhvi and Mr Varun Saraf, both 27, are targeting — for now — fellow hawker-food lovers in the Central Business District (CBD) who are time-strapped.
The pair, who met in Singapore nine years ago as freshmen, said they understand it can be a feat for CBD workers to get an affordable meal in their hectic schedule. So they dreamt up WhyQ, which pools orders from hawker centres and food courts, then delivers them to offices.
The one catch: Orders must be from nearby hawker centres, such as Lau Pa Sat, and up to Smith Street.
This is how they can keep delivery fees low, at S$1.50 per order. There is also no minimum order. Start-ups that previously ventured into this space have bitten the dust due to exorbitant delivery fees that may easily double the cost of lunch.
As its name suggests, the idea was to also to spare customers the wait at hawker centres, which are usually packed during mealtimes in the CBD. WhyQ, started in October last year, delivers from around 250 food stalls at seven hawker centres. 
These include Tian Tian Hainanese Chicken Rice at Maxwell Food Centre and Michelin-starred Liao Fan Hong Kong Soya Sauce Chicken Rice & Noodle at Chinatown Complex — one of Mr Varun's favourites.
At lunch-hour each day, WhyQ's 20-men delivery team sort out food packs at an open space along Cecil Street, then make their way — mostly on foot — to the buildings they are assigned.
Popular office buildings, such as Capital Tower and Marina Bay Financial Centre, get three runs in around an hour. Otherwise, most locations have two delivery timings.
WhyQ has amassed a customer base of 2,500, with about 300 orders coming through its website daily.
Noting how hawker food has fascinated him since he came to Singapore nine years ago, Mr Varun said: "So many delicious options under one roof was almost too good to believe. I'm always looking to try out new cuisines and new dishes, and this gave me the perfect opportunity to do so."
Mr Rishabh said he appreciates how hawker fare is "cooked with love" and is an integral part of Singaporean culture.
"Many (hawker stalls) are family-run outfits and the effort and dedication really come through ... I love going to a hawker centre without having a specific cuisine in mind and then choose on the spot depending on my mood," said Mr Rishabh, who frequents the Healthy Vegetarian stall at Amoy Street Food Centre for its fried kway teow and vegetarian laksa.
While WhyQ presently operates only in the CBD and during lunchtime, its founders have set their sights on other business districts — such as City Hall, Changi Business Park and one-north — and also plan to extend their delivery times, as well as reach out to residents in HDB flats and
condominiums.
The founders, who do not speak vernacular languages, tap their delivery men as "ambassadors" to engage hawkers who are not conversant in English. Partnerships with hawkers vary. Some are charged a commission ranging from 5 to 15 per cent, while others promise "heartier than normal" meals.
WhyQ's regular patrons told TODAY the service has offered them convenience, but some, like Mr Alex Seow, said there is room to improve in terms of punctuality.
Still, the 26-year-old, who uses WhyQ once a week, appreciates how the service gives him access to popular hawker fare that he would otherwise not visit due to time constraints.
Ms Janice Lim, who works at One Raffles Quay, said: "Their service is good ... Whenever there might be a delay, they will prompt us via a text message. For an additional fee of S$1.50, I would say this is a steal."
Hawker partners said the service helps them reach a larger market, but some were concerned about letting it "cut the queue" of customers on-site.
Said Mr Tony Tan, who sells beef noodles at Amoy Street Food Centre: "It is good for hawkers who want to expand their reach ... But it may sometimes be a bit unfair if we give them priority over (queuing) customers (at our stall)."
Mr K F Seetoh, who founded popular hawker food guide Makansutra, said WhyQ's food delivery service might continue drawing demand if it keeps the delivery premiums reasonable. But he said tucking into a meal at the hawker centre is part of the "hawker food experience".
"Besides, people want to have the freedom to choose and change their minds at the last minute," he added.