From streets to open-air complexes: How Singapore's hawker culture has evolved
​SINGAPORE — Integral to the Singaporean way of life, more than 100 hawker centres islandwide serve as "community dining rooms", allowing residents and tourists alike to get a meal at an affordable price.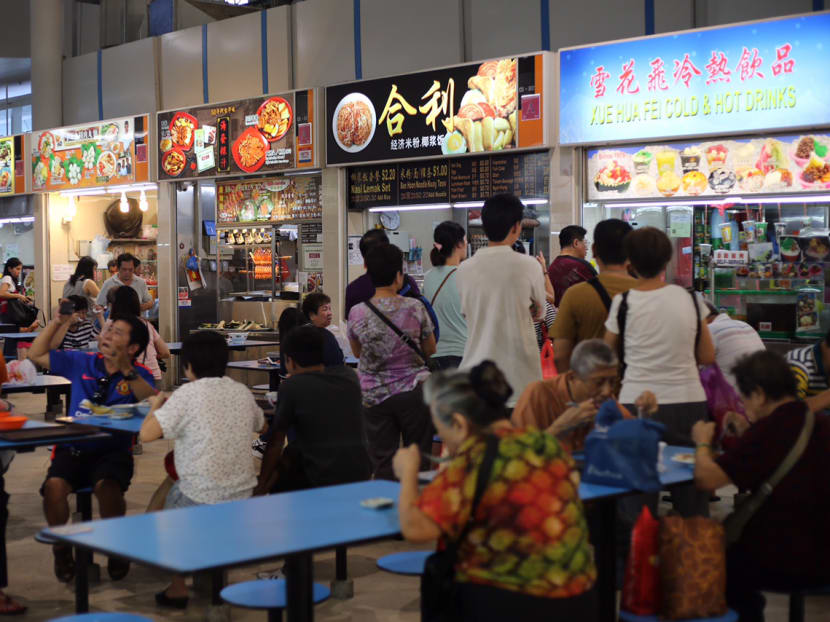 SINGAPORE — Integral to the Singaporean way of life, more than 100 hawker centres islandwide serve as "community dining rooms", allowing residents and tourists alike to get a meal at an affordable price.
While more than three in four respondents to a 2016 survey by the National Environment Agency (NEA) say they visit a hawker centre at least once a week, the history of these open-air complexes dates back only to 1970s. The Republic's hawker culture is linked to the far longer history of street hawking here.
Although there is no definitive date for when street hawking — or sale of food by itinerant hawkers — was first recorded in Singapore, research shows it was a common sight since the 1800s.
In the 1930s, they sold quick and cheap meals to coolies working at the docks and warehouses, and the local clerks and messengers working in offices.
While they provided affordable food, street hawkers plying their trade in pushcarts brought about problems like poor hygiene and obstructed traffic. So as early as in 1950, the British Governor of pre-independent Singapore set up a Hawkers Inquiry Commission to address the problems of street hawking, leading to a policy of housing hawkers at designated locations.
In the 1960s, the authorities started to legalise the trade by registering hawkers around the island. Even after the Republic gained independence in 1965, the demand for cheap and affordable hawker food persisted, so Singapore began the process of moving these roving hawkers out of the streets into hawker centres with proper sanitation and amenities.
One of the first hawker centres in the Republic was Yung Sheng Food Centre in Jurong, which was built in 1971. Today, it has been renamed Taman Jurong Market and Food Centre, following a merger with Corporation Drive Food Centre and Corporation Drive Market.
By 1985, all street hawkers had been resettled into 135 open-air complexes.
For the next 26 years, no new hawker centre was built. During this period, the Government focused its efforts on upgrading the existing centres, investing more than S$420 million to improve their dining and marketing environment under the Hawker Centres Upgrading Programme.
Then in 2011, then Minister for Environment and Water Resources Vivian Balakrishnan announced that 10 new hawker centres were to be built over the next decade, mostly in the new housing estates such as Pasir Ris and Punggol.
A report by his ministry said the economic downturn in 2008 and 2009 had brought greater attention to the cost of food and its significant impact on the overall cost of living. There was also public demand for more hawker centres to be built in housing estates suffering from a dearth of affordable dining options.
The report from the Hawker Centres Public Consultation Panel in 2012 also proposed having social enterprises manage hawker centres with the support from the Government to ensure that the model of management is sustainable in providing affordable food.
In 2013, Kampung@Simpang Bedok became Singapore's first hawker centre to be privately-run by a social enterprise. But it closed down about a year later due to poor business and the lack of financial support.
Nonetheless, several new hawker centres that have opened since are now run by social enterprises. For instance, the hawker centre at Ci Yuan Community Club is run by Fei Siong Food Management's social enterprise subsidiary, while NTUC Foodfare manages a hawker centre in New Upper Changi Road.
To date, there are 13 hawker centres managed by social enterprises.
In 2015, the authorities announced that another 10 hawker centres will be built over the next 12 years to moderate food prices. They will be located in new estates or existing ones that are relatively underserved, such as Bidadari, Sengkang and Bukit Batok.
Of the 20 hawker centres to be completed by 2027, 13 have been opened so far in areas such as Woodlands, Yishun and Jurong West.
In a 2016 report by the Hawker Centre 3.0 Committee, who was tasked to find ways to improve these spaces and promote the trade, they found that three in four Singaporeans visited a hawker centre at least once a week.
They proposed to sustain the hawker trade — where the median age of hawkers is 59 years — through various initiatives, such as an incubation stall programme to give aspiring hawkers a chance to try their hand at running a stall for six, while paying for only half the assessed market rent.
There have been efforts to raise the productivity levels in hawker centres as well, such as grants for kitchen automation equipment like food processors and vegetable cutter.
Socially, the authorities are also trying to promote gracious behaviour within hawker centres by getting Singaporeans to return their trays and share tables.
Even though cash remains the most widely used form of payment at the cooked food stalls in hawker centres, some are taking part in Singapore's drive to go cashless. For example, patrons at Beo Crescent and Clementi food centres can pay using Nets FlashPay while QR codes can be used at Tanjong Pagar Plaza Market and Food Centre.