'Stress levels off the charts': Americans living in S'pore gripped by knife-edge US presidential election
SINGAPORE — Americans living in Singapore are on the edge of their seats, many of them deeply anxious, as they monitor from afar the slowly unfolding results of the cliffhanger United States presidential election.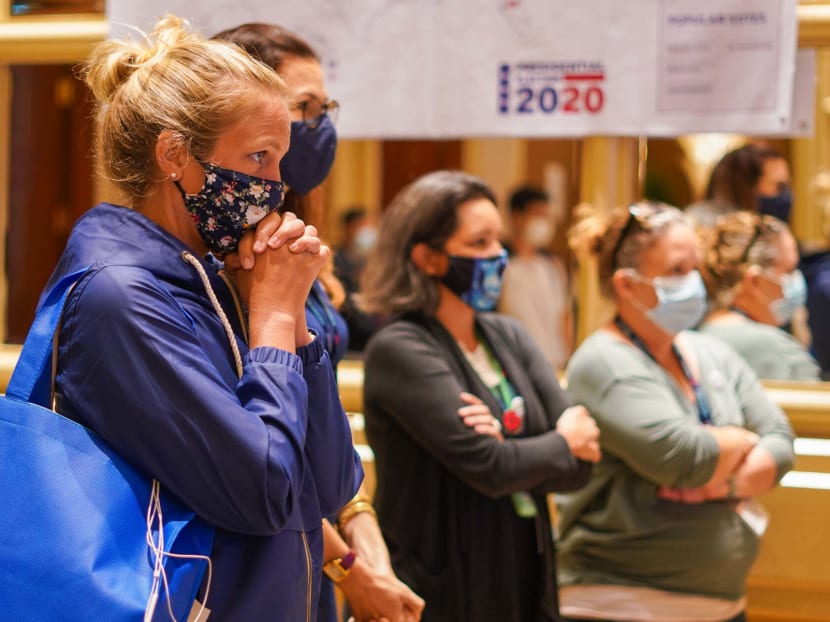 Many Americans living in Singapore are watching the presidential election nervous and alone
Some held watch parties virtually or in a small group, unlike larger parties in normal presidential election years
After two days of counting, the election was down to close contests in five states as of Thursday evening Singapore time
Americans here said a lot riding is on this election, such as action on climate change
SINGAPORE — Americans living in Singapore are on the edge of their seats, many of them deeply anxious, as they monitor from afar the slowly unfolding results of the cliffhanger United States presidential election.
With so much at stake this year, many are watching the race between Republican nominee Donald Trump and Democratic candidate Joe Biden while nervous and alone at home as a result of Covid-19 restrictions — unlike normal election years when they hold large election parties.
Marketing manager Nicholas Braman, 35, originally from Seattle in Washington state, even took a day off from work on Wednesday (Nov 4) to follow the election results closely.
So did human resource manager Lauren Nielsen, 44, who hails from Tennessee, and who said that she and her 17-year-old daughter were glued to the television the whole day.
"A historic election is taking place in the middle of a global pandemic. Our stress levels are off the charts," she said.
After two days of counting, the US presidential election was coming down to close contests in five states as of Thursday evening Singapore time.
Mr Biden, 77, held narrow leads in Nevada and Arizona while Mr Trump, 74, was watching his slim advantage fade in must-win states Pennsylvania and Georgia as mail-in and absentee votes were being counted.
Mr Trump clung to a narrow lead in North Carolina, another must-win state for him.
Ten Americans approached by TODAY who have cast absentee ballots in the race for the White House said that there is a lot riding on this election.
Mr Braman said that the handling of the pandemic, for one thing, had caused significant civil unrest in the country as some Americans resisted Covid-19-related restrictions.
"The next few years will be challenging for many people and countries around the world, and it is sad to me that my country is handicapping itself with in-fighting and hating each other instead of focusing on real issues like the pandemic, world economy, climate change, and the rise of other countries," he said.
Agreeing, homemaker Theadora Davis, 25, who is from Arizona — one of the crucial knife-edge states — said that the election is also a major global concern for non-Americans from an environmental standpoint.
"A vast proportion of the Republican party, including Trump, adamantly refuse to accept the existence of global warming. As a mother, my primary concern will always be ensuring that my children have a safe and healthy future on this planet," she added.
The two presidential candidates are sharply divided on climate issues.
Mr Trump pulled the US out of the international Paris Accord on climate change on the basis that it unfairly penalised America. Mr Biden, on the other hand, has pledged to rejoin the pact if elected and scale back pollutive and non-renewable energy industries gradually.
VIEWING PARTIES A TRADITION
Half of the Americans who spoke to TODAY said that they waited up on Wednesday night anxiously as the results trickled in.
And for many, watch parties — either virtually or limited to a small group — to celebrate the end of a long electoral process are an essential part of presidential election years.
Ms Nielsen said that she started a virtual watch party with family and friends who are living in Tennessee and New York City so that they can "watch each other react and at times — scream". She is rooting for Mr Trump's re-election.
Unlike Ms Nielsen, Ms Jamie Alison Kloor-Shin, 40, wanted to be physically around friends for the nail-biting election and attended a small viewing party at a friend's house.
The last time the New York City native was equally invested in the presidential election was when Mr Barack Obama won the race in 2008 to become the nation's first African-American president.
"I remember that day…there was a great celebration," she added.
Ms Tina Datta, who chairs the Republicans Overseas Singapore group — the party's official association for Americans living outside the country — said that big watch parties were usually held on election nights in Singapore.
"We will put the big TV screens on, watch the results together, cry a little and drink till the end of the night. It's like a big American boondoggle," the 51-year-old said, referring to the slang for time-wasting activity.
But this year, she did not stay up or attend a watch party.
"There are so many moving parts to this election and for me, I'm not in control so I'll just let the process go forward," the California native said.
TRUMP TAKING IT TO COURT
As Mr Biden moved closer to possible victory on Thursday, Mr Trump disputed the results and filed lawsuits to try to stop vote counting.
Tensions have also run high in the two days since the polls closed, with about 200 of Mr Trump's supporters — some armed with rifles and handguns — gathering outside an election office in Phoenix, Arizona, following unsubstantiated rumours that votes were not being counted.
Anti-Trump protesters in other cities demanded that vote counting continue. Police arrested protesters in New York City and Portland, Oregon on Thursday.
Ms Jenni Stackman, a 40-year-old teacher living in Singapore, said that this is one of her biggest concerns.
"I'm concerned that many Americans will be vengeful in victory and defiant in defeat," the Texas native said.
Ms Davis said that she had anticipated the way things have developed.
"His threats to take the election to the Supreme Court is predictable. Mainly because his party basically fast-tracked a new, extremely conservative judge into the Supreme Court following the passing of Ruth Bader-Ginsburg in a very tactical move just before the election," she added.
It took Mr Trump just a few weeks to fast-track the nomination of long-term academic and appeals court judge Amy Coney Barrett to the US Supreme Court. After a four-day confirmation hearing in the Senate, she was confirmed a week before the presidential election.
Ms Davis said: "I don't think people feel strongly about Biden, but people hate the Trump administration enough to cast their vote against them," she added. "I am feeling anxious, as I think everyone is right now."
Horticulturist Kaslin Daniels, 30, who is originally from Pennsylvania — a potential make-or-break state for both candidates — said that she is eager for the election to be over so that the anxiety will dissipate.
"But at this point, it seems like it will be a long time before we're able to breathe a sigh of relief — both with Trump disputing the results and the constant waiting to confirm who has won," she said.
Their sentiments are not unanimous among other Americans here.
Ms Nielsen said that Mr Trump's move to take the election to court was to "send a strong signal" to voters to cast their ballot fairly and follow the balloting guidelines, which differ in every state.
Agreeing, Ms Datta said: "In Michigan, for example, they will count a ballot a certain way but not in other states like Pennsylvania or Wisconsin. That's what the fights are about right now.
"For me, as long as the balloting laws in each state are followed correctly, I will be willing to accept any outcome."
Mr Braman said that it is easy to be caught up in echo chambers during an election so he pays attention to both campaigns.
"It could be that Trump is trying to steal the election and have his newly appointed Supreme Court judge and company give him a second term.
"It could also be that there is some shady voting going on by the left," he added.