Students dissatisfied, NUS dons apologise at emotional town hall on sexual misconduct
SINGAPORE — Emotions ran high at the town hall on sexual misconduct held at the National University of Singapore (NUS), as vice-provost of student life Florence Ling said that it had failed undergraduate Monica Baey after she was illegally filmed while showering in a hostel toilet.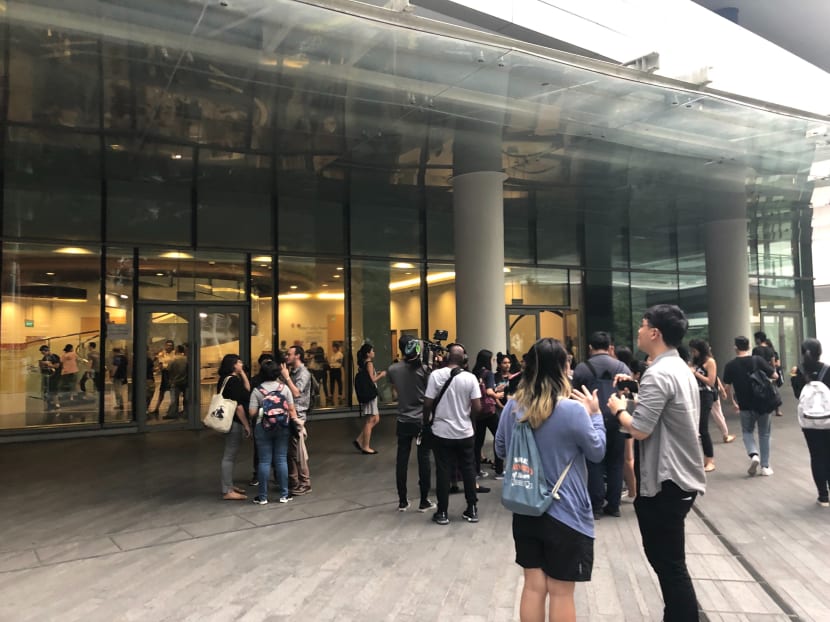 SINGAPORE — Emotions ran high at the town hall on sexual misconduct held at the National University of Singapore (NUS), as vice-provost of student life Florence Ling said that it had failed undergraduate Monica Baey after she was illegally filmed while showering in a hostel toilet.
More than 400 students and staff members turned up, including Miss Baey, 23, who flew back from Taiwan where she is on an exchange programme.
Professor Ling said in her opening remarks on Thursday (April 25): "I apologise to Monica, and anyone of you who has felt unsafe on campus."
Addressing Miss Baey, Prof Ling said: "You should not have had to experience (being) made to walk alone. What you went through, and the difficulties you faced — I can feel that we have failed you."
Miss Baey — who flew back on her own accord — was the first to address the panel, chaired by Prof Ling and comprising dean of students Peter Pang and Ms Celestine Chua, a counsellor from the university.
Calling for better victim support and training for university staff members who deal with these matters, Miss Baey described how she felt "extremely uncomfortable" and "distraught" reporting the incident to NUS, and was unaccompanied when she filed a report at the police station.
Among her suggestions, which she discussed with gender equality advocacy group Aware: Having an office to handle sexual assault and misconduct cases and a 24-hour hotline to support victims.
Offenders could be put on probation or suspension for up to two years, have their offence noted on their university transcripts, and be ordered not to contact the victim, she said. They could also be made to undergo compulsory rehabilitative counselling.
Associate Professor Pang said that the university will immediately work to create a centralised unit for victim care. The unit will coordinate cases of sexual misconduct from start to end.
"If there is one single, most important thing we have learnt, it is that our victim care is totally inadequate," he said.
Security measures at hostels will be strengthened and the review committee set up on sexual misconduct will have full remit to look at all relevant frameworks, he said.
Tensions surfaced, however, when students called for the session to be extended and felt the university should have done better.
STICKING POINTS: NOT ENOUGH TIME, NO REVIEW COMMITTEE MEMBER ON PANEL
The 90-minute session, open only to students and staff members, was not enough for questions and comments by the attendees.

A member from the NUS Students' Union asked for the town hall to be extended beyond 6.30pm as there were still many students waiting to speak, but Assoc Prof Pang turned down the request, saying there was another meeting to attend.

He asked the students to voice their concerns through email.

This drew cries of objection. A student stood up and said email was not an appropriate channel in this instance and asked that the panel hear what the students had to say.
 
Another sticking point was that no member of the NUS review committee on sexual misconduct was on the town hall's panel. Some members, including its chairman Madam Kay Kuok

—

 a member of NUS' board of trustees

—

 were announced earlier this week.

The students assumed that no review committee member was present, and Assoc Prof Pang replied that the committee was still being formed. Students questioned if the views and feedback raised would be heard by the committee.

Prof Ling said that staff members were present to take down all suggestions and would relay them to the committee.
 
Students felt that the panel did not present suggestions or proposals at the town hall, and that the university had failed to tap its wealth of academic resources.  

"All that we have heard is that we need to come together as a community, but (they) give us a lecture hall smaller than (where) some of my lectures (are held)," a student said at the session. "You have so many people who are academic experts, but it feels like you are not drawing on those resources, but instead asking your students to reiterate their suffering to you. What concrete measures are you going to be taking?"

In response to a student who shared a friend's experience as a victim of voyeurism, Assoc Prof Pang acknowledged "there are inadequacies but this is not our university's intention". Feedback will help to improve its processes, he said.
 
Some wanted more students to be represented in the review committee on sexual misconduct. NUS said last Saturday that the committee will have two student representatives. On Thursday, Assoc Prof Pang said that it was up to the committee if it would accept more students as members.
 
A student began sharing how she was molested in 2016, and when Ms Chua offered to speak to her privately due to the traumatic nature of the experience, another attendee shouted: "Let her speak."

The student recalled that there was a lack of support given and her case was eventually dropped due to a lack of evidence. Assoc Prof Pang thanked her for the courage to speak up.
'RELATIONSHIP BETWEEN STUDENTS AND ADMINISTRATION MUST CHANGE'
TODAY spoke to seven students and two staff members after the town hall. All expressed discontent at how the session unfolded.
Mr Suraendher Kumarr, 24, said that the panel's responses to some of the feedback "showed that there was a total gulf between the students' experiences and what the university leadership is experiencing".
"This, if anything, shows the need for increased consultation between the students and the university administration," the fourth-year political science student added.
An NUS staff member, who requested anonymity, questioned the impartiality of some review committee members and whether they would conduct a fair assessment of the university's policies and procedures surrounding sexual misconduct.
Student Megan Gail Morais, 21, felt that the town hall was "woefully short" and it was unclear whether the university would be holding future consultations with students.
A 25-year-old law student, Mr Daryl Yang, said: "The relationship between the students and the administration must change. They need to understand that we are here to work with them, and they need to include us in the process."
Asked for her thoughts on the session, Miss Baey said: "I think that although there is a lot of room for improvement on how town halls are conducted, it's a start."