Substantial evidence drug abusers have higher tendency to commit crimes: Shanmugam
SINGAPORE — Drugs remain an area of concern here, with "substantial" evidence that drug abusers have a higher tendency to engage in criminal behaviour, Law and Home Affairs Minister K Shanmugam said on Friday (June 28).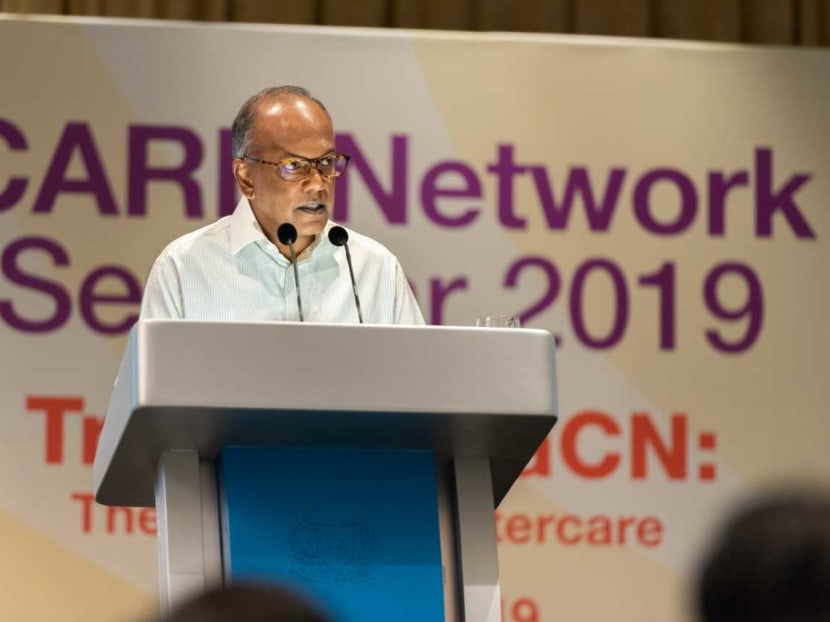 SINGAPORE — Drugs remain an area of concern here, with "substantial" evidence that drug abusers have a higher tendency to engage in criminal behaviour, Law and Home Affairs Minister K Shanmugam said on Friday (June 28).
Speaking at a seminar held at the Fairmont Singapore hotel on efforts to rehabilitate and reintegrate ex-offenders into society, he said that most prisoners were in jail either due to drugs, or because they had a drug history and had committed some other crime.
Mr Shanmugam also reiterated the thinking behind major changes to Singapore's approach to drug offences, passed by Parliament in January this year, which put a greater focus on rehabilitation, moving away from long-term detention in some cases.
"We need to help abusers break the cycle of abuse," he said on Friday. "Instead of always treating it purely as a crime and abusers as criminals, we distinguish between those who are pure abusers of drugs and those who go on to commit other crimes."
He added: "We have to protect society from those who commit other crimes, and help them break their drug habits. But for the pure drug abusers, we have taken a much more rehabilitative approach. That was very important and central all along in our approach, but we have decided to take that much further.''
Mr Shanmugam said the number of drug abusers on community supervision stood at 2,300 as at May this year and was expected to rise to 3,000 by the end of next year — and further beyond that.
A report released by the Central Narcotics Bureau in February this year flagged a worrying trend of drug abuse among young people. The report found that 40 per cent of drug abusers arrested last year had been first-time offenders, with two-thirds aged below 30. There had also been an 11 per cent jump in those arrested for drug offences between 2017 and 2018.
Statistics from Singapore Prison Service showed that as of last December, 70 per cent of 10,809 inmates were incarcerated for drug-related offences.
Mr Shanmugam highlighted three triggers causing drug abusers here to engage in criminal behaviour. First, the fact that using drugs is illegal in Singapore. Second, those who use drugs also committed robbery or theft to fund their drug habits and third, many were often involved in the illegal drug trade.
MALAYSIA'S MOVE TO DECRIMINALISE PERSONAL USE
Mr Shanmugam was speaking a day after Malaysia announced that it would decriminalise drug addiction and drug possession for personal use.
In a press statement released on Thursday, Malaysia's Health Minister Dzulkefly Ahmad said that his ministry would remove criminal penalties for "possessing or using a small quantity of drugs for personal use".
The "game-changer policy" would allow the country to achieve "a rational drug policy" which put science and public health ahead of punishment and incarceration, he said in the release.
He also said there was evidence that decriminalising drug addiction had not led to an increase in drug use and drug-related offences, and would lead to human and fiscal benefits.
Malaysian news website The Malaysian Insight reported Dr Dzulkefly as saying that prisoners categorised as drug addicts would be given treatment and rehabilitation. However, he stressed that the move was not to be mistaken for legalising drugs and that trafficking drugs would remain a crime.
Mr Shanmugam did not refer to Malaysia's change of approach at the seminar, but he gave examples of how the legalisation of drugs in some jurisdictions has had a negative impact.
For instance, research indicated that drug mortality rates in Portugal had increased 150 per cent between 2001 and 2008 after it decriminalised drugs.
A neighbourhood in Los Angeles, United States that had allowed the medical use of cannabis also saw an increase in crime the following year, including a 49 per cent jump in robbery and a 44 per cent rise in aggravated assault.
Addressing the perception among some that cannabis was harmless, he said studies had shown its use could cause brain damage in children exposed to the drug while in a mother's womb or in adolescence. He said Singapore's approach to cannabis would be based on evidence, rather than ideology.
Mr Shanmugam also cited an Australian study which found that the likelihood of a meth user reporting income from a crime was more than four times higher than that of a non-drug user.