'Such a big loss': Music conductor Adrian Tan dies from cardiac arrest at 44
SINGAPORE — Music conductor Adrian Tan died from cardiac arrest on Monday (July 12) while sleeping at home. He was 44.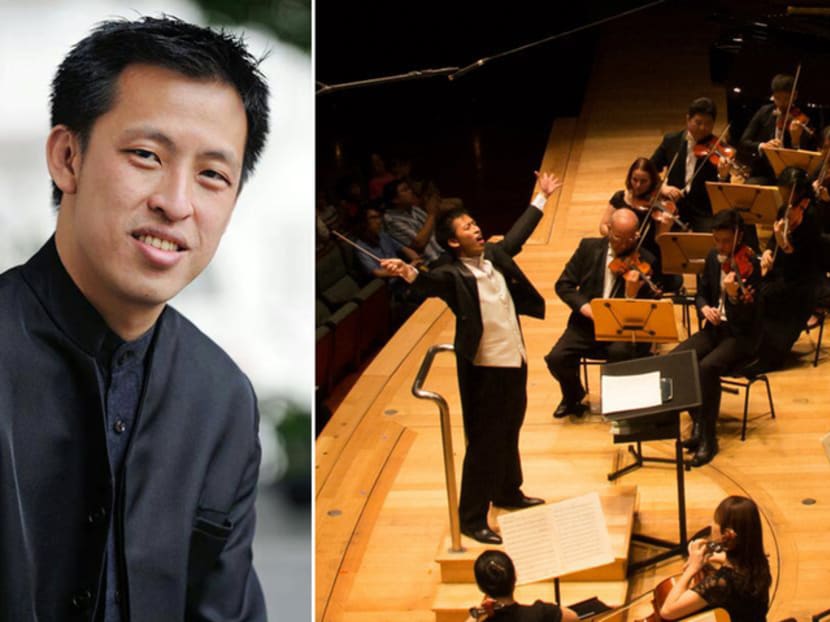 Conductor Adrian Tan died in his sleep of cardiac arrest on July 12
News of his death shocked his friends and colleagues
They remembered Tan as someone committed to the music scene here, who helped promote Singapore composers
SINGAPORE — Music conductor Adrian Tan died from cardiac arrest on Monday (July 12) while sleeping at home. He was 44.
Shocked at the news of his unexpected death, friends and colleagues on Tuesday remembered Tan as a gifted conductor, deeply devoted to the music scene here.
"The music director family is not a very big family and we feel the loss very keenly. He's always very hands-on," jazz musician Jeremy Monteiro said.
Tan had graduated from the National University of Singapore, majoring in theatre studies, before being awarded by the National Arts Council an overseas scholarship to pursue his postgraduate degree.
After graduating with a Master in Music Studies (Conducting) from the Sydney Conservatorium of Music where he trained under Hungarian conductor Imre Pallo, Tan held several directorships in various music orchestras in Asia-Pacific.
Since 2012, he had been serving as music director of the Singapore Wind Symphony and the Braddell Heights Symphony Orchestra in Singapore.
Speaking to TODAY, several of Tan's friends remembered him for his dedication towards his craft as well as his advocacy for Singapore composers or conductors.
Mr Johan Ezran, who is chairman of the board of directors at the Singapore Wind Symphony, said that many compositions and arrangements produced by locals were a result of his efforts in promoting Singaporean music and talents.
"Under his baton, the SWS has commissioned more than 100 local works, worked with many Singapore and international artistes and even showcased our local music and talents at international platforms under his distinguished musical direction," said Mr Ezran.
Friends with Tan for about 20 years, Mr Adrian Chiang, adjunct lecturer at the Yong Siew Toh Conservatory of Music, said that he was influenced by Tan to also advocate for Singapore compositions in the past few years.
"He always said this: 'If we don't play local composers' works, who will?' It was his belief that it was the way to help the Singapore music scene — by creating a better ecosystem," he said.
Mr Monteiro recalled performing with Tan on several occasions, the last being the Chamber Jazz concert in March this year, held at the Esplanade theatre.
Due to safe distancing rules to curb the spread of the Covid-19 disease, Mr Monteiro said that Tan could not come on stage during the show as only a limited number of musicians were allowed.
Yet, Mr Monteiro recounted how Tan was still present during every single rehearsal, helping to train the string players.
He added that the video showcasing the Chamber Jazz concert was just completed on Tuesday, just a day after Tan's death.
"He didn't get to see it. I was heartbroken when I heard the news," he added.
Jazz singer Jacintha Abisheganadan recalled working with Tan in September 2019 for the 30th anniversary of one of Singaporean composer Dick Lee's albums.
She said Tan was managing a 100-strong choir, and worked very hard during rehearsals.
"A lot of our orchestras are classically based but Adrian was able to straddle classical, pop and jazz, he could combine genres, could even weave in solo instruments like the tabla in the performances and that's why he was such a big loss to the community," she said.
Mr Terence Ho, a former Nominated Member of Parliament and now the executive director of Singapore Chinese Orchestra, said that Tan would always listen to the speeches he made in Parliament and would reach out to him to talk about what more can be done for the arts community.
"That was how dedicated he was in growing and honing the arts and culture sector in Singapore," Mr Ho said.
He added that it was not easy to conduct a community orchestra as it is usually made up of musicians with varying skill levels and they typically do not have much resources.
"I think his goal was to just get more people involved. And that's one good thing about him. It's about the community spirit," Mr Ho said.
The Straits Times reported that Tan leaves behind his mother, with whom he lived.