The changing face of the Singapore dollar
SINGAPORE - The Singapore currency turns 50 this year. It was on June 12, 1967, that the Malaya and British Borneo Board of Commissioners of Currency ceased to have currency-issuing powers, and Singapore issued its own currency.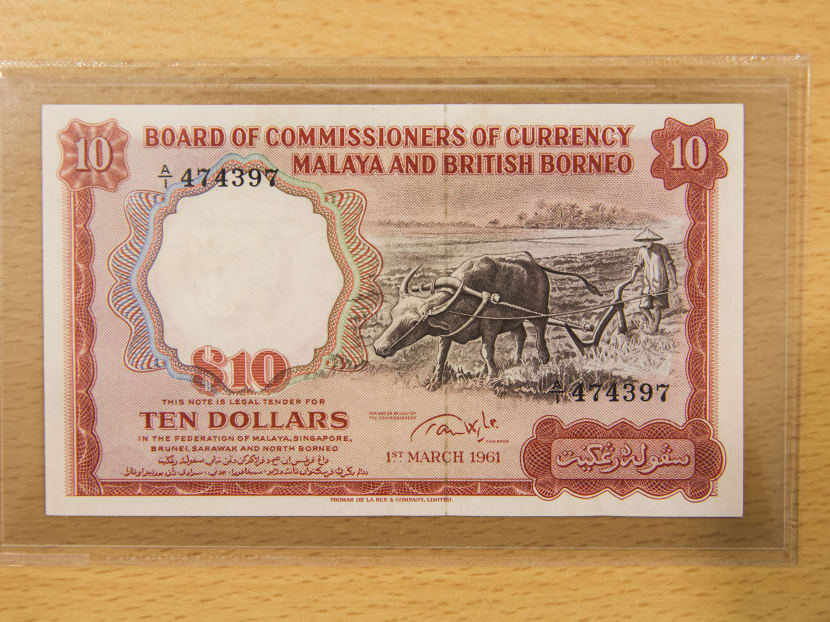 SINGAPORE - Following years of searching, avid banknote collector Patrick Loh finally got his hands on what he described as one of his most prized possessions: A $10 dollar note issued in 1961 by the Malaya and British Borneo Board of Commissioners of Currency, and pre-dating Singapore's independence.
"I got my first piece probably about five to six years back. I paid over S$1,000 for it," the 47-year-old engineer said. 
Mr Loh estimates that his collection of more than 1,000 banknotes is worth over S$100,000. It is kept in a safe at home. "In the event of an emergency, besides worrying about my life, the first thing in my mind would be to grab my collection before I run. It's not so much because of the monetary value but its sentimental value," said the father of three.
Mr Loh's interest in collecting banknotes started 30 years ago - on the day when he was given a S$20 note from the bird series as part of his pocket money as a teenager. He was immediately taken in by the intricacy of the note's design, he recalled.
The Singapore currency turns 50 this year. It was on June 12, 1967, that the Malaya and British Borneo Board of Commissioners of Currency ceased to have currency-issuing powers, and Singapore issued its own currency. This came after Singapore and Malaysia could not agree on an arrangement for the adoption of a common currency.
Over half a century, the Singapore currency has undergone four makeovers - with orchids, birds, ships and portraits of the Republic's first President Yusof Ishak printed on the banknotes.
In a little over 30 years - between 1967 and 1999 - the design was changed four times, providing collectors home and abroad with plenty of materials for their hobby. The latest design, the portrait series, which was introduced in 1999, is the longest-running series.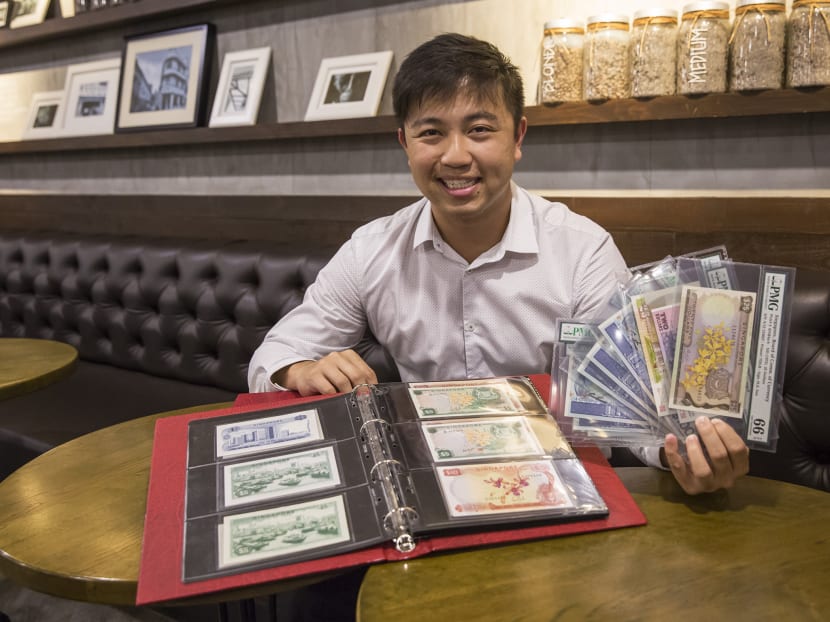 Mr Nat Toh's interest in collecting Singapore banknotes started when he was in primary school, and he received his first S$10 orchid banknote from his mother. The 31-year-old oil trader has since expanded his collection to all the four series, as well as notes that were issued before Singapore became independent.
To complete his collection, which he estimates is worth more than S$50,000, Mr Toh even travelled overseas to England and Australia. "During World War II, some soldiers may have come here and then went back with some of the notes," he said. Mr Toh said he keeps a S$10 orchid banknote in his wallet wherever he goes.
Often, the note becomes a "conversation starter" to people whom he meets as they have not seen it before, he said.
 
THROUGH THE YEARS  
Singapore's first currency series was the orchid series, which was in circulation from 1967 to 1976. It had nine denominations, with a dominant feature of orchids in the centre of the front of each note.
The first Singapore notes to be printed carried the signature of Mr Lim Kim San. Mr Lim was Singapore's Finance Minister between 1965 and 1967, and the inaugural chairman of the Board of Commissioners of Currency, Singapore.
The second series was the bird series which was circulated from 1976 to 1984. The birds represented strength, independence and adaptability, depicting the values of a young Singapore, according to the Monetary Authority of Singapore (MAS) website.
The ship series was next, issued from 1984 to 1999. It paid tribute to the contributions of merchant shipping to the development of Singapore, which rose from an entrepot hub to become the busiest port in the world.
The portrait notes was launched on Sept 9, 1999. It featured the portrait of Singapore's first President Yusof Ishak – who died in 1970 - honouring his contribution to the country.
There are seven denominations: S$2, S$5, S$10, S$50, S$100, S$1,000, and S$10,000. The series was designed by local artist, Mr Eng Siak Loy, who remains the first and only Singaporean to date to design an entire series for the Republic's currency.
Some of the notes carry special features. For example, the lyrics of the Singapore national anthem is printed on the back of the S$1,000 note.
From time to time, commemorative notes and coins have been issued. For instance, in Dec 1999, to mark the coming millennium, three million commemorative S$2 notes were issued, with the prefix of the serial number replaced with a Millennium 2000 logo.
Polymer notes was introduced in the early 2000s. These notes are three to four times hardier than regular ones, according to experts. Both paper and polymer notes are in circulation today.
In July 2014, the MAS announced that it would stop printing S$10,000 notes to reduce the risk of money laundering. The notes are still legal tender.
DETERMINING A NOTE'S VALUE
So what makes a banknote more valuable than its face value? Collectors told TODAY that the value depends on factors such as rarity, age, condition, and whether a note contained a special serial number.
It is not a given that the value of a banknote rises over time, Mr Toh said. "In fact, inflation might even depreciate the value of the notes."
He added: "The value really depends on demand and supply. For some notes the currency board may have printed a limited supply which increases their value." 
For example, a S$5 orchid series banknote carrying the signature of Singapore's late Deputy Prime Minister Goh Keng Swee is very rare, Mr Toh said. This is because a limited number was printed, and the value of such a note could be as high as S$1,000, he added.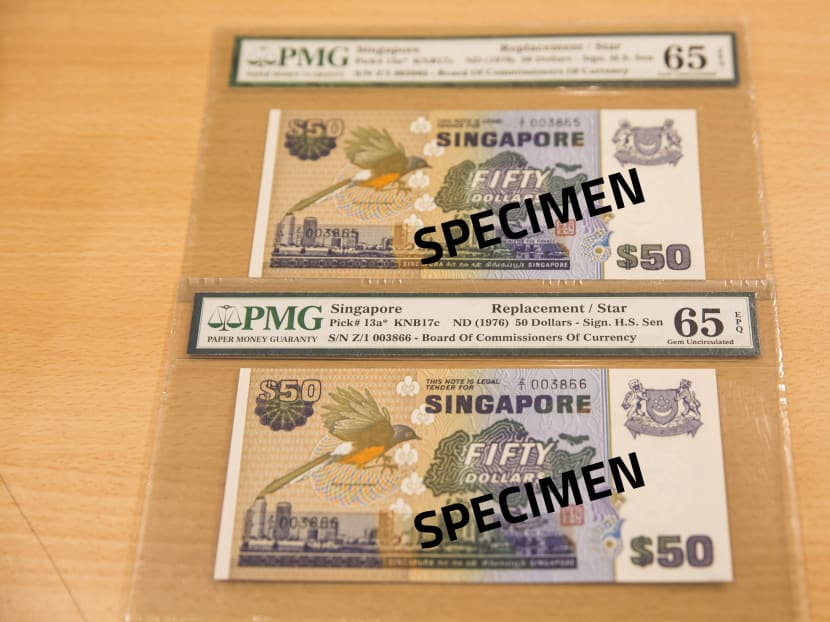 Banknotes with errors as well as those issued to replace damaged pieces during production are even rarer, and thus more value, collectors said.
Notes with error would usually be destroyed during the production stage. "Finding a banknote with an error is akin to striking 4D. It's very rare," Mr Toh said.
Mr Loh has had some Singapore banknotes with errors in his collection. These notes included some with mistakes in their serial number, or images that were misaligned. He once sold two pieces of S$100 banknotes with erroneous serial numbers for S$800 in total to another collector.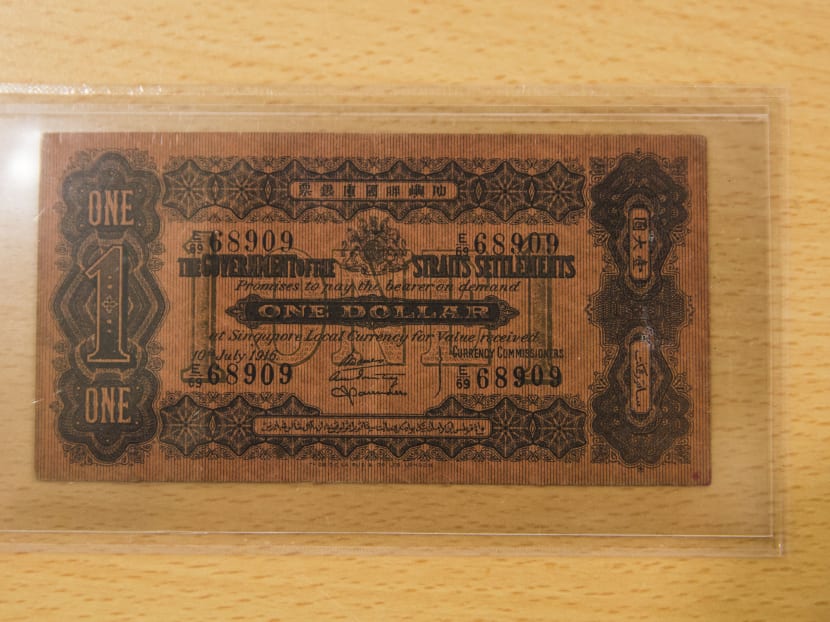 Currently in his collection, he has a S$5 note from the ship series which has ink smudges, and a few S$1 notes with the seal overlapping the signature, for example.
Also among his prized possessions is a 101-year-old $1 banknote issued on July 10, 1916, during the Straits Settlements period. It was passed down three generations, before it was sold to Mr Loh, who bought it for between S$300 and S$400.
The note, which remains in pristine condition, is the only one of its kind, according to Mr Loh, who visits auctions and dealers, as well as meets up with other traders to look for rare finds.
 
A THRIVING TRADE 
The business of buying and selling banknotes have been thriving over the years, given a new lease of life by the Internet. With online bidding, coin and banknote auction houses say they have seen an increase in interest. 
These days, apart from Singapore collectors, a portion of the bids come from overseas buyers, said Mr Leon Lee, 55, a partner of coin-and-banknote dealership Monetarium Singapore.
The company's auction arm has held auctions for about two decades, running two a year in March and October.  
Another auction house, Mavin International, holds about three auctions a year. It was founded 15 years ago by banknote and coin enthusiasts, said Mr Cheung Pheichiat, 49, a co-founder. 
Auctions are usually held at hotels and each one may take an entire day or two to be completed. Depending on the interest in the items to be auctioned, around 50 to 100 people would usually attend the sessions in person, on top of those – usually a younger crowd - who would take part online, the auctioneers said. 
Recounting one of his most memorable auctions, Mr Lee recalled how a commemorative SG50 note – bearing the serial number 50AA000001 - with a face value of S$50 was recently sold for S$100,000. 
According to the MAS, the highest price paid for a single note in an auction was S$155,000, for a S$1,000 note from the portrait series bearing the serial number 2AA000001. It carried the signature of then-MAS chairman and Singapore's second Prime Minister Mr Goh Chok Tong. 
Mr Cheung reiterated that auction activity has grown due to online bidding in recent years, which enable both local and foreign buyers to take part. Sometimes, there are even more people bidding online than in person at an auction, he said. 
Mr Toh, for one, is a fan of online trading of notes. Noting that it has drawn a new generation of collectors – he encounters young collectors on online discussions - he said he has sold some banknotes on eBay to overseas buyers from the United States and United Kingdom.  
'NOT JUST MONEY, BUT PIECES OF ART'
With the portrait series in circulation for the almost two decades, collectors are hoping for a new series to add to their collections. They suggested portraits of Singapore's first Prime Minister Mr Lee Kuan Yew, who died in 2015, as well as images of Singapore's skyline and modern buildings.
Mr Loh cited the Marina Bay Sands, Singapore Flyer, Gardens by the Bay, and the Central Business District area as possible places to depict. "Singapore today has so many new buildings… It will be a bit boring if you stick with portraits for so long," he said.
In particular, the collectors felt that a series featuring Mr Lee Kuan Yew would be a collector's item, not just domestically but internationally given the former statesman's standing. 
In response to TODAY's queries, the MAS said it was unable to provide information on whether a new series was on the cards.  
For many of the collectors, their hobby provides a window for them to learn more about the country, including its history. 
Mr Loh said he would not part with his collection for any amount of money. He wants to leave it for his children – the youngest of whom, at 10 years old, has already shown an interest in the hobby. 
"(Banknotes) don't appear to me as money to be spent. They are more like collectible items, pieces of art," he said.