Lives less ordinary — How Geylang Lor 3 residents embrace the estate's messy but quirky charms
Wong Pei Ting and Megan Ng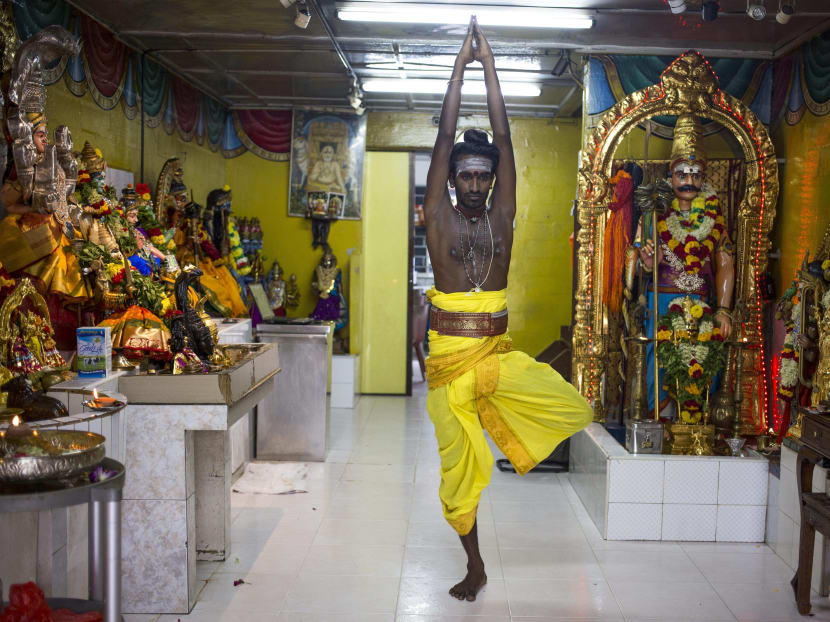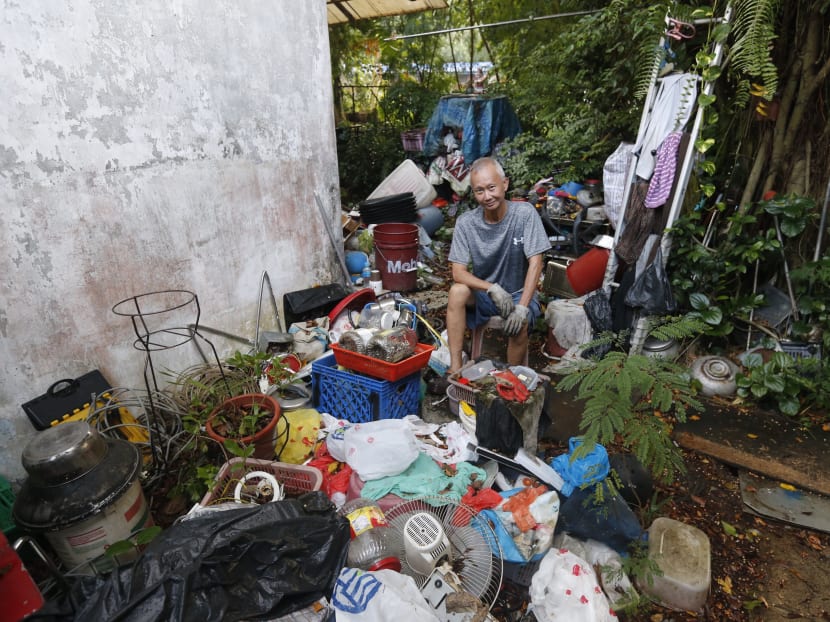 SINGAPORE — Leaky roof extensions, shoddily patched walls and rubbish-strewn alleys are a common sight in Geylang Lorong 3, a world apart from the neater, well-manicured private estates elsewhere.
The 2ha estate is making history as Singapore's first private residential plot to be returned to the state in three and a half years, on the expiry of its 60-year lease.
In the last two decades, the 191 terrace houses, built in 1960 to rehome Chinese families displaced by a major kampung fire, have transformed from a largely working class neighbourhood to one populated mainly by foreign workers and temples. Only 33 owner-occupied units are left, 143 units are occupied by foreign workers and another 31 by places of worship, according to Singapore Land Authority (SLA).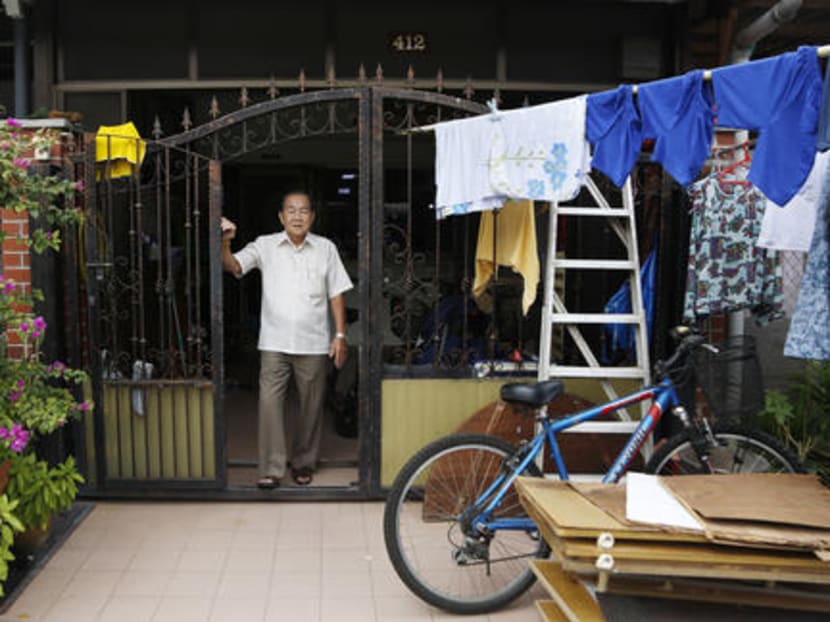 FROM CHINESE KAMPUNG ...
In 2020, retiree Yeo Chai will become one of a handful of people who can lay claim to the dubious honour of having lived through one's land lease.
For S$5,000 in 1961, his parents bought the house after the estate was rebuilt, following a major fire in the 1950s that razed the area's over 100 attap houses to the ground.
Many of the 80-year-old's fondest memories are anchored to this area, where he has lived since he was five. His parents lived here till they died, and it was also here that he got married and raised three children.
Today, two of his grandchildren, age 20 and 25, live with him and his 79-year-old wife in the spacious two-storey home, complete with a porch that can be air-conditioned for mahjong sessions and an outdoor kitchen sheltered by a makeshift tin roof to keep cooking fumes out.
The estate, he admits, has seen better days. About 10 years ago, the majority of his wiser Chinese neighbours, realising that the land lease was coming up, had cashed out — either by selling or renting their properties.
In came the deluge of foreign workers and temples which made the estate much "messier". But the man who could speak only Mandarin and Hokkien continued to leave his front doors wide open to his new Indian neighbours, and makes his backyard, where he keeps his three beloved songbirds, accessible to all.
The retired woodworker did not think much of the expiring lease. He told TODAY: "I thought the Government would somehow grant a lease extension as that seemed to be the case with many other properties."
Not only had he withdrawn most of his Central Provident Fund savings, but he had also given his children their inheritance in advance, to prevent them from fighting after his death.
None of his life savings was set aside for housing. And he had just spent S$995 to buy four metal cabinets to upgrade his storage space.
Now, he worries about how he will secure new housing — preferably a three-room Housing and Development (HDB) flat — for himself and his wife.
"I am just looking for any cheap house we can buy, hopefully with heavy government subsidies … I don't really want to buy a house at this age, but if I don't buy, I will have no place to stay, unless I rent from the Government," he said.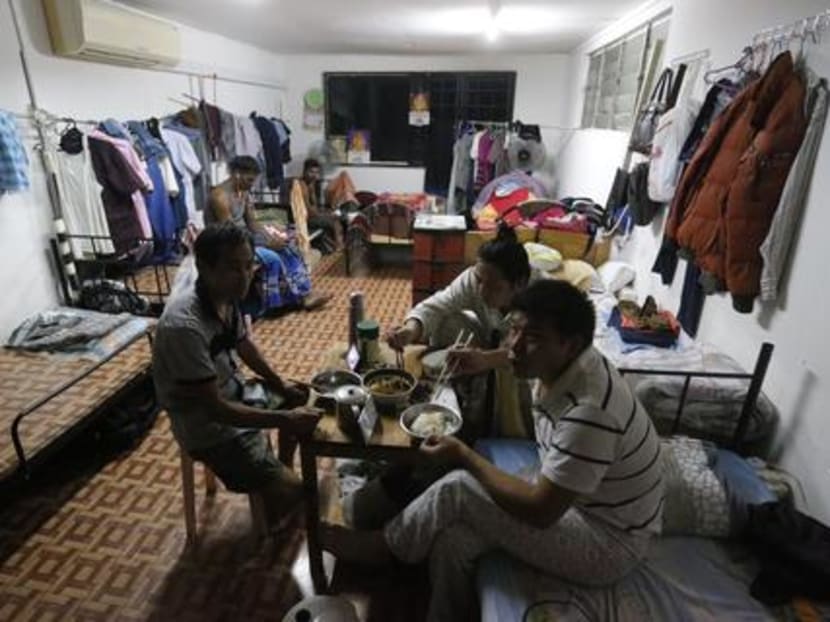 ... TO FOREIGN WORKER TOWN
For the close to 1,000 foreign workers living in the estate, life at Geylang Lorong 3 is "very relaxing", boosting greater freedom and space compared to living in dormitories. It is minutes from town and comes with a prime river view.
Thai national Jakkaphan Jadnok, 44, has been staying there for six years. On his days-off, the concrete pump contractor goes fishing by the river or cycles 20 minutes to the nearby Golden Mile to check out the latest Thai serials in DVDs for sale.
He used to sit with his friends in the back alley to sing Thai and even popular Chinese songs. Once a month, they would gather for a satisfying meal of mookata, or Thai barbecue steamboat, in the living room.
His housemate and co-worker, Mr Kesamah Wuthichai, 48, exercises by jogging along the river daily.
Over at unit 766, a "family" of four Indians, three Chinese and one Bangladeshi would huddle in different corners of the terrace house to catch up on a TV series or speak on the phone when they get back after a long day at work.
The workers for Lee Hin Renovation Contractor also take turns using the kitchen to whip up their dinners. Given that they prepare and eat dinner at different times, they worked out a nice routine.
"It's cleaner and more free here. Plus we don't have to queue to use the kitchen," said Chinese national Zhu Gaoyan, 49, who moved in a year ago.
Most of these workers, however, will have to relocate once the lease is up. The SLA said their employers may consider relocating their workers to other approved housing, such as purpose-built dormitories.
When asked how he feels about moving to a dormitory, Mr Jadnok said: "I haven't stayed in a workers' dormitory, and I don't want to stay in a workers' dormitory."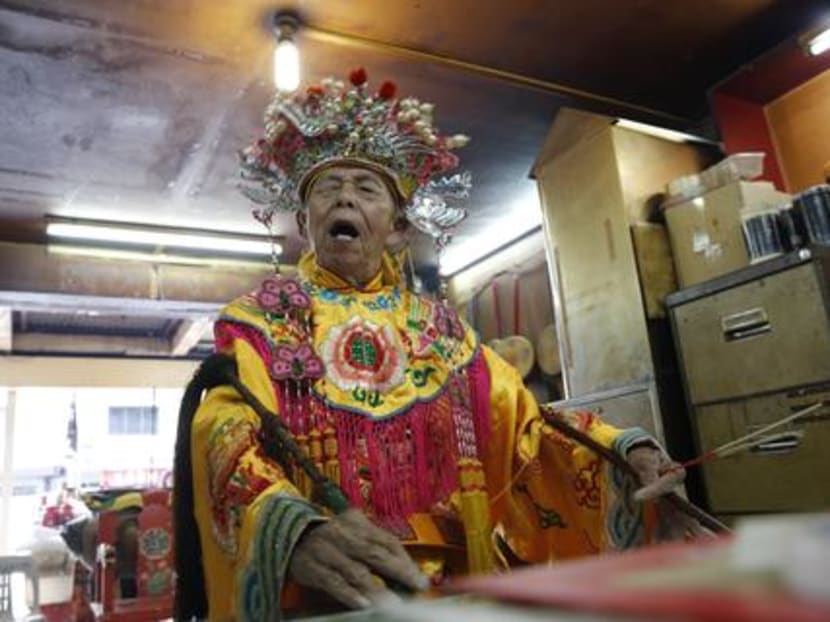 TEMPLES APLENTY
For the pious, the estate is a perfect place to seek solace as one in six units are currently used for religious purposes.
From 6am, passers-by can take free yoga lessons at Jatamunishvarar Temple, which has been operating there for five years.
An Indian yoga guru, 25-year-old A S Maha Shiv Manikanban, has taken up residence at the temple in the last two months, upon completion of his masters' degrees in computer science and yoga.
The Tamil Nadu native has been impressing passer-bys with his elaborate yoga poses in the hall of the temple.
Some streets down, at the Jiu Tian Xuan Nu Gong Taoist temple, Taoist devotees can seek a connection with their chosen deity for better health, more wealth, or to resolve a family issue.
Some would also come seeking talismans for "protection" or to "ward off evil".
Mr Teo Koon Chye, the 90-year-old sole guardian of the temple, has been based there for more than 10 years.
After the Chinese spirit medium (tongji) found out from the SLA officers that he has to move out in under four years, he went into a trance for the first time in three years.
Channelling a goddess called Ci Bei Zu Mu in front of TODAY, his message was a long and angry one, of uncertainty over the temple's future.
A tongji since he was 25, Mr Teo said his job is an important and sacred one. "There are very few tongjis left in Singapore. Fake ones, there are many … I can't just drop my care of the statues and shut down what has been passed down over decades from my master."
He had moved his temple to Geylang Lorong 3 after the Pasir Ris plot that he was last on was acquired by the Government for redvelopment into public housing. Now, his temple will have to make way again — for another batch of public housing.
His only hope now is that Government can help him relocate his temple.
MAKING LEMONADE OUT OF LEMONS
Although the deluge of transient workers who moved in in the last two decades have brought with them a ton of waste, some residents have decided to make lemonade out of the lemons they had been handed.
Retired camera assistant Sam Guam, 61, is one who sees the rubbish as a boon to his eco-conscious lifestyle. The bachelor, who has lived here since he was four, has spent the last 20 years picking up and recycling the items he finds in the estate.
Under the tarp by the gate of his corner terrace unit lies a pile of bicycle skeletons. Lining the stretch of alley bordering his house are dismantled remains of fans, wheels, trolleys, even an adult walker, alongside a pile of plastic containers, tubs, bins and crates.
Hunched over a full bag of soft drink cans in his open-air backyard, Mr Guam said "this is for charity". He plucks the tabs, which can be recycled to create prosthetic limbs, and collects them in a plastic container.
"(The worker) threw many things that are recyclable … so I sort out the copper wires, whatever is plastic, or anything that can be recycled and sell them," he told TODAY.
"When the foreign workers party, they tend to drink a lot. I go and collect their cans before they are thrown away."
Word got around and soon, some workers understood his efforts and would stash aside their bottles and cans for him. A kilogram of aluminium cans would fetch up to a dollar, he said.
At Jiu Tian Xuan Nu Gong temple, three broken refrigerators are used to stash joss paper and sticks so they do not become a fire hazard. "They don't cost a cent," said Mr Teo, who whiles away his time taking apart items he finds at a workstation in his backyard.
Guardian of Shan De Tang Taoist temple, Mr Lua Kim Chuan, is another collector. His two weeks' worth of cardboard, metal cans and plastics could be sold for about S$100, and he could almost always find a steady stream of disposed items to sustain the income, the 80-year-old told TODAY.
But soon, Mr Lua laments, he will not only lose a job, but also his home when his temple closes for good. The temple's owner, who has been providing Mr Lua with free lodging in return for looking after it, has no intention of relocating it once the land is returned to the state.
But for some residents of the nearby HDB flats, the redevelopment of the area cannot come soon enough. The Government had said it has been earmarked for more public housing.
As a 63-year-old who only gave her name as Mrs Seah put it: "I am actually very happy that the houses are going to be torn down." She, for one, is looking forward to a cleaner neighbourhood, with more peace and quiet to boot.