Sunday Spotlight: More complex than meets the eye, Singapore's homeless struggle to find support
SINGAPORE — Homeless people are dirty, lazy, and probably crazy, many may subconsciously think.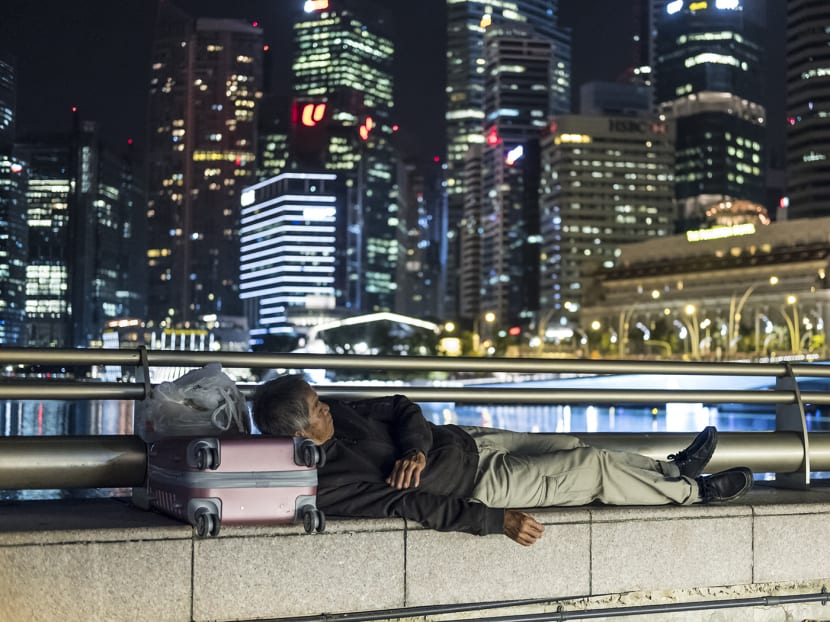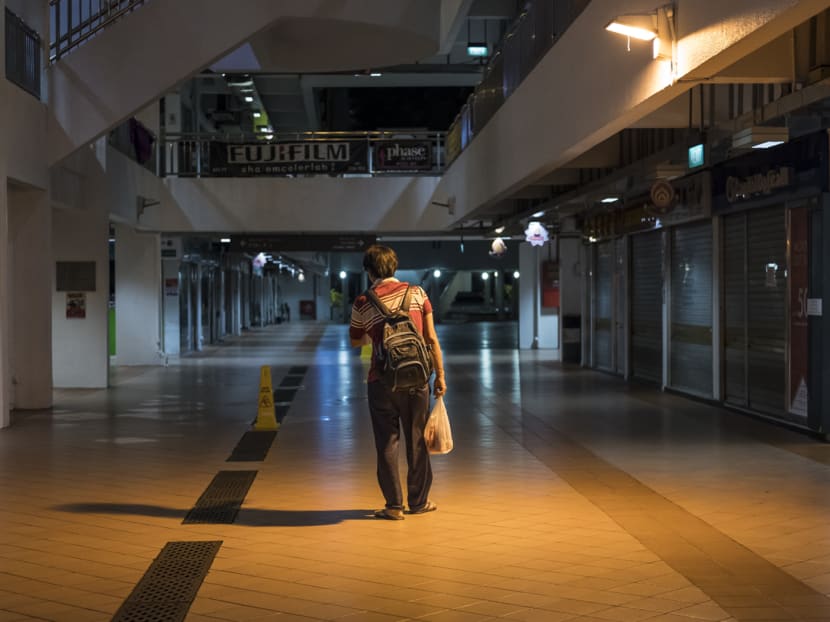 SINGAPORE — Homeless people are dirty, lazy, and probably crazy, many may subconsciously think.
This stereotypical image does not seem to fit Singapore's homeless, going by what a recent survey report found.
In findings released last week, volunteer group SW101 and volunteer welfare organisation Montfort Care revealed that among 180 people found sleeping on the streets one night in Singapore, almost two-thirds of those interviewed have a job, and more than a quarter have a flat to their name. One in four are even married.
The survey did not disclose how the 180 people ended up being homeless.
Over three nights, TODAY found that it was not difficult to spot this group of people: Seven "regulars" sleep at Bras Basah Complex, seven were seen on the campus of the Singapore Management University (SMU) in the Bras Basah district, five are scattered around the Marina Bay area, and six on the Sentosa Boardwalk.
Besides these spaces, there are also those who "built" their own homes with cardboards and plastic sheets on the streets. One man approached by TODAY had been doing that at the back alley of a row of shophouses in the Bugis district for more than 20 years.
Three out of four of those interviewed by TODAY had camped at Bras Basah Complex at some point.
One of them, 57-year-old Robert Au, said that close to 30 people used to spend the night there five years back. Many of them were Malaysians working in Singapore who would rather sleep out than return home, because of the morning traffic jams at the Causeway.
Then, fights used to break out as old-timers stake their claims over the "territory", Mr Au added. Some of them had since moved to SMU nearby as there are more washrooms available there.
Digging deeper, TODAY uncovered some of the reasons why the four people we interviewed were homeless, and they were linked to difficulties they faced due to housing issues and their personal relationships.
The signs are there that they are "poor" in other ways, be it having poor physical health or having little or no support from family, friends or a community.
One man who had to live with a stranger found that the Government's rental housing scheme was not working for him, while another is wary of the same scheme after a bad experience with a roommate.
One needed to make some money to support his loved ones living overseas and leased his rental home, while another is estranged from his family and had marriage problems.
RISING ABOVE THE MORNING COMMUTE
Mr Au, a part-time cleaner, works at a condominium on Sentosa island, earning about S$1,200 a month.
He used to live in a rental flat in Woodlands, and to get to work, he had to set off from home "by 5am or 6am", he said.
"I don't want to live there. It's very far... I need to get to work early in the morning," he added, claiming that bus and MRT trains do not run so early before dawn.
So he decided to camp at Bras Basah Complex, where he acquainted himself with a community of homeless folk.
He did that for five years, and his rental flat in Woodlands is now occupied by his widowed sister, a 64-year-old food-stall helper, and his nephew.
When probed, Mr Au said that he was once evicted from his four-room flat, also in Woodlands, because he and his sister could not repay the bank on their home loan. The repayment amount was S$1,000 a month by instalments.
They could not foot it even after the bank agreed to drop the monthly repayment plan to S$500 for double the interest.
The siblings eventually lost the flat after they deferred payment for six months.
After that, Mr Au tried to apply for a studio apartment, but was told that he did not have enough money in his Central Provident Fund (CPF) account.
He said that he was blacklisted by the banks by then and did not have much savings either to pay a downpayment upfront.
With his dreams to be a homeowner dashed, Mr Au turned to playing the lottery, sometimes spending S$20 a day on 4D and Toto, which is as much as the amount he would spend on food and commute daily.
Some S$300 to S$500 of his income goes to his wife and 15-year-old child who live in Xiamen, China.
Mr Au said: "I get so little salary. A few tens of dollars, I buy some hope."
Mr Au is not the only one in his family to roam the streets at night.
He disclosed that his 59-year-old brother lost S$300,000 over half a year, gambling at the casino in Marina Bay Sands. The high-roller used his five-room flat in Bukit Panjang as a guarantee for his loan with a moneylender, and lost it.
On his own conundrum, Mr Au said: "This is my problem, but this is also partly the Government's problem. We continue to become impoverished, and the Government doesn't seem to care. You want to apply for aid (through their schemes), but they present you with a long list of requirements."
Mr Au is thinking that the Government could start offering S$20,000 "budget homes" that is toilet-sized, like those that can be found in Hong Kong. "There are now budget airlines, but there are still no budget houses. A studio apartment is still 'high-class' here, in the S$100,000 range at an open market price."
Sleeping outdoors is not ideal, and Mr Au knows it deep in his heart. There are always safety concerns.
In his five years at Bras Basah, his bag was stolen five times, and he was pickpocketed once.
"I see people in even worse conditions than I am. Some can't walk and pick rubbish to earn some cash. There are so many in Bugis," he said.
"Social workers cannot help fully. They only pack rice for you, or send you to Angsana Home or a nursing home. This does not solve the issue."
ALSO PART OF OUR SPOTLIGHT ON HOMELESSNESS:
- Chin Chin Eating House dishwasher Pang Jee Tang who sleeps between two flower pots every night
-  'McRefugee' Raymond Tan, a security guard who is renting out his two-room flat for extra income
-  Odd-job worker Chua Teo Aik who has not taken a proper bath since June