Support the special needs community at TODAY Enable Fund charity bazaar
SINGAPORE — There is a playful element in the artwork of Chinese calligraphy artist Wesley Seah.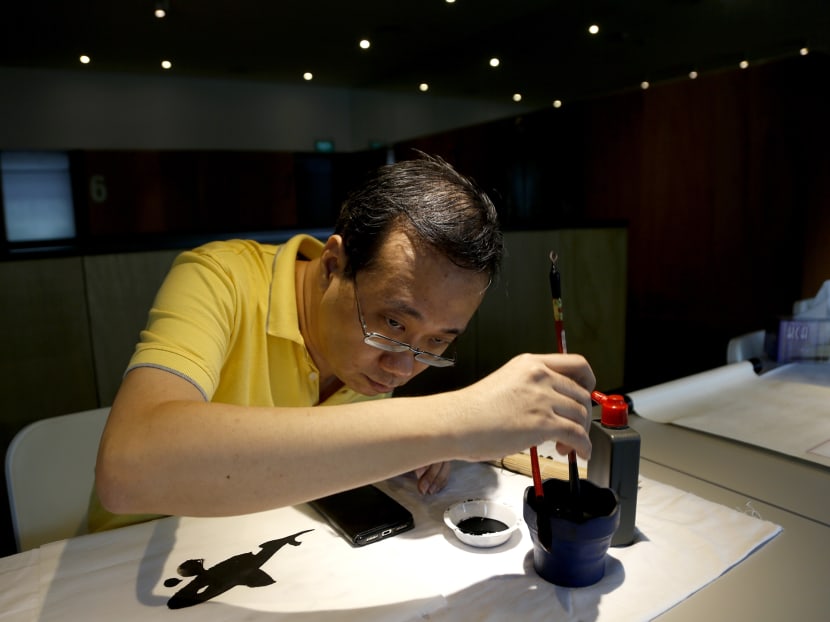 SINGAPORE — There is a playful element in the artwork of Chinese calligraphy artist Wesley Seah.
The outline of a frog can be seen "leaping out" from the strokes of a Chinese word. Or a purple morning glory, a flower commonly found in Singapore, appears to be donning a hat and a pair of sunglasses.
Mr Seah, 50, is visually impaired. Being able to breathe new life into what is regarded as "common, and sometimes neglected" things is a way to remind people "not to take things for granted", he said. Formerly a high-flying banking consultant, he was diagnosed with advanced-stage glaucoma in 2002.
This Friday (Nov 17) and Saturday, reproductions of Mr Seah's artwork will be sold at the second run of the TODAY Enable Fund (TEF) charity bazaar.
The bazaar — which will be part of the mass cycling event, OCBC Cycle — will be held at the Singapore Sports Hub, OCBC Arena Hall 1.
Mr Seah's drawings, printed on coasters and magnets, will be sold at S$3 each. Other items produced by TEF's beneficiaries will also be on sale, including towels, greeting cards, notebooks, T-shirts, and tote bags.
The money will go towards helping beneficiaries and programmes supported by the fund, to help fulfil the aspirations of persons with special needs.
Mr Seah, who is a TEF beneficiary, received about S$2,000 and he used it to take up Chinese ink painting courses at Lasalle College of the Arts in September.
Completely blind in his right eye and partially blind in his left eye, he now works as a coordinator and project guide at Dialogue in the Dark Singapore, a teaching and learning facility which allows people to experience what it is like to be blind.
He is grateful for the opportunity to chase his dreams, and hopes that with this fundraising effort, others with disabilities can do the same as well.
"If I didn't have this support, I wouldn't be able to showcase what I can do… Everybody has a special and (innate) talent and through (efforts) like this, we can help society to be more inclusive."
Another beneficiary Kenneth Lee, 25, who has mild autism spectrum disorder, has also produced an artwork for the fundraising project. Mr Lee aspires to be a top comic artist, and he is able to reproduce — in mind-boggling detail — cityscapes depicted in Japanese science-fiction anime, or draw elaborate muscular systems.
Sketchbooks with covers illustrated by him will be sold at the bazaar at S$18 each. The cover design was inspired by the role-playing game, Dungeons & Dragons.
Staff members from TODAY and SG Enable will be at the event to raise awareness of the fund and to canvass for donations. The booth will be open to the public from 10am to 9pm. SG Enable, an agency dedicated to helping people with disabilities, is the fund's administrator.
In the first edition of the two-day roadshow held at Orchard Gateway in July this year, more than S$1,700 were raised for the special needs community.
Support the TODAY Enable Fund for the special needs community. Find out more via www.todayonline.com/enable
If you know of more stories of people with disabilities, email us at today [at] mediacorp.com.sg